10 Epic Nike Classics Every Swoosh Fan Should Own!
We can't get enough of new Nike drops! It's not news that Nike has long since announced market domination. I mean have a look at Nike's sales in 2022 and you'll get where we're coming from. And these sales might as well skyrocket this year. Because you know, with Adidas struggling with its plummeting sales, Nike's stealing the limelight like never before. Especially with them Jordan drops. In fact, Jordans call shotgun when it comes to hype. We got the drill. But we'd like to slow down our greed for a moment. To appreciate the Nike classics that evolved into the industry we love and worship today!
Nike Cortez (1972)
Nike co-founder Bill Bowerman finalized the sketch of the Nike Cortez in 1968. The Nike classics were first introduced to the public 4 years later at Summer Olympics in 1972. Dubbed "the most comfortable shoes ever" by Olympic athletes, the sneakers became part of mainstream and pop culture. They were worn by Whitney Houston at her Super Bowl performance in 1991 for crying out loud! Not to mention Forrest Gump's feet during his ultra-marathon in the 1994 sensation! So, if you want to go classic about this, buy a clean white Cortez with a colored Swoosh. Like the 2017 take on Gump's sneakers or the latest CLOT x Nike Cortez kicks. But since they already dropped, you gotta buy them off sneaker resale websites like StockX and GOAT!
Nike Blazer (1973)
Originally a basketball shoe as with most Nike startups, the Converse look-alike has secured a spot in streetwear fashion as a "simple shoe." If you want to opt for a vintage Blazer, go for the Nike Blazer Mid 77 classic colorways. Works if you're big on casual show-ups. But you better not think lightly of this low-key Nike. Its top collaborators include Off White and Sacai. And recently, the white and black Blazer kicks have become more dominant than before, but in a lowkey way. They found their way the ladder till they found a place among 'em epic Nike classics!
Nike Air Force 1 Low (1982)
Designed by Bruce Kilgore in 1982, the Air Force 1 is the first Nike silhouette to adopt Air technology. Did you know that it started out as a basketball shoe and was inspired by the Notre Dame cathedral? This leathery model is arguably the number one Nike classic in history. With super hype collaborations with giants like Supreme, Travis Scott, and Off White. Don't even call yourself a Nike fan if you don't own at least one AF1 pair. And it doesn't have to be a hype pair! White or black will do just fine!
Nike Dunk "Be True to Your School" (1985)
Born 3 years after the legendary Nike Air Force 1 is the legendary Nike Dunk. It started out as a minimalist streetwear sneaker but grew to adopt insane colorway mashups. For insane resale values! And Nike added the SB or skateboarding to its Nike Dunks in 2002 is exactly the bump up this silhouette needed. Can you imagine Nike without Dunk? Or Nike Dunk without the extra SB? 
Now, the most coveted Nike Dunk classics are the "Be True to Your School" pack. Dunks are among the cheapest and most worthy investments in the sneaker industry.
Air Jordan 1 (1985)
Y'all ain't surprised, are you? Well, what can we say, it's near taboo to speak of classics and not mention the classist kicks of all time. The Air Jordan 1! AKA the kicks that started it all and kickstarted Jordan Brand's successful journey in the sneaker industry. And the Air Jordan 1 Chicago literally made history! If you wanna know more about how it all started, you gotta know that you have a Nike AIR movie coming our way soon fam!
Nike Air Max 1 (1987)
The Air Max 1 is the first Nike in history to visibly feature an Air-cushioned sole. Did you know that it made its debut in Nike's first TV ad? Alongside the Air Sock, Air Revolution, Air Trainer 1, and Air Safari. No need to visualize because here's the original ad. The experimental nature of the sneaker dubbed it a Nike pioneer. And it went on to create a large legacy of other famous models like the Air Max 90 and 97… as pioneers do!
Nike Mag Back to the Future (1989)
Back to the Future didn't do it the first time but it sure did the second time. When it dropped on Marty McFly's feet in self-lacing mode! This high-top futuristic sneaker is among the Nike classics we can't get enough of. Two super-limited restocks took place in 2011 and 2016. In support of the Michael J. Fox Foundation for Parkinson's Research. The first restock is reselling for $21,097 on average. Whereas the second restock 5 years later is now at $28,000!
Nike Air Max 90 (1990)
The Nike Air Max 90 is considered the second-best Air Max model after the original Air Max 1. It was designed by Tinker Hatfield and released 3 years after model 1 in 1990 (do you see the Nike release chain, people?!) in the famous Infrared colorway. It's also mostly famous for its Duck Camo colorways, which we saw a whole lot of this year.
Air Jordan 11 (1995)
And another Air Jordan finds their way on the Nike classics list. The Air Jordan 11 is the eye-catching shoe every sneakerhead wishes for. You can tell Tinker Hatfield put his all into this design. Matter of fact, it's his favorite Jordan design ever! Unlike the 15s. Wearing an Air Jordan 11 is the biggest flex in the sneaker culture. People like Will Smith, Darius Miles, and Quentin Richardson were spotted flexing this silhouette. And this just added more energy to the already hyped model. So, if you want in on the hype, know that the Jordan  11 Cement Grey will drop soon! So, make sure you cop it… in bulk! 
Nike Air Yeezy 2 (2012)
Back in 2010, if fans spotted Kanye West flexing a pair of garbage bags on his feet, shit would get so hyped that the resale value of that same product would skyrocket in an instant. He had that kinda power in the industry. "Had" as in the past. That sadly is no longer the case after Adidas terminated their relationship. But rumor has it that would change soon enough…
Anyway, you can imagine what such an influence can do in the industry. Especially after that same influential person drops his own kicks in collaboration with the sneaker giant itself. Yes, peeps. In short, the Nike Air Yeezy 2 Solar Red is reselling for an average of $9,862, while the Red October is worth an average of $15,873. Nike classics, indeed!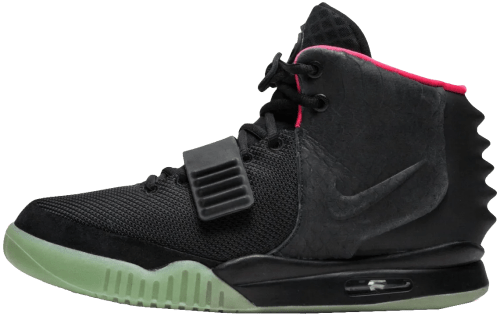 How To Catch The Nike Classics? 
If you wanna catch any of these Nike classics, you gotta know that you find them on resale websites. But as you've seen, some pairs might be a lil outta your budget. Don't worry, though. This ain't the end of the world, as Nike's dropping retros around the clock. But you should know that such hyped kicks sell out in minutes, and sometimes even seconds! So, what can you do in this case? Well, you first gotta get yourself a powerful Nike bot. Its main purpose is to help you beat the competition to checkout. And the best thing about having a bot is that you can cop in bulk! This makes reselling sneakers a more worthy hustle, as it can make you hundreds and thousands of dollars in just one drop!