Jordan 1 Chicago History: Rehashing The Shit Outta The Past!
Jordan 1s already stand out, they need no introduction! And as long as they're dropping in classic colorways, like Royal, Black Toe, and Court Purple, know that a copping war is near. However, Jordan 1s dropping in Chicago colorway just steals the show like no other. And as the drop is around the corner, it's only logical to look back at Jordan 1 Chicago history. 
Jordan 1 Chicago history: The Complete Timeline
Feelin' that nostalgia y'all? Well, you will in a bit 'cause we'll be taking you back in time when mismatched lids on Jordan shoe boxes and dusty stock rooms were a thing. Speak of reminiscing good ol' times. And if you didn't get to witness that golden era, Jordan Brand will be taking you back in time with the upcoming release of Jordan 1 Lost and Found! This way you'll get your fair share of vintage and mismatched shit. But before anything let's take a grand tour and discover Jordan 1 Chicago history. 
Jordan 1 Chicago OG – 1985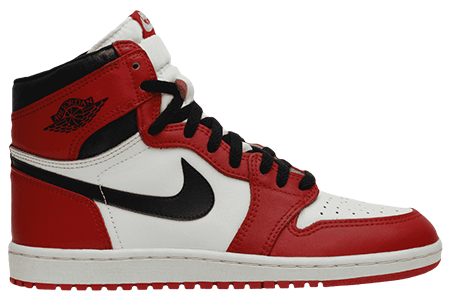 Jordan 1 Chicago 1985 were the first kicks to imprint themselves in Jordan 1 Chicago history. Designed by Peter Moore, this red, white, and black classic had a hand in the fame kick-start the brand had. And from its name, you'd know it's based on other than the Chicago Bulls. All we can say is that if you got a pair of these treasured babies then you're one of the luckiest. These Jordans, which retailed for $65 back then are now worth $30,000 on the aftermarket!
The Air Jordan 1 KO – 1986
Not a year later, another AJ1 version debuted. But this time the kicks dropped for the sole purpose of offering people a more affordable version of the Chicagos. They were made out of durable canvas instead of the standard all-leather model. 
The first Air Jordan 1 Chicago Retro – 1994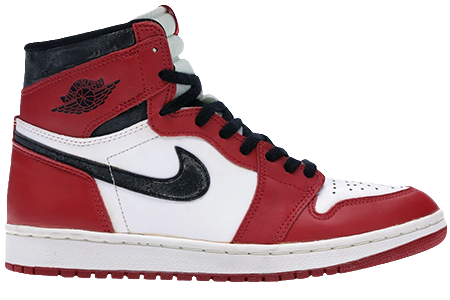 Although they witnessed the epitome of success, it took Jordan Brand nine years to make a return. The iconic Jordan 1 Chicago retroed in 1994 in an upgraded version. Minor adjustments included ankle reshaping toe box opening. This masterpiece is now reselling for $3,788. 
Air Jordan 1 Chicago Bulls Patent – 2003
Jordan 1 Chicago history doesn't stop there. In 2003, the industry witnessed yet another AJ1 Chicago drop. But it was the glossy touch that was the sprinkles on top for these kicks. Made in white and red patent leather, the 2003 pairs introduced the mid-cut. Although mids ain't many peeps' favorite, the pair is by no means losing in the resale combat. Air Jordan 1 Chicago Bulls Patent is now worth $847. 
Air Jordan 1 KO Chicago Retro – 2010 
1985s weren't the only pairs to receive the Kick-off title in Jordan 1 Chicago history. In 2010, Jordan Brand dropped AJKO with an artificially yellowish midsole, a nod to its roots. It also received the same durable canvas material treatment the 1986s did. You can find 'em on the aftermarket for $353.
Air Jordan Chicago Retro (2) – 2013
Here things started changing a lil bit. This retro featured the Jumpman logos on the heels, which was new to the brand. Not only that but the Jumpan also replaced the Nike Air logo on the tongue. It's like Nike gave Jordan Brand the lead. This just made sneakerheads go into a frenzy trying to cop it off the market. Needles to make it's still making great investments to some. It's reselling for $1,015. 
Air Jordan Chicago Retro (3) – 2015
Although branding the Jumpan all over the AJ1s was a heart upgrade, purists weren't so pleased with such adjustments. Two years later, Jordan Brand and Nike answered their calls by dropping another AJ1 keeping all classic brandings in place. This pair is worth $1893 on the aftermarket. 
Off-White x Air Jordan 1 Chicago 'The Ten' – 2017
In 2017, Jordan Brand introduced one epic unforgettable collab with Off-White. The Off-White AJ1 Chicago is making resellers $6,837 now. A hint of how much sneaker fam is fond of this partnership. These kicks marked a turning point in the industry. 
Air Jordan 1 Retro High OG Origin Story – 2018
Into the Spiderverse the Jumpman went! This AJ1 dropped in collaboration with the 2018 Spider-Man Into the Spider-Verse movie. Spidey tweaks were added here and there, like the Ben-Day dots and translucent outsoles. They're now reselling for $833 a pair. But that's not all! Another Spider-Man-themed Air Jordan 1 Chicago is set to drop in 2023. 
Air Jordan 1 Mid Chicago – 2020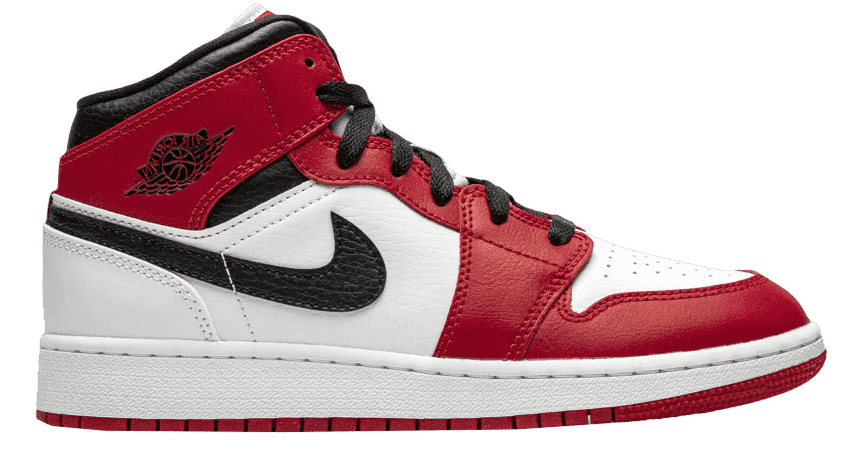 The debate on mids is a never-ending one. But wherever you stand in this debate, this dropped rocked as heck. White took the red heels' place, giving it a squeaky clean look. They're reselling for $232 on average on resale platforms. 
Nike Jordan 1 Retro AJKO Chicago – 2021
Next in the Jordan 1 Chicago history, we got yet another kick-off. Durable canvas version instead of leather. KO wasn't the only thing brought back, you could find classic brandings all over. These pairs are now selling for $188 each. 
Nike Jordan 1 Retro High Trophy Room Chicago – 2021
Off-White, Spider-man, and now an Orlando-based kicks stores collab. This AJ1 Chicago took inspiration from Trophy Room as a tribute to the 1985 All-Star game and the original drop of the kicks. They're now reselling for $1,747. 
Jordan 1 Retro Low Golf Chicago – 2022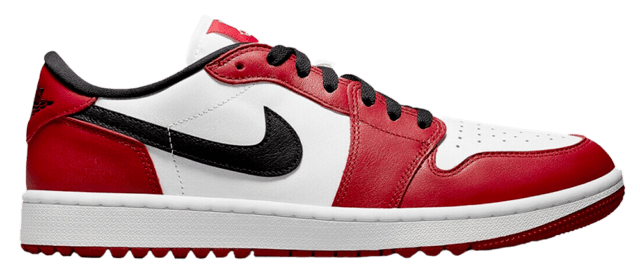 One thing you might not know about the NBA champion is his love for golf. The reason he created the Chicago Lows in 2022. In fact, MJ had already dropped the colorway in the form of cleats back in 2017. So, this drop was just the cherry on top for golf lovers. Golf Chicagos now sell for $249.
Jordan 1 Retro High Lost and Found – 2022 
Coming to an end with the recent AJ1 Chicago drop in Jordan1 Chicago history. Air Jordan 1 Lost and Found is dropping very soon, and regarding its resale value, shit seems promising as heck . And so you know, it's definitely worth a cop. So, you better ready your botting tools fam!