Buying Nike Shoes Is Easier With TSB
Wanna Cop Nike? The Shit Bot has a 96% success rate on Nike SNKRS with 92 out of 95 hyped releases copped.
Tens of thousands of winners on 50+ regions and 24/7 support to get you started. This shit's for real!
TSB successfully GOT 92 out of
95 hyped Nike SNKRS releases
Cops on 50+ Nike regions including
US, Canada, UK, JP and AU
TSB users made $5M in profit in
2020 copping Nike Sneakers
  Everything You Need To Cop Nike!
Not only is TSB the only working Nike bot, but it's also the only place where you can get everything you need to cop Nike. Our Discord mods and support team will be there with you every step of the way to help you cop. Our community is also where you'll find the best Proxies and Nike Account at exclusive discounts.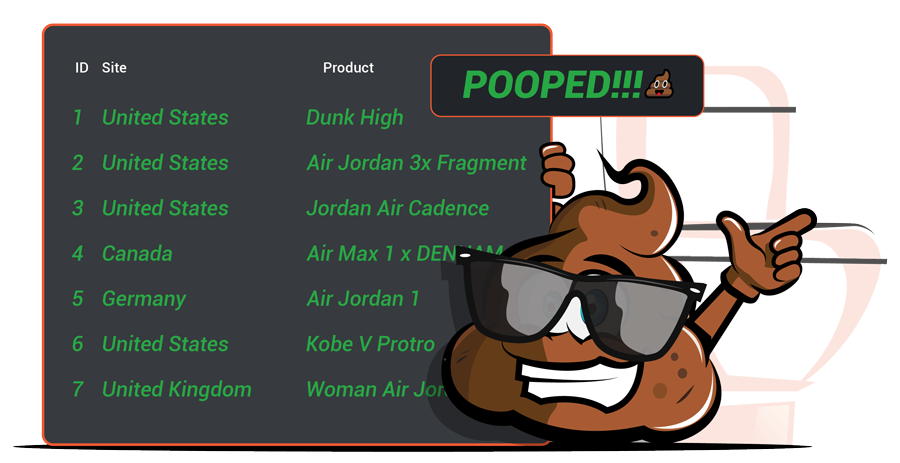 Our Success
Consistent success is what matters most! And with TSB copping 92 out of 95 hyped releases, The Shit Bot has your back. Sounds too good to be true? Check our Twitter for every one of the past hyped releases and you'll see the amazing success you've missed out on from Travis Scott's Air Max to the Jordan 1 Satin Snakeskin. Success speaks for itself!
  50+ Nike SNKRS Regions
Another huge advantage The Shit Bot offers is the ability to cop on so many Nike SNKRS regions, further increasing your chances. We're always adding more regions but for now, you can cop Nike with TSB from The United States, United Kingdom, Canada, Australia, Japan, Taiwan, Mexico, Spain, Norway, Austria, France, Malaysia, Singapore, Philippines, Czech Republic, Netherlands, Italy, Germany, Sweden, Denmark, Luxembourg, Polska, Russia, Slovakia, Slovenia, Belgium, Finland, Hungary, Ireland, Switzerland, New Zealand, Turkey, India, Vietnam, Thailand, UAE, KSA, Romania, Portugal, Egypt, Morocco, South Africa, Chile, Puerto Rico, Indonesia, Croatia and Greece.
  Proven Success