Ultimate Sneaker Bot
Coming Soon!.
Cop any upcoming sneaker release using The Shit Bot, the best & last sneaker bot you'll ever own.
Fast checkout speed, unique game-changing features, & all the sneakers you can ask for!
Enter your email to be updated to the shittiest bot improvements, release date and more…
Our Shitty Features
We're always working hard to provide you with latest and best sneaker bot features in this industry!.
Light Vs. Dark
Why choose one when you can have both?
JK!
Who would even call that a feature?!
Scroll down to see the real shit this sneaker bot has to offer!
Multi-Captcha Solvers
Why limit yourself to one account?
Create multiple solvers, using different accounts for each solver!
Our Sneaker Bot simulates human activity on each and every solver, by opening YT, watching videos, liking them, and subscribing to channels!
2x increased chances of one-clicks, and increased chances of achieving checkouts faster!
A ShitLoad of websites 
Why choose one when you can have both?
The Shit Bot currently supports many websites, including:
Shopify (Queue bypass, monitor, variants / sku)
FINISHLINE (EarlyLink)
Footlocker EU ( Product Link)
Footsites (Sku / Variants)
BSTN (PayPal Checkouts)
Akami Script (Browser sensor for cookie generation)
Cloudflare Bypass!
Mass Task Creator
Why create tasks for sites one at a time?
Get set up in a couple minutes and let our shitty sneaker bot do the work for you!
Create tasks for multiple sites, using multiple methods.
Split up your profiles, and proxy lists simultaneously with the click of a button!
For each site, a task will be created using all selected methods, walking assigning profiles and proxy lists to each task, 1 at a time.
Incrementing # of tasks would duplicate all of the created tasks above!
Address Jig
Why use the same address, if you can jig it?
Retailers have been trying to filter out resellers by double checking orders and only allowing one checkout per profile/ user.
Usually, the user has to manually "JIG" or EDIT his address to make it seem like a different one, but keeping it the same for the local shipper to have it delivered.
Our sneaker bot automatically JIGS your address and spares you time & Ls.
Example of address jigging
Real address: "Residence AC house 27"
Jigged address: "Apt. AC 8 Suite 27 I"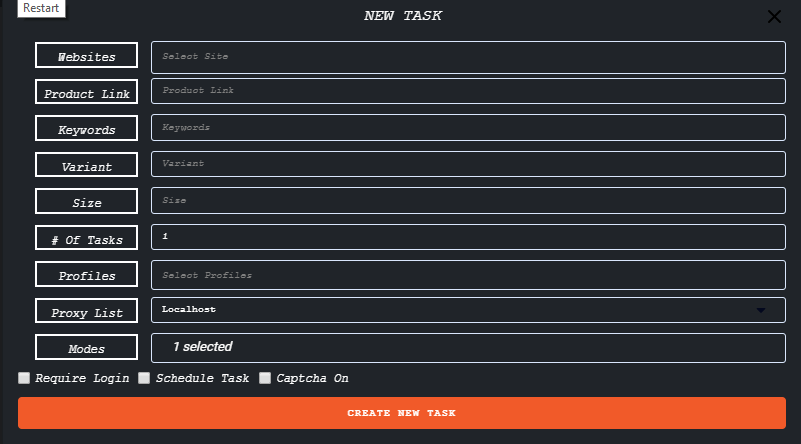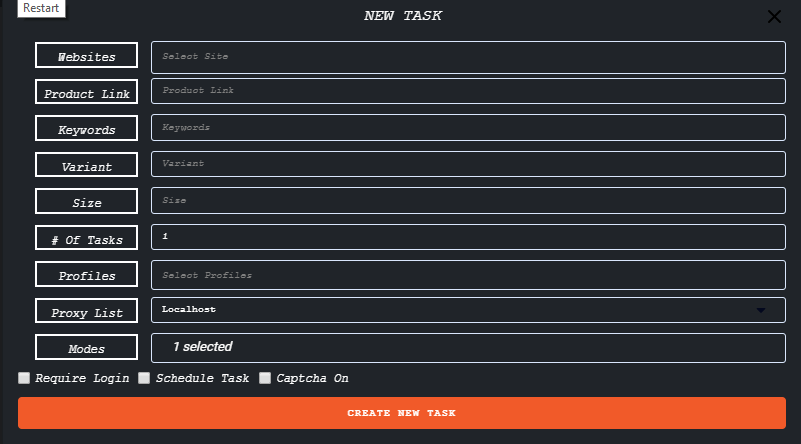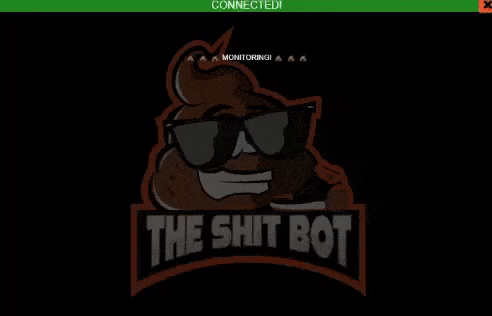 In-Bot Monitor
We will catch the item for you!
Using the In-bot monitor you can create tasks instantly once an item drops.
You can create In-bot Monitor Tasks that will look out for the preset keywords, and start automatically when that item drops.
User Success
Watch our Website Flood with Users Success Soon!