Air Max Day 2023: The Day To Celebrate Life-Changing Shit!
Nike Air Max Day 2023 is imminent, and you know what that shit means: NEW KICKS! And in 2023, it's all about the Air Max 1. But this year, the kicks are coming with a twist, and we ain't complaining! So, read on to find out how this day came to life, and why you need to cop those Air Max 1s like there's no tomorrow. But, if you're not a fan (weird, but ok…), you can check out the upcoming Jordan 3 White Cement drop!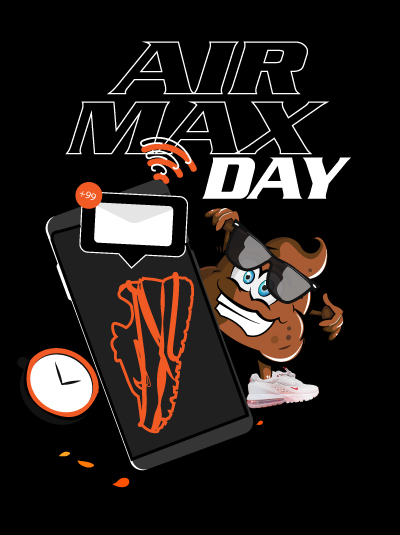 2023's Celebrations Are All About Comfort And Class!
This year, it's all about the Air Max 1 making the ultimate comeback. And you can trust that the silhouette deserves the highlight in 2023! However, we gotta note that the following list is still incomplete yet. But don't worry, we'll update you along the way as we get more info!
Nike Air Max Pulse
Although you'll feel familiar with some elements, this Nike pair features a whole new design. The new Nike Air Max Pulse comes covered in an all-mesh upper, unlike the leather mudguards. The colorway is a mix of Phantom, Reflective Silver, and White. And of course, we can't forget about the 270-degree Max Air unit. The kicks were named after it, after all! Anyway, this pair will drop in both women's and men's sizes on March 26, 2023. They'll also retail for $150!
Nike Air Max 1 Big Bubble
Now we're gonna go down the vintage road of sneakers! Nike brings back a 1986 pair along with its original Air unit. So if you're into classics, this University Red Nike Air Max 1 Big Bubble is the pair for you!
How Did Air Max Day Become A Sneakerhead Holiday?
Let's go back to the roots first. In 1987, Tinker Hatfield was in Paris and saw the Pompidou Center. The building's post-modern architecture inspired Hatfield and gave him an idea that changed the sneaker world. Why not have the Air cushioning in the kicks visible? That was one of his many great ideas to be fair, but this idea pushed Nike back into the competition. Back then, they were kinda hitting the business plateau that nobody likes. So the visible Air bag was revolutionary on many different levels! Why not show fans the sneaker technology they so love, you know?
So, 27 years later, on March 26, Nike decided to celebrate the day the first Air Max 1 dropped. From then on, that date became a calendar-mark-worthy day for sneakerheads. And of course, Nike wasn't gonna sit and be boring. Nope. The Swoosh went on and outdid itself every year with cool events. From releasing new silhouettes to lighting up the inspiration building with a Vapormax, we saw it all. And if you wanna read about Air Max Day events throughout the years, you can check this out, peeps. 
Catch the Air Max Day Drops for Retail Yo!
As we already said, who wants to pay resale for the kicks?
Well, unless you're the seller, then we totally hope for buyers. But if you wanna flip the Air Max Day kicks for the highest profit possible, you'll need to get them for retail! And since the kicks are dropping on the SNKRS app, you'll wanna go for a Nike SNKRS bot. That shit can up your sneaker game, helping you get as many entries to the draw as you can. The sky is the limit when you own a sneaker bot. Or actually, your Nike accounts and proxies are the limits. So make sure you stock up on high-quality ones to get the best out of your bot on every launch. 
Who knows? Maybe you celebrating this day will get you into the shoe reselling business. But if you still don't get the hype of sneaker reselling, here are your reasons! And in case you wanna keep yourself up-to-date with sneaker news and new drops, make sure you punch in that notification button on our blog! Till next time fam!