Nike Air Max Fit: Complete Size Guide to Our Favorite Kicks!
Raise your hand if you own any pair of Nike Air Max! If you're familiar with everything Nike, then you know that the Air Max line was a game-changer in the industry. The day Tinker Hatfield got the bright idea of showing the Air bubble was a defining moment kinda shit! And now, 35 years later, we're still rocking these babies like they dropped yesterday… Talk about consistency. But if you're trying to start your sneaker collection from scratch or expand it, we gotchu! If you ever wondered 'how does Nike Air Max fit?', well, we got the answers for ya!
PS: If you're looking for more shoe size guides, check these out:
How Does Nike Air Max Fit? Breaking Down the Silhouettes!
True to Size Squad
Nike Air Max 1
The pair that changed the way we all look at sneaker tech! Nike Air Max 1 is the brainchild of Tinker Hatfield who got the inspiration from Centre Pompidou in Paris. He decided the bring out the tech to the outside so everyone would see it. Although it was a controversial decision at the time, there was no looking back after the silhouette's success! If you wanna own a pair of AM1s, get them true to size. And if you're not sure what your actual shoe size is this guide will come in handy!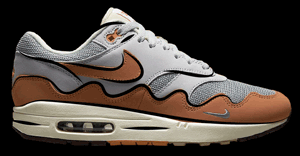 Air Max 90
This was originally gonna come out under the name Air Max 3. However, the silhouette came out in 1990, and that kinda explains the change in naming. These babies became an iconic milestone in the history of the Air Max line. After all, that shit really looks dope and was pretty progressive for the time! So, if you're going for a pair of the 90s, you'll wanna stay true to size.
PS: Nike Air Max 2090 came out as a modern take on the OG AM90. So if you're looking for a more futuristic look, the 2090s are great for you! And make sure you get them true to size too.
Air Max 95 – TTS
Tinker Hatfield had to pass the Air Max torch at some point. And that torch went to Sergio Lozano. The inspiration behind that silhouette's upper was the earth and how it comes in layers. The rest of the inspo goes to the human body! From the skeleton (soles) to the ribcage and muscles (lacing system), it's a pretty dynamic silhouette. And if you wanna get this revolutionary pair, you should stay true to size!
Air Max 97 – TTS
After the big success of the AM95, it looked like a challenge to top it off. But Christian Tresser managed to pull that shit off spectacularly! The inspiration behind these joints was the Japanese bullet train and water drops. And because it was a pretty dope pair, it included reflective material in the upper! So all in all, the silhouette was pretty, functional, and comfy. So if you wanna ride that train (see what we did there?), you should get them true to size.
How Does This Nike Air Max Fit? Half a Size Up Baby!
Air Max Plus – Half Size Up
Wanna be edgy but comfy at the same time? Well, that's the Air Max Plus for ya! From the two different sections of Air cushioning to the plastic exoskeleton, the kicks were bangers. You should also know that these babies were initially gonna go by another name: Nike Sky Air. But today, these babies are famous as the Nike TN. Whatever you choose to call the kicks, just make sure you go half a size up when copping!
Nike Vapormax – Half Size Up
Just when we thought the Air-tech wasn't gonna go any farther, Nike drops the bombshell Vapormax! These joints were the first to feature the Air unit as the sole itself. The design is literally the definition of "less is more". Although it doesn't look all that complicated, that shit is one of the most innovative designs in the Nike Air Max line! So if you don't already own a pair, what are you waiting for? And when you do, go half a size up for the perfect fit!
Air Max 270 – Half Size Up
We love us a sleek-looking pair of sneakers, and AM270 brings design, comfort, and heat altogether! Of course, we love the classics, but these babies are definitely high up among our favorite silhouettes. The newest thing about these babies was the huge Air unit, 32 mm in height to be exact! When you buy these joints, half a size up is a good idea for a comfy fit.
Air Max 720 – Half Size Up
Just when you think that the swoosh can't get bolder, we get the Nike Air Max 720. The 32 mm Air unit shrinks in comparison to the whopping 38 mm in the 720s! Boy, they ain't messing with the cushioning anymore. But well, it's pretty hard to resist these babies, isn't it? And if you wanna go for them, make sure you go half a size up!
How to Get Any of These Hot Kicks and More?
Some kicks are easy to come by, and some are pretty exclusive. So why risk your Nike Air Max fit by copping manually? The better alternative is to get a Nike bot that will give you better odds at copping the shit outta kicks! A bot like TSB, with the right proxies and Nike accounts, will make sure you get the best chance at Ws. Click the button below if you wanna know more about TSB and how our users are kicking a$$! Good luck!