Air Force 1 Sizing: How Does the Classic Shit Fit?
Keeping the drip going is tough shit. From getting the right kicks to styling them right, you might spend some time in front of the mirror. But there's always that one thing people usually overlook: choosing the correct sneaker size. So today, we chose one of the classics that we all own at least one pair of, the famous Air Force 1. You know, wearing the wrong size is uncomfortable, and that shit shows! So let's check out how the Air Force 1 sizing goes to get that perfect fit. And if you're looking for more size guides, check these out: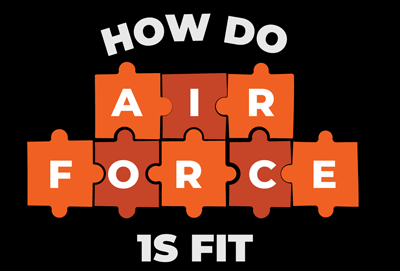 Air Force 1 Sizing: From the Highs to the Lows!
You'd think that the same silhouette would come in the same fit in different heights, but nope! Although the Air Force 1 low is the most popular, the mids and highs also have their fans. So, how do these babies fit? Let's check them out one by one! But before you dive in, make sure you know the full history of these joints to really appreciate them.
Air Force 1 Low: TTS or Half Size Down!
The lows are probably the most popular kicks around the world. In fact, the silhouette was hands down the best seller of 2021. It's a pretty nice pair on the go, with so many colorways to choose from! So if you're looking for sneakers that will come in handy every time, the AF1 low won't disappoint. In other words, if you don't have a pair, what are you waiting for?
Now, if you're wondering about the Air Force 1 sizing in its low-top, we gotchu. These babies will basically come a bit roomy if you get them in your usual sizing. So if that's your preference, then you should stay true to size! However, if you wanna rock the kicks without lacing them and avoid ankle slippage, half a size down would do you good. After all, this is all about preferences!
PS: If you're not sure what your foot size is, this guide can help you out!
The Mids & Highs: Same Size, Different Collar!
Now, these babies are less popular than the low-tops, but we still love them all the same! However, when it comes to Air Force 1 sizing, these fit a lil tighter than the lows. So if you like the snug feels, you can stay true to size. However, if you have wide feet or prefer a roomier feeling, going half a size up is the way to go! See? Pretty simple!
Now That You Know Your Air Force 1 Sizing…
Y'all gonna want to get these babies. Now, if you're wondering whether you should cop manually or use a bot, we gotchu. Thanks to the popularity of these babies, Air Force 1s are almost always available on Nike's website and retailers in many colorways. But sometimes, a hype collab or very popular colorway drops, and that's when you'll need the extra help.
And guess what? That help will come in the form of a Nike SNKRS bot! A good Nike bot like TSB will give you the best odds at snatching AF1s, Jordans, and more. With more than 50 supported regions, TSB has been helping our users cop the kicks they want! And always make sure to hook it up with the right proxies and Nike accounts to get the most out of it. You can check out our Twitter account for all the latest success and updates too! Good luck!