How Do Jordans Fit? A Guide to Correctly Flex That Shit!
The worst thing that could ever happen to a sneakerhead- other than taking an L on drop day? Taking a very hard-earned W on a Nike SNKRS drop, not knowing how do Jordans fit, and getting an ill-fitting shoe. This one hits deep, especially on a rare sneaker you'll probably never cop for retail again. Unless you have an extra kidney lying around and you're willing to trade it on the sneaker reselling market. Oh, you don't? Thankfully, copping for retail is possible with the right sneaker bot. And now, you have a full guide to tell you if those Jordans run big or small.
How To Buy Air Jordans
First things first, are you all set to cop a pair of Air Jordans? Cause if you want the perfect fit, you gotta have the perfect setup to get you the fit. The easiest AJs to get on your feet are the common ones found online or in stores at retailers like Footlocker and Stadium Goods. But always watch out for fakes, here's how to spot them.
But, if you're here for the drip and the limited babies, but don't wanna pay 10x the price on reselling sites like StockX and GOAT, we got you.
If you choose this path, the path of the high-achievers and hardworking, successful sneakerheads, You'll need a sneaker bot. One with tons of power, experience, and success. Something like TSB! Finding a bot that fits your needs is very easy. Just look up the best sneaker bots and you'll be showered with options and recommendations. All you have to do is filter them based on your target sites and go through bot prices within your budget, and you're good to cop.
Do Jordans Run Big or Small? We Got Your Back!
Jordans aren't like any other sneakers out there. Hell, they aren't even like Yeezys (are they still dropping?). Jordans are a piece of history.
So, how do Jordans fit? We'll tell you exactly how so that you won't ever have to try and shove your feet into an ill-fitting Jordan again!
How Do Jordans Fit: AJ1
Air Jordan 1s Fit True To Size
The Jordan that started it all – the legacy of Michael Jordan preserved in an iconic silhouette that never dies.
It's all about the A-game in performance, colorways, and above all, fit! The design and structure of the soft, well-padded sneaker make it very comfortable. It takes the form of your foot in the perfect snug fit. You could totally go for half a size up if you prefer a more loose fit, or if your feet are a bit wider than average.
The change in the material in different Jordan 1 colorways doesn't affect the fit much, but it might take a bit more time to break in. The toe box on the AJ1 gives your toes total comfort, with perforations for ventilation, and durable uppers! Additionally, you'll need to show them the good lovin'. Clean your Jordan 1s right, man! You ain't gonna flex no crusty sneakers – even if they are Jordans!
How Do Jordans Fit: AJ2
AJ2s Fit True to Size.
Life has been really hard on this middle child of a Jordan. The design stood out, but many did not appreciate the glow-up Peter Moore gave AJ2s. But one thing you should know is that a huge number of people are just… conservative. Just like they don't accept new technology easily, they wouldn't accept a full-on new Jordan silhouette that does not even hold the Swoosh on both sides that they've gotten so used to.
But regardless of some sneakerheads being averse to change and innovation, life has been turning scales upside down. Nowadays we're ready to go through some real shit to get our hands on something new. As in, unique designs… And, that's exactly what happened with the 2s. Once sneakerheads learned of their uniqueness and started looking at them from other perspectives, they became their copping target.
However, sneakerheads' changed perspectives didn't come out of the blue. Some of the greatest artists and retailers saw potential in this silhouette and decided to give it a chance through their collaborations with the Swoosh. And let's not forget about the yearly nods to Howard White. In fact, one proof the Air Jordan 2 is becoming a big deal in the game is its rising resale value.
Now for the real question, how does Air Jordan 2 fit? Well, this luxurious/streetwear silhouette fits perfectly true to size.
How Do Jordans Fit: AJ4
Half a Size UP for Air Jordan 4s!
How do Jordans Fit: Air Jordan 4 edition! So, we all love our AJs; but the 4s do hit a bit differently – at least for us, they do. The Air Jordan 4s signified the upcoming and rising power of MJ back in the day.
Although the sneaker does give off the vibe of being a little chunky, we're always down for that. This is why we'd suggest you go up half a size just to be on the safe side.
If you do go for your true size, you might feel like it's a little too snug – especially if you have wider feet.
Got The Fit? AJ5
Air Jordan 5s Fit True to Size.
Do Jordans run big or small: Air Jordan 5 edition! We find that the Air Jordan 5 is just a very chill sneaker, but it's lowkey like full-on mood swings. Some people describe it as a hit or miss. But, we've found that the only thing confusing about it is that it can be a little roomier than the liking of some sneakerheads.
But, the lacing on it does provide more stability and a more snug feel – literally tugging at your heartstrings to be bought! So, here's our verdict on this Jordan: the Air Jordan 5 runs true to size!
Although, if you do have narrow feet, you can totally size down half a size, that's just up to you. You gotta know your feet, fam.
How Do Jordans Fit: AJ6
Half a Size DOWN for Air Jordan 6s!
How do Jordans fit: Air Jordan 6 edition. These AJs don't really have much padding to them on the inside. In other words, you get a lot of dead space. This results in a sneaker that feels a bit too roomy,  which can crease your toe box and give off a weird empty feeling around your toes.
It does have a decent lockdown system when you lace it all up. But you'll still need to size down a half.
Sizing Your AJ 9s
Half a Size UP for the Air Jordan 9s!
How do Air Jordan 9s fit? For the 9s, we suggest that you go half a size up. Why? Well, although a lot of people usually recommend going true to size for the 9s, we don't think it's inclusive. If you've got really narrow feet, then true-to-size is your go-to for sure. But, otherwise, you really need that extra spacing.
The two-layer upper construction and TPU mold arch make them feel tight at the sides and pinch at your feet. A very uncomfortable feeling! Trust us, we know. This Jordan gives off a boot-ish vibe so it does feel a bit stiffer. Choose comfort and go up half a size. Just do it.
How Do Jordans Fit: AJ11
Air Jordan 11s Fit True to Size
How do Jordans fit: Air Jordan 11 edition! These sneakers perfectly wrap around your foot like a dream with the mesh wraps and patent leather combo. They aren't excessively roomy on the inside which doesn't make you worry about the fit.
You can stop wondering when it comes to an AJ11 because they are true to size! So, go ahead and cop that eleven with your actual foot size. Keep in mind that if you're really into a looser fit for wider feet, just give it some time. They break in and loosen up a little.
Know Your Size: AJ12
Half a Size DOWN in Air Jordan 12s!
How do Jordans fit: Air Jordan 12 edition!
Although the AJ12 just looks like it's about to grab onto your foot like its life depended on it. But, don't expect it to run true to size. Well, normally it does, but after a while of break-in time, it tends to get a bit loose.
Loose sneakers are not cool – especially if you're about to dominate the court in it. So, if you wanna score some hoops for a long time after you cop your AJ12 pair, do size down half a size. When it breaks in, you'll still have the best snug sneaker experience.
How Do Jordans Fit: AJ13
Air Jordan 13s Fit Half a Size Down!
Sparking up some Jordan 13 talk! So, how do Jordans fit when it comes to the 13s? For Jordan 13s, we recommend that you go half a size down. This model always seems to run a little big – a lot of extra room in there!
A lot of the OG models have a better fit – actually true to size. But, the latest releases of the Jordan 13s do run larger than others. The build of the shoe itself gives it a better grip, especially with the ankle top support. Just feel around depending on your feet. If you have wide feet, then TTS is definitely the perfect comfortable option for you. Otherwise, give it a half-size down. No one likes to wear loose kicks!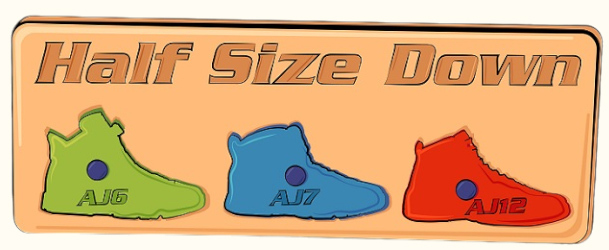 Already Know How Your Kicks Will Fit?
Then you'll wanna stay in the loop and know what sneaker drops you gotta look out for! We also got you covered on this peeps. Here's a list of some must-have holiday Jordan drops every sneakerhead should add to their rotation. And if you're a Jordan person through and through, the shittiest blog has the best sneaker release news!
But all these sneakers won't come easy, especially if they're on Nike SNKRS. So make sure you get yourself a good Nike bot like TSB to get shit done. For $300 per year, you'll have access to TSB, which supports 40+ regions around the world. So wherever you are, boost your copping chances with the right bot, proxies, and Nike accounts. Good luck!