Summer Thrills: Upcoming Yeezy Releases Spark Sensation!
Hey, shitfam! Are you ready for an ultimate new summer adventure? We have some hot upcoming Yeezy releases to thank for an unforgettable season! Well, you know we can't easily give up on Kanye's big hype. Actually, upcoming Yeezy releases' is one of the top-searched terms in the industry since February 2015. Although this controversial drama we all lived through is coming to an end, there's a lil more to live. So at last, we're getting a second tidal wave of fresh Yeezys after the first drop in May. This by far is the finest news a sneakerhead can receive recently, we deeply feel you!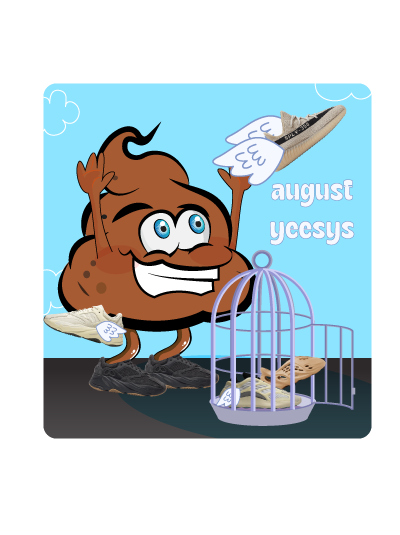 Given that Adidas' debut Yeezy sale scored over $565 million, future official events are definitely gonna be better. Adidas promised to donate some of those proceeds to anti-hate charities like the Anti-Defamation League. 
Discover The Must-Have Upcoming Yeezy Releases
Well, the sneakers should have been exclusive to the Adidas website and their Confirmed App. Just like the first drop. However, rumors are circulating that FootLocker along with some other retailers will sell the next lot of Yeezys. There's also hearsay that a new tonal colorway of the YEEZY QNTM will drop alongside the other new bits. If not in Adidas' second YEEZY sale, then perhaps in the next one (or two). Therefore, keep it locked to our blog for more updates on that and more.
The upcoming Yeezy releases will include new Yeezy Slide colorways, as well as some Yeezy 350s, 700s, and Foam Runners.
Now, let's tackle the list of the upcoming Yeezy releases for August 2023 according to @YEEZY GOD:

Release Date: August 2023
Retail price: 70$
Avg. Resale: 275$
More colorways: Bone, Glow Green, Slate Grey, and Slate Marina.
Yeezy Foam RNR Stone Salt
Release Date: August 2023
Retail Price: $80
Avg. Resale: $238
More colorways: Carbon, and Desert Sand.
Release date: August 2023
Retail Price: $200; Avg.Resale: $253
More colorways: Copper Fade.

Yeezy Boost 700 Utility Black
Retail Price: $300; Avg.Resale: $445
More colorways: Analog.

Release date: August 22nd, 2023; Retail Price: $220; Avg. Resale:$377
More colorways: Slate Onyx, Bone, Hyperspace, Granite, Dark Salt, and CMPCT Slate Bone.
A Wrap-Up
All in all, the upcoming Yeezy releases are more than promising. Despite the fact that  Yeezy Resale value was crashing at the end of 2022, now the situation is different. Reselling Yeezy is more profitable now, thanks to the surrounding buzz of the new Yeezy releases. Especially if you cop them in bulk and multiply your resale profit. This will make a huge difference in your reselling game. 
However, we know that some may have lost their interest in Yeezys and got bored of the ongoing drama. You know who's always beside you, right? Your unproblematic friends from Nike and Jordan Brand. The Swoosh never fails to wow us with upcoming Jordans, Dunks, and artsy collabs in hot colorways. Which will sure as heck make you a shit ton of profit! You just gotta know how and where to resell your kicks, and you're good as RICH!