Nike vs Adidas: The Everlasting Battle of the Sneakers Giants!
It's 2021, and sportswear became a vital part of our wardrobe. From being just gym and sports requirement to everyday wear, the sneaker industry grew slowly, but surely! And two big brands made it to headlines and still are making it big to this day and the future. Y'all know which companies we talkin' about! So today we're gonna be comparing the two sneaker giants: Nike vs Adidas. Which side will you be on? Let's check out all the details before we judge!
Nike vs Adidas: Both Have a Cool History
The Founding Fathers!
Is it really an awesome company without an inspiring – or occasionally funny – backstory? In the case of Adidas, it's a tale of two brothers who went down different paths: Adolf and Rudolf Dassler! And that's the "Dassler Brothers Shoe Factory" was born in 1924, at their mother's home. But good things don't always last, and the brothers had a fallout in 1947 and split. Rudolf went on to start his own shoe company and called it Ruda, which became Puma later on. But Adolf "Adi" Dassler, got creative and started the German Adidas company in 1949. The same company we know and love!
Now, time for some swoosh history. The Oregon-based sneaker giant didn't always go by the name of Nike! It all started in 1964 with Blue Ribbon Sports, a company by a university track-and-field coach and his student. Bill Bowerman started tinkering with sneakers, and Phil Knight came to expand! Later on, the company decided to rebrand, with "Dimension 6" being a potential name. But Jeff Johnson (Nike's first official employee) suggested the name Nike after the goddess of victory. He actually saw that in a dream yo, and the rest was history.
Unforgettable Logos
Adidas
Now if we wanna compare logos, Adidas had a pretty longer history of logo changes than Nikes. You'd think that the three stripes had a deep meaning, but nope. Adolf Dassler liked the three stripes on Karhu Sports shoes (which still exists today). And he went on to buy the trademark and give us what we know as the three stripes. Now the brand has different departments, and each got a specific variation of the logo. That way, you know what you're buying simply thanks to the logo. For example; the 1971 trefoil logo is used on the Originals line. The mountain emblem (the inclined stripes) dropped in 1997 and is still used today for sports equipment. The last logo which is also in use today features horizontal stripes next to the word Adidas. Fun Fact: Peter Moore (yes, that one) took part in the creation of this logo!
Nike
The Nike logo didn't change as much as Adidas, because the brand is relatively newer. However, it does have a cool story! Phil Knight met the designer Carolyn Davidson and paid her $35 for the logo back in 1971. But years later, Nike awarded her with a good amount of stock (worth about $1M). So really, hard work pays off fam. The swoosh underwent minor changes (mostly whether the word Nike is there or not) in all these years! I mean, why fix something that ain't broken?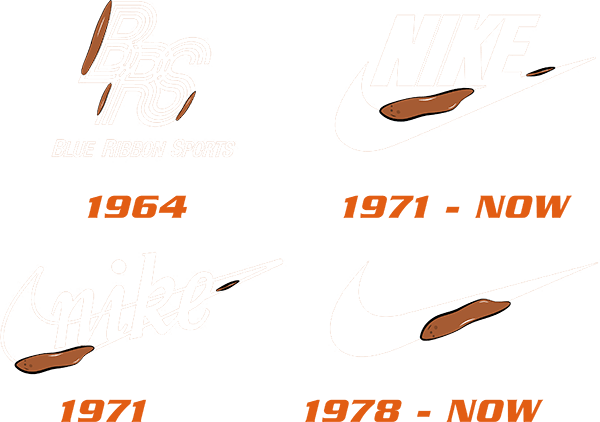 Sub-Brands
Adidas
Well, the title of this bit is kinda misleading, because the brands we're discussing are anything but sub. Although Adidas has always been an innovative company, signing Kanye on board in 2013 was IT. The Yeezy brand played the hype game right, and low-key helped expand the resale industry. And today, we can say that the brand is a staple in the sneaker industry, no cap! That's not all though, back in 2005, Adidas acquired Reebok for $3.8 Billion! Their hope was to take on Nike in the US market with all the Nike vs Adidas rivalry. However, that didn't go as planned and at the beginning of 2021 Adidas announced that they're gonna sell Reebok.
Nike
When Nike signs, it aims really really high. And you know who aims high too? Michael Jordan! In 1984, Nike went on to make sneaker history by signing the promising rookie. Little did other companies know that MJ will outshine all their stars. In a way, Jordan Brand helped define the sneaker scene as we know it today. Everyone wanted to be like Mike, to dress like Mike, and hoop like Mike! In addition to Jordan Brand, Nike acquired Converse for $309M! Although Converse's revenue declined in the last couple of years, it's still doing well. (We'll get to the deets later!)
Best Collaborations: Nike vs Adidas
In this section, we're gonna talk about the best collaborations by both brands. Naturally, we're going to exclude the Jordan and Kanye collaborations. These two partnerships are beyond this and they're technically brands of their own that we already discussed. And the collab battle between the two companies over the pop culture influence is pretty vicious. Today, the brand with the more "hype" collab rules that shit.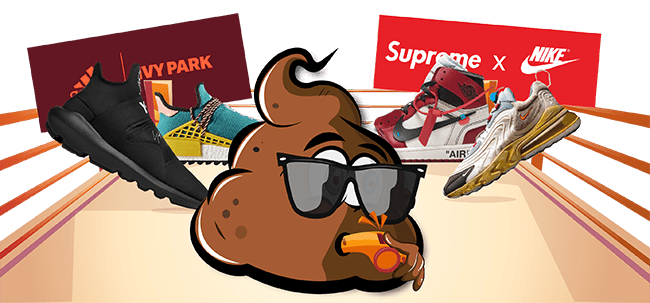 Adidas
The German brand knows how to get down to rumble. Aside from Kanye West and his brand Yeezys, Adidas managed to get A-Class celebrities to join their lines. Without counting the athlete stars. Some of these partnerships are Beyoncé's Ivy Park, Pharrell Williams' Human Race, and Yohji Yamamoto's Y-3. And we can't forget that Adidas had some pretty badass ambassadors like Kylie Jenner and Kim Kardashian! In fact, Kardashian is a part-owner of Yeezy, so she's more than an ambassador today.
Nike
We already know that the marketing department at Nike is next level, and their collaborations are awesome! It's safe to say that the last few years have been pretty fly for Nike. Their collaboration with Travis Scott took the sneaker industry by storm and gave us valuable kicks! Some of them are worth thousands of dollars, but so are some of Virgil Abloh's Nike drops. That's another collaboration that made shit hit the fan for all of us! We also have some legendary Supreme x Nike collab, and ironically Kanye West at some point.
Revenues – Stock Value: Nike vs Adidas
Now we're gonna talk some numbers and maybe use some smart-ass words. But oh well, we gotta have this conversation. So 2020 wasn't a great year for the sneaker industry, but some brands took it worse than others. For Nike, the revenue took a pretty strong hit in Q2 and Q3 of 2020. But you gotta remember that this was in the mid of the Covid crisis and US protests. However, Nike managed to absorb the hit and go back to winning! 
If there's anything these two giants can agree on, it's that the 2020 revenues were not what they hoped for. Regarding Adidas, it really wasn't Good. The revenues took a nosedive in the first half of the year, and Nike vs Adidas took a backseat. The real work was all about being helpful to the community and regaining what was lost. So anyway, they kinda got back and did better by the end of 2020, and 2021 seems kinda promising!
Greatest Achievements
Nike vs Adidas is a pretty intense competition, and how could you have the upper hand without innovative tech? Nike's highlight is the Air cushioning so far, although the brand is always working towards innovation! But so far, none of them could outshine the Air cushioning that became a classic. And we really think it's the shit that keeps us hooked! The second best could be the Adapt tech to auto-lace your kicks.
Now we move to Adidas, and our favorite product of theirs is the Boost cushioning technology! We all swear by them and we love a pair of kicks with Boost support. And when you pair that with Primeknit uppers, you get some really good shit (or yeezys…). So if we're gonna talk comfort, Adidas wins this shit.
Nike vs Adidas: They Make Social Media History
Yea, you read that right, the sneaker moguls made history in May 2020. Nike dropped a video to support the people in the United States against racism. Adidas retweeted. That way, both brands showed the world that racism has no justification. And the Nike vs Adidas competition took a back seat on this occasion too. We also gotta admire Nike's empowerment movements, especially when women are involved! So what do you think? Which brand is your favorite?
Together is how we move forward. ⁣
Together is how we make change. https://t.co/U1nmvMhxB2

— adidas (@adidas) May 30, 2020