Adidas Sales 2023 Plunge As Aftermath Of Dropping Ye Kicks In!
Did Adidas think of the consequences dropping Ye would leave behind? That we're not sure of. Did Adidas think even for a moment that ending its Yeezy partnership won't leave no severe effects behind? Well, that'd be delusional of the Three Stripes! Because huge impacts and tremendous financial losses, it did leave behind. Now, 2023 doesn't look like the brand's best year, because Adidas got 99 problems and Yeezy is just one of them! So, the second biggest problem is Ivy Park's inability to meet Adidas' target this year. This way, we can say, Adidas sales 2023 ain't looking pretty good as they're collapsing along with the brand's share prices! So, let's find out what's this all about! 
But before we dive into all of them details, if you're a sneakerhead interested in the virtual world, we got ya! You can check the RTFKT Nike sneakers and Scottie Pippen's NFT project!
Adidas Sales 2023 Plummet To Record New Levels 
3 months ago, Adidas ended its Yeezy partnership, and boyy how everything been going down in flames since then! We can easily say that Adidas been paying through the nose for that and numbers ain't looking so good this year as well!
On February 9, 2023, Adidas blew the cover off its financial guidance for 2023 in which it warned against its inability to sell its Yeezy stock this year. And in this statement, the Three Stripes warns against lowering its revenues by "€ 1.2 billion and operating profit by around € 500 million." Adidas CEO, Bjørn Gulden, also had something to say about this situation as he declared "The numbers speak for themselves. We are currently not performing the way we should." What does all this mean? Well, if Adidas doesn't "repurpose any of the existing Yeezy product going forward," the company's operating profit will plummet by an extra €500 million ($534 million)! In short, shit's hitting the fan real hard! If you wanna check the rest of the statement for yourself, click here. 
Yeezy The Only Problem Adidas Been Facing? 
Yeezy issues were all Adidas mentioned in its statement. Turns out, however, they ain't the only thing affecting the plunge Adidas sales 2023 took. But The Wall Street Journal reported another problem on the brand's plate. This time it had something to do with Beyoncé's line with Adidas. The Three Stripes was hit by reality when Ivy Park's sales didn't meet their $250 million internal projections. In fact, reports show that Beyoncé's brand revenue fell below 50% last year and roughly earned $40 million in sales! But all Adidas had to say about this deal was "Our partnership is strong and successful." Well, we do hope this is the case! 
It's worth noting that Ivy Park's partnership with Adidas is set to expire sometime in 2023. So, will Adidas save itself more losses and not renew this deal? Or do the duo have other plans in mind that might turn the tide? All we can do is wait and see! 
You thought this was all? Well, with Adidas issuing one profit warning after the other, its shares are witnessing a new low. On Friday morning, The New York Times reported a more-than-12% loss in Adidas' shares! Not so good with percentages? Let's hit you with real numbers. That 12% amounts to "$3.2 billion, in market value."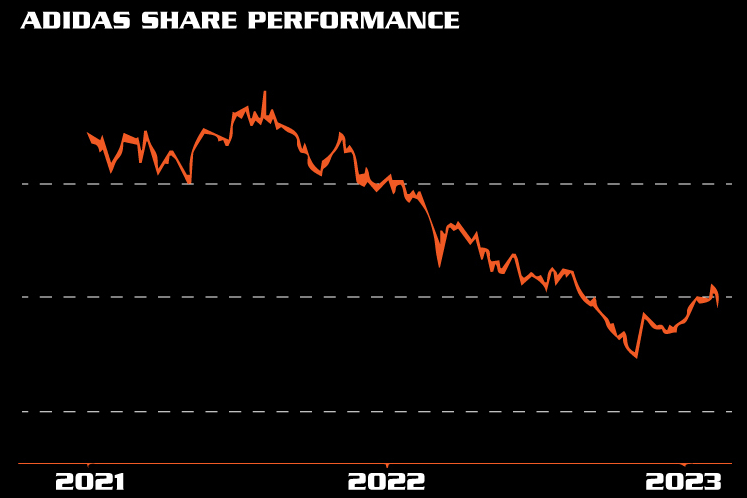 So, now we sit here and question, will we witness a Yeezy plot twist? Will Adidas put its pride aside and mend its relationship with Ye for the sake of the brand's future? Or will we witness new partnerships, like Nike's been doing? All we can do peeps, is wait and see, 'cause when it comes to the sneaker industry, nothing is ever set in stone! 
Adidas Sales 2023: Where Does This Leave Y'all?  
Does any of this affect you in any way? Well, if you're a sneakerhead or a reseller, you might want to think twice before buying a pair of Adidas shoes now. Why? Well, as Adidas sales in 2023 are taking a turn on the slides, the brand's reputation and hype are affected as a result. You also might not get as many drops as before. So, where does this leave you? 
Seems like Nike will be calling the tune completely at the time being. Y'all must know, Adidas' loss is Nike's gain. It's how being the world's giant sportswear companies work. So, sneaker copping will most probably become synonymous with Nike-and-Jordans-copping. Unless the Three Stripes finds a miraculous way outta that shithole it dug itself, that is!
Thing is, let's put it bluntly and tell you, Nike SNKRS drops are as crappy as shit gets. But that doesn't mean they ain't worth every last drop of effort you put into them! Sky-high resale values tend to explain it all. But you gotta master the game right and equip yourself with the right tools. Starting with a powerful Nike bot, like TSB, and ending with great proxies and Nike accounts. That's your way up in the bot-verse fam. And if you wanna start somewhere, you can check Nike Valentine's list, and the upcoming Jordan 1 Black and White! 
More sneaker news and hot drops? Our Blog's here for ya! Till next time Shit Fam!