Sneaker Copping: The Art, Science, Luck & Bots!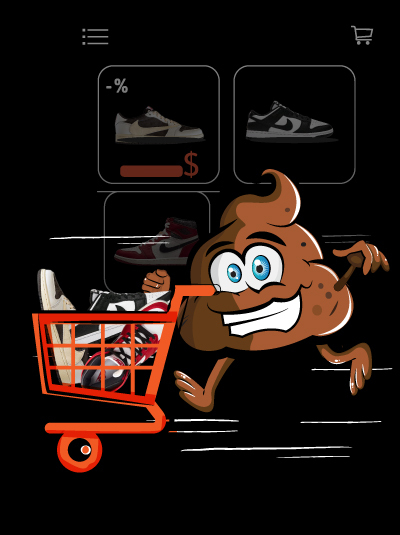 If we've learned anything from 2019's ongoing pandemic, it's that life is precious. Too precious for long working hours, and sitting behind a desk and a screen for a long time. Believe it or not, the search volume for terms like how to make money online and side hustle has totaled over 350,000 searches this last month. Globally! So it's not just you, literally anyone who has the chance to side hustle their way through life, WILL! And reselling sneakers happens to be one of the most profitable gigs you can opt for. But before you flip those shoes, you gotta learn about sneaker copping.
What Is Sneaker Copping?
Sneaker copping is the act of buying sneakers, online, or offline, for any price. However, sneaker copping specifically means buying exclusive shoes, during a limited-time drop. Think of it as buying, or TRYING to buy some tickets to a Travis Scott concert. 
Buying exclusive sneakers might even be harder, due to the possible profit you could make. Reselling a pair of hype Jordans, Dunks, or an exclusive New Balance collab can fetch you $100 up to $1000+ in profit. Don't believe me? Check out this list of the most expensive sneakers from 2022! The numbers will shock you and get you drooling so much, you'll wanna join the game, today!
History Of Sneaker Buying And Reselling
So, this whole sneaker copping thing can make you a ton of money. But who started this? Like when did people realize they can flip shoes for cash?
Well, there are 2 folds to this story. The first is the rise of the sneaker industry itself in the 1980s. Which most experts know has everything to do with the boom in Basketball. But more specifically, it's the debut and growing fame of Micheal Jordan that brought all the attention to sneakers. What he put on his feet, on and off-court mattered, a lot! And when he signed the life-changing deal with Nike, that was it. The sneaker industry became a thing!
Plus,  the 80s also saw the birth of Hip Hop as one of the trendiest music genres ever. And whatever your favorite musicians flexed, was cool and IN. Making these sneakers tradable luxury items. And so reselling sneakers gained a ton of attention and momentum.
But all hype talk aside, trading is part of being human. We traded food for fire and gold for shelter. Now we trade money for luxury goods, and then Luxury goods, for even MORE MONEY!
How To Go About Sneaker Copping?
So how to start sneaker copping? Well, this process is as simple as it gets! You go to a sneaker retailer, online or offline, request your shoe size, pay at checkout and leave! That's in theory. In reality, the process is a little more complex. 
See, as any item becomes more exclusive, demand for it increases. And that's specifically the case with limited edition sneakers. They're low in stock and highly demanded, so they naturally gather high aftermarket value. And so with all the hype, demand, low stock, and underlying profitability, there are many ways to go about sneaker copping.
The first method to shop for exclusive sneakers is to buy them in-store. It might sound too basic and might also sound unreal. But the thing is, even with the recent shift to online shopping, physical stores are still mostly functional. So on hype releases you could head to a nearby retailer hosting the drops, wait in a long queue, and if you're lucky enough they'll still have your size by the time it's your turn. Many stores also host raffles online, on their sites, or on social media. If you win, you get to pick your pair up, in-store. But of course, this would be very inconvenient if you live thousands of miles away.
Another way that can help you with sneaker copping is backdooring. Now, this method isn't necessarily the most appreciated. Since backdooring sneakers or any other exclusive item or service means getting privileged early access to it. This will require having connections at retailers dropping your sneakers. You should be acquainted with the store manager, the stock manager, or an employee at Nike or Adidas. 
Backdooring doesn't mean you get them kicks for free. You will need to pay the retail price. But it guarantees you get as many pairs as you need, ahead of time!
When you think of selling or reselling, you think of profit. And logically speaking you should try getting your goods at the lowest price possible, to make the most profit possible. In the case of exclusive kicks, you should try sneaker copping at retail – The lowest price for a pair on the market.
That's when sneaker bots like TSB come in. You don't need any connections, except to the internet. You don't need to live next to a Nike store, you can use proxies. And you definitely don't need to pay extra for a pair. Sneaker copping with a bot is as easy as it gets. You feed it all the necessary info like your billing and shipping addresses, your shoe size, and what pair you want, and it'll get t for you.
As with all other methods, sneaker copping here isn't guaranteed. But if your bot is consistent, you can score multiple pairs per drop. Allowing you to make a hell lot more money than you would flipping just 1 pair. What you need to know though is, not all sneaker bots function equally well. Some are full-on scams, while others nail every release. So do your research before buying one. But all in all, strong brands like TSB just stand out. With back-to-back success, continuous updates, and a shit ton of supported regions, or websites.
TSB also costs $300/ year. Meaning you get to cop whatever you want from Nike around the world for a year for just $300! So if your initial investment isn't massive, keep in mind the price of the bot you're buying. Wish to learn more about TSB? Click the button below, or DM us on Twitter or Instagram!
Buying at Resale
You might live a continent away from the Footlocker store dropping your desired Jordans. Or you might not know any personnel that could hook you up with a pair or more. You may also not like bots, how they work, and all the advantages you get running them. In any or all of these cases, you'll find yourself at the doorstep of the secondary market. 
See, when you willingly decide to not run a sneaker bot, that's when you start messing up. As you'd be giving up your best chance to get kicks at retail. And risking getting fakes. Especially with Nike claiming that StockX isn't always selling legit Nikes!
At the resale market, you WILL find your kicks. You will most probably find your shoe size as well. And the condition can vary from destroyed to pristine new in a shoebox. But the main downfall is the price. Once you decide to drop all this shit and buy at resale, you will pay. You'll pay a lot more than you would at retail. Since you'd be buying from botters, resellers, and passionate sneakerheads, you'll have to pay what they're asking for. And the more exclusive the pair is, the more you're paying.
The example that pops to my mind are Travis Scotts Jordan 1s that are selling for $1500+. A shit amount to pay when you could've run a bot and snatched them for $175!
And while it hurts having to pay that much, the grass could be greener on your side, if you're the seller!
Does Luck Have Anything To Do With Sneaker Copping?
Well, in the end, isn't everything guided by our luck?
You could do everything and still not excel at sneaker copping. But you can, for sure increase your odds. Join a sneaker cookgroup, invest in premium proxies, and don't sleep on sneaker bots. They're the reason the sneaker industry is still thriving despite all the recent drama and breakups!