Going The Other Way Around: RTFKT Nike Sneakers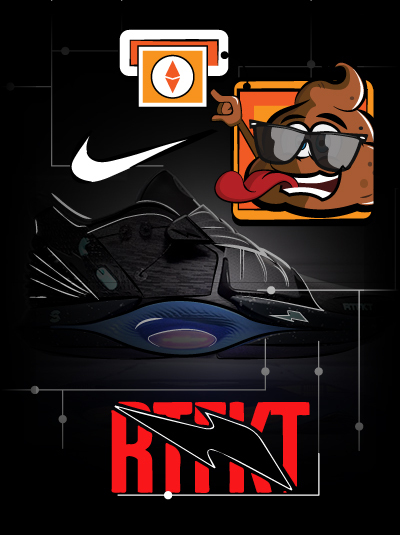 So with everything going down in the sneaker game recently, you'd think it's crazy. Like Adidas cutting ties with Kanye! Who would have thought?! Nike updating its sale terms? And what's with Kyrie's partnership with the Swoosh?! But for real, nothing is nearly as crazy as what goes on daily with NFTs. Rug pulls, theft, and a ton of controversial art making headlines. Shit's pretty messy there, to say the least. It's become a world of its own with cutting-edge tools, influencers, and whales controlling it. And come to think about it, the mere idea of physical items turning virtual would freak the heck out anyone. That's where Nike steps in. The Swoosh has taken it upon themselves to ground the NFT space and turn Non-fungibles into real tangible items. Alongside the iconic Web3 design studio, we're witnessing cryptokicks turn into iRL RTFKT Nike sneakers!
What is RTFKT?
RTFKT is a world-renowned web3 design studio founded in 2020, in Salt Lake City, Utah. RTFKT has partnered previously with luxury houses and famous artists creating all sorts of NFTs. All while cashing in big bucks. The list of projects the studio has created is LONG! But as a sneakerhead, they might have popped on your radar with their collaboration with FEWOCIOUS. Together they created an NFT collection that started the whole virtual sneakers discussion.
RTKFT Nike Sneakers History
If you've been resting soundly in the sneaker industry, giving 0 attention to NFTs, here's the tea.
RTFKT Nike sneakers aren't really a new concept. In fact, the 2 brands have a short but very rich history. A year ago, back in December 2021, Nike acquired the leading Web3 design studio RTFKT as a way to cement its presence in the virtual scene. Not that it needed any more power, success, or profit! This step comes after Nike filed trademark applications in October 2021, with the goal to sell virtual sneakers and apparel.
"This acquisition is another step that accelerates Nike's digital transformation and allows us to serve athletes and creators at the intersection of sport, creativity, gaming and culture".
As for Nike's first project with RTFKT, well it constituted of a 14K+ NFTs collection. The NFTs feature cryptokicks totaling 7,939 ETH in trading volume and currently sitting at 0.225 ETH floor price. But now The 2 brands are going the other way around. Turning NFTs into iRL RTKFT Nike Sneakers.
Cryptokicks iRL
Pairs of the new real-life sneaker collection "Cryptokicks iRL" will be accessible to holders of RTFKT Lace Engine NFT. The price of each pair will be 0.38 ETH. The sale will be limited to 19,000 pairs and open December 12 through 16.
But what's the catch here? How are RTKFT Nike Sneakers any different from other pairs?
Very conveniently, the Cryptokicks iRL sneaker comes in four futuristic colorway variations: Ice, Blackout, Space Matter, and Stone. Each pair is accompanied by its own NFT showing the colorway spinning in space.
Should You Invest in RTKFT Nike Sneakers?
This question, if we were discussing a normal sneaker release would depend on the resale value of the shoes. Or even on their cocreator. But in this case, whether or not you'd want to pay for these shoes depends on how much you wanna join the virtual space. See, shit like the RTKFT Nike Sneakers are what joins the NFT space with real life. They're what grounds unrealistic creations, and what makes real-life items exciting. Owning a pair of these kicks is the perfect cure for NFT FOMO. Where you get to be part of the space, without shedding a lot of cash, or risking your sneakers getting stolen. Because they're physically here, with you!
However, if you're more into real physical & clean-looking sneakers, check out the upcoming Jordan 1 spiderman or the hot next Twist.