Nike And Kyrie: An Endless Blazin' Row!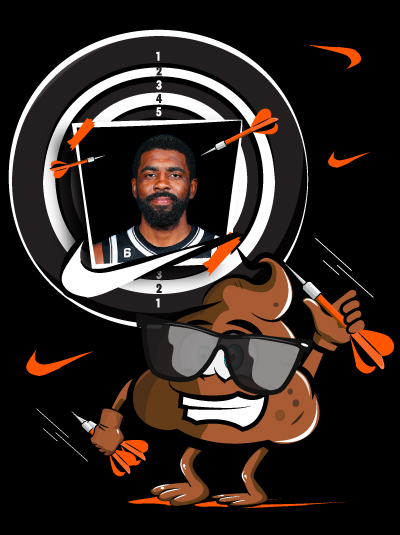 Did someone just blow a fuse in the sneaker industry or sumthin'? 'Cause let us tell you, that thing's in literal chaos. You gotta be on the lookout round the clock. Who knows, partnerships might start any minute, while others might go down in flames in the blink of an eye. And speaking of goin' down, Kanye x Adidas news must've reached y'all by now. If not, click here so you know what we talking about. And if shit keeps going at this rate, you can call that old news by now, 'cause it's Nike and Kyrie callin' it quits this time.
This makes it the second big-notch partnership to die out in under a month! Voodoo has something to do with that? Well, not really. So, don't wait for a thriller story… just yet. BUT we ain't saying you can't have that story in the form of kicks! Jordan 1 Voodoo is dropping pretty soon, so make sure you check it out before it's too late.
Nike And Kyrie: Shit Hits The Fan… Again!
Back to our topic, why did shit go down between Nike and Kyrie? Simply put, Kanye and Kyrie ain't only sharing first initials, they're also sharin 'em mistakes. Nike suspended Kyrie due to him sharing an anti-semitic documentary on social media. Claiming that the brand allows no room for hate speech and condemns any form of antisemitism. The Swoosh wasted no time as it instantly suspended the relationship with Irving "effective immediately." No one will be messing with the brand no more after that… 
Adding to all that mess, Nike took this step a day after the Brooklyn Nets suspended the team's point guard for at least five games. Looks like learning from others' mistakes ain't in everybody's dictionary these days. What a loss to the industry! 
Might we add that the industry's tough as heck? One mistake and you're down, whether you regret your misstep or not. And what's happening with Kyrie Irving is one example. Although the team issued an apology statement via their Twitter account, and Kyrie owned up to his actions, there's no going back on the Swoosh's decision. 
Nike And Kyrie: What Happens Now?
Not to get you in even lower spirits, but more shitty news is on the way y'all. Nike not only suspended the player, but also the production of his kicks. Kyrie 8 is no longer. Well, seems like not everything's going against Ivring's will. He's called that shoe trash anyway. He even apologized to his supporters and sneakerheads prior to the release and said he's got nothing to do with the design. Good riddance? Looks like it. One less drop for Kyrie to worry about. 
However, if you been waiting on the no-longer-upcoming Nike and Kyrie kicks, we gotta tell you to save your tools for other drops. More like drops that partners are actually proud of. And the only one to be doing so these days is Jordan Brand. It's the partner everybody wants to be around!
So, a nod to the Bobbsey twins for keeping their shit together, 'cause with all that chaos going in the industry, some peeps are kinda losin' track of everything. But regarding important releases and sneaker shit, you don't have to lose your shit trying to keep up with them. Our blog is here to do exactly that for you!
How Does That Affect You? 
Let's wrap shit up by saying that if you got some Nike and Kyrie kicks, hold onto them. Dead partnerships tend to have a positive impact on resale values. And although Yeezy fans went into a frenzy trying to find the right place to sell their kicks at, you better not do that just yet. Emotional selling doesn't do most people good. So, the best advice is to hold dear to 'em kicks for more long-term profit. If you got no idea what we talking 'bout here, just check the Red Octobers and you'll get it. 
On a final note, as dope partnerships are going down on monthly basis, the sneaker community gotta find their safe haven somewhere. Needless to say that Nike and Jordan Brand more than meet these standards. But now that the pressure's doubling on the brands, your copping chances are even slimmer than before. So, make sure you supply yourself with the right tools, like TSB, one of the industry's top and most affordable Nike bots. And never forget to ensure you got the right proxies, Nike accounts, and servers hooked up to your sneaker bot.