Running a Sneaker Bot: The Why, The When and The How?
It all started when you saw some kids at school wearing some really nice sneakers. Everyone was swooning over them kicks as if they saw their favorite Hollywood celebrity. And of course, curiosity always wins so you just had to google "cool orange Nike sneakers". And a world of possibilities just opens in front of you. From Air Jordans to Dunks, to LDWaffles, and more, you have endless options! So you made the decision; you're gonna get a pair of Air Jordans! But when you go to a sneaker store (physical or online), you can't find any. So you do what any sensible person would do; you google it! The word sneaker bot kinda pops up a lot. Hmm, odd. Those words are also mentioned a lot in school, especially by those kids who have some serious drip. Like, where do they get the money for all those kicks? And how do they even get them? They sell out in minutes! Could it be this sneaker bot thing? Don't worry fam! Skip the long research, we got everything you need right here. Here's how to run a sneaker bot!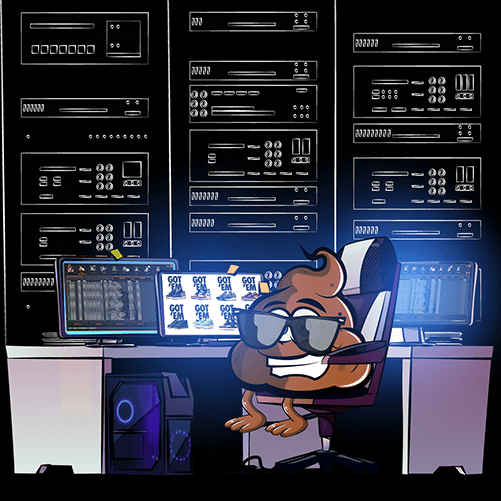 What Is a Sneaker Bot and Why Do You Need It?
So, ever tried to cop a pair of Dunks or Jordans online without a bot? Odds are you came face-to-face with the soul-sucking "out of stock" page. If you didn't try that yet, then we're sorry-not-sorry to break it to ya! But, how are you supposed to beat the "out of stock" page? The answer is easy: a sneaker bot. It's the only way you could get a pair (or more) of any sneaker you want.
So, What Are Sneaker Bots Anyway?
Let's put it this way. Imagine you're clicking and trying to be super fast in order to beat other sneakerheads to these sick kicks. However, you find them actually sold out. "But how did this shit happen?!" You ask yourself. After all, not everyone can go faster than this. Well fam, that would be the work of a sneaker bot!
A sneaker bot can do everything you do, but much much faster. That way you beat other buyers without breaking a sweat! Sound too good to be true huh? Well, for once fam, it's not! Keep on reading for more priceless bot knowledge.
But Why Get a Bot?
Okay, so you're probably still wondering why you need to get a sneaker bot. Let's break it down to you once again. By the time you're done with your first checkout attempt, the bot would have already finished 10, 100, or even a thousand attempts! By the time you try again, the sneakers will be sold out.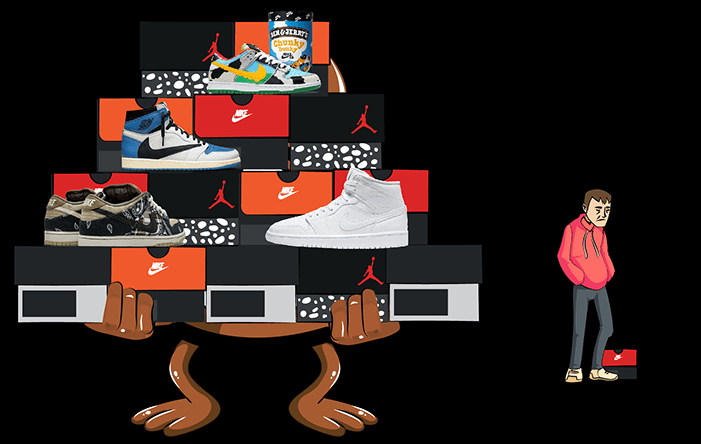 Or, let's assume you copped a pair on your own. Congrats fam! Now you want to try to cop another so you could flip it later. You go to checkout and you find that bam, you got blocky blocky! What the hell? Almost every sneaker retailer, from Adidas to Jimmy Jazz and everything in between, limits purchases to one per customer. Ya know, they play a fair game and all (let's not talk about backdooring tho, alright?) Anyway, if you play the game right, these rules won't apply to a sneaker bot.
So that's why you absolutely need a sneaker bot for a pair of Dunks or Jordan or whatever sneaker you want really. And, once you start, it won't be your last cop homie. This could be your chance to join the reselling industry and make some serious side cash.
When Do You Need a Sneaker Bot?
Now let's say we convinced you that you do need a sneaker bot. Do you know the right time to run a sneaker bot? Or when you will need to run a sneaker bot? Well, we gotchu this time too! 
There's no wrong time to use a sneaker bot. But sometimes, the race to cop a pair of sneakers is so brutal that you won't even stand a chance. Sorry, but that's the ugly truth. Your attempt will go to the trash. Thousands, maybe even millions, of people will run their own bots to try and cop a pair!
So, when do you need a sneaker bot then?
For crazy limited releases

Regional kicks

When you really

really

want the sneakers and don't want to risk them being sold out

If you want to buy more than one pair

If you're thinking of joining the

billion-dollar industry

and make some serious cash by flipping kicks
How to Run a Sneaker Bot?
Using a sneaker bot is not as simple as just pressing a button and bam! you got a sneaker. Nope, sorry fam! You gotta do more than that. Even if you check all the release dates, early links and patiently wait with your finger over your mouse. Sometimes it just ain't enough. You have to think bigger, better, and smarter! So, to avoid taking a lot of L's when copping, listen up and take notes. 
Before you run your bot, there are two things you gotta know: When the kicks drop, and where.
This is a mega important part of your sick kick trip! It's the first step towards a successful cop. So, check all the releases dates, and check again before the release. Ya know, sometimes release dates change, and you gotta be in the loop to know that. Luckily, the TSB blog got all in for you here! Life happens, things change; so don't let anything surprise you on release day. You can't afford it (seriously)!
You're almost there, just hang on! The process of a happy cop takes 3 tools to make it work. You know, three's the charm and all. What you will need is a sneaker bot, some proxies, and a server. It's a simple formula for a good successful cop, and we'll make it easier for you.
How to Choose a Good Sneaker Bot?
The first step of copping with a sneaker bot is obviously getting and learning how to run a sneaker bot! Duh! There are literally so many bots out there. Everyone's making bots. This just shows how much the industry is expanding, seriously everyone wants in! But not all bots are made equal, and some bots might actually ruin your chances of a good cop!
So, what should you look for when buying a bot?
Good reviews on TrustPilot, Bot Mart,

Discord

, shoutouts on Twitter, and

Bots That Work

. Do your homework and check them out, will ya?

Supported sites (and regions in the case of Nike bots)

Unlimited tasks: This is a feature that increases your copping chances. The more tasks you set up the more times your bot would be trying to buy your sneakers. 

How much will this cost? A sneaker bot is an investment that'll bring you both joy and lots of money! So, as tempting as they might seem, do NOT buy a cheap bot. Or you'll pay the price in L's.
But if you're too lazy and just wanna check out the best Nike SNKRS bots, we gotchu. Here are the best bots, besides TSB naturally.
Get Yo' Self Some Proxies for Your Sneaker Bot!
Next up, you gotta get some proxies. Every person has his IP address that tells a website where their location is. So, to make it a bit simpler, a proxy is like a person on a computer trying to cop off a site. This helps with the "Fair Game" rule, and here is where proxies come in.
Proxies help mask your IP address and change your location. That way, you appear to be someone else, somewhere else trying to buy those same shoes! And even if you run multiple tasks, proxies make it look like different people from different places are buying at the same time. So you don't get caught, don't get banned, and don't have your orders canceled, touchdown!
Which Proxies to Buy?
Well, we ain't gonna take too long to discuss that. The biggest Nike heat usually drops on Nike SNKRS. So if you reached this far, you'll definitely be looking for the right Nike SNKRS proxies. And we knew that of course. So here's where you can find proxies to cop these crazy babies you got googly eyes for. An additional thing you would need to ace that SNKRS drop are Nike accounts. You can read more about that right here. 
A Computer Within a Computer
I know I know! You're probably thinking "Oh no. More stuff to buy?!" But fam, copping and sneaker reselling are a major investment. A money-making investment, no cap. In the end, you'd still be making a lot, and we mean a lot, of money out of sneaker flips. Why else would the sneaker resell industry grow so fast and become this huge?
You don't need a supercomputer to cop and resell sneakers. But still, your computer might not be able to handle the pressure. I mean, the best of us gets stage fright, amirite? But don't worry fam. We ain't telling you to go and buy a whole new setup every time you wanna cop some sneakers! We're not psychopaths you know.
We're saying you could go ahead and buy yourself a harder, better, faster, stronger computer. Without really doing so physically. A server. You go get a server.
A server is a virtual supercomputer. It's much faster, much stronger and it can take the hit pretty easier than your average laptop. Even if you have the world's crappiest computer ever, it won't matter. You'll just watch in awe as your old PC dons the cape of a supercomputer and saves the day!
Wait! Don't Get too Excited Yet!
Don't just buy whatever sneaker server comes your way! Chill. One thing to consider first before buying a server is definitely location. Location, location, location! If you went through all the hassle, you might as well make sure the server you bought is within a good distance from the site.
You don't go and buy a server in Asia if you're looking to buy from a site in the US! Even if it looks supersonic and shit! Always go for a server that's close to the site location and make sure your sneaker proxies are also near your sneaker servers too! Like we mentioned before! This creates a web of perfect communication between your proxies, servers, bots, and websites creating a lag-free purchase.
Just what you wanna hear.
So, now all you gotta do is run the bot and listen to the cha-ching goes off in your head as your bot jump over all the bot-less people out there! Go ahead and cop the most hyped sneakers out there, and flex'em or flip'em!
Recap on Sneaker Bots
You want Jordans or some NBA player's signature sneakers? It's just that simple homie, you just gotta learn how to run a sneaker bot. So grab yourself a good bot, some proxies, and a server!  Now you got all the tools to start copping and maybe even get into sneaker resell. So, go and hook yourself up with a dope sneaker bot so you could start copping sick Nike kicks!