Nike Dunk High Acid Wash, AKA Shit You Don't Wanna Miss!
Alright peeps, if you thought that August was dead, better think again! With the new Nike Dunk High releases, we be fillin' this (and some of the next) month's copping list. The stars of our lineup are the two colorways of the grungy-looking Nike Dunk High Acid Wash! If you ain't on the hype wave, we'll get you on it no problem. All you gotta do is keep reading, cause you'll probably find something you love!
Nike Dunk High Acid Wash: Bleach Your Way in Style!
You know what people say, two is always better than one, right? And Nike totally held that though with the new Nike Dunk High Acid Wash. We ain't getting one, but two, lit colorways! The first one comes in a colorway we know and love, with a crazy twist. If you know your way about university Dunks, then Nike Dunk High UNLV is a no-brainer. Sprinkle some acid on that shit, and let the midsoles age, and voilà: Nike Dunk High Red Acid Wash. The kicks will drop on August 20, 2021, for $130. As for resale, this pair is worth about $250 on average, so better cop that shit for retail!
Next up, we got the not-so-black Black Acid Wash Nike Dunk High. The same concept stands, but the black leather overlays got a no-mercy bleach! The underlays come in sail this time giving the kicks a vintage-ish look. This one will drop on August 28, 2021, also for $130. It'll also give you $100+ in profit if you decide to flip these babies!
Nike Dunk High Midnight Navy
So this is not really an August release, but it's so early in September that we wouldn't have coped yet. We ain't cappin', you know, just these couple of days where you spend them lost… It can't be just me yo! Anyway, the Midnight Navy Dunk Highs will drop on September 3, 2021, for $110. They feature a white and navy blue leather upper, and we got no complaints on the color blocking. And finally, the kicks will be available in full family sizing, so you can flex with the whole crew!
Beyond Nike Dunk High: Special Guests
Dunk Low x UNDFTD "5 On It"
So we love us some highs, but Nike Dunk Lows are going on a whole new level with their latest releases. And the upcoming Undefeated collab is part of the second Nike Dunk vs AF1 pack! Why is it called 5 on it? Simply because the kicks are killin' it with FIVE different materials. If that ain't dedication, we don't know what is yo. Besides, blue and purple go together like tea and honey. Although the pack previously dropped, the Dunks will drop on August 20, 2021, for $120 alone. And if you decide to flip, the Dunks will make you an easy $230, so imagine flippin' multiples? We talkin' easy money fam!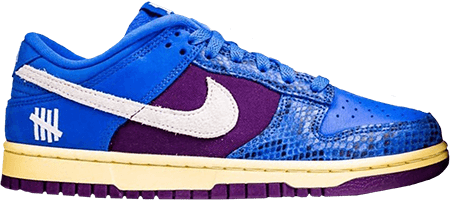 Nike Dunk Low NY vs. NY
All of the kicks we already talked about are awesome, no cap. But we gotta mention the upcoming Nike Dunk Low NY vs NY! We all know what a huge role the big apple plays in basketball. So the new Dunk is a tribute to the NY vs NY tournament where the best high school talents unite!
Now besides the awesome backstory, the kicks are lit. They come in a white and green colorway that kinda reminds us of street basketball courts! And naturally, the orange swoosh is the basketball. The kicks will drop on August 31, 2021, for $110. And you better not miss out on that shit, because you can flip it for $325 on average!
How to Get 'Em?
Whether you're in it for the Nike Dunk High or Low, you gotta keep an eye on Nike SNKRS. And to avoid that L we all hate, you gotta boost your success chances! So here's a list of the best Nike bots, besides yours truly. And make sure you know where to get your proxies and accounts. Homie you don't wanna flop because your IP got banned, do ya now? That's why you gotta make sure all that shit is secure before you go for the kill.