Nike Sacai LDWaffle Lineup: Three-Way All the Way Baby!
Go big or go home. That's exactly the kind of shit Nike and Sacai are going for in 2021! But we ain't just getting your old school type of collabs, that's just boring. The Nike Sacai LDWaffle is coming in the shape of three-way collabs this year! We're not getting just one or two kicks, that's mainstream shit. We're gonna get seven different sneakers from three different collaborators. If that ain't interesting enough, we think they'll have killer resale! Let's not get ahead of ourselves yet though fam, and let's check out what we got. And since we're talking about awesome Nike Sacai kicks, here are the top 5 ones!
Nike Sacai LDWaffle – The OGs and More
2019
Before we get into the new kicks on the way, we gotta show some love to the original Nike Sacai LDWaffle collab. It started back in May 2019 with a pretty colorful pack of two colorways. The first came in a pretty sick mix of green, orange, and yellow. Meanwhile, the second colorway rocked a crazy mix of red, blue, and yellow. Both pairs retailed for $155. Today, you can flip the greens for $616, and the blues for $634 on average!
The second wave of Nike Sacai LDWaffle kicks followed in September 2019. It had a black pair, a white one, and a freaking feisty purple/green/orange pair. They retailed for $160, but the resale was defo worth that extra $5. The blacks can go for $704, whites for $663, and the multicolors for $525.
2020
Last but not least, we got the last batch of LDWaffles. These two babies came in a "new" style in March 2020. The black and white pairs replace the mesh and suede for nylon. If you ask me, that shit looked much better before, and I know y'all agree. We can see that from the resale difference from older drops. The black pair resells for $297, while the slightly better-looking white one goes for $444.
2021 Brings Out the Nike Sacai LDWaffle 3-Way Heat!
So, as we already mentioned, the new Nike Sacai LDWaffle three-way collabs are definitely fire. But who are Nike and Chitose Abe collaborating with? Well First, we have two pairs of Nike x Sacai x Fragment. Second, we have an eastern power couple with two pairs of Nike x Sacai x CLOT! Last but definitely not least, we'll get three killer colorways by Nike x Sacai x Undercover. You can check 'em all out in the picture here, and they're in order too because we're fancy like that.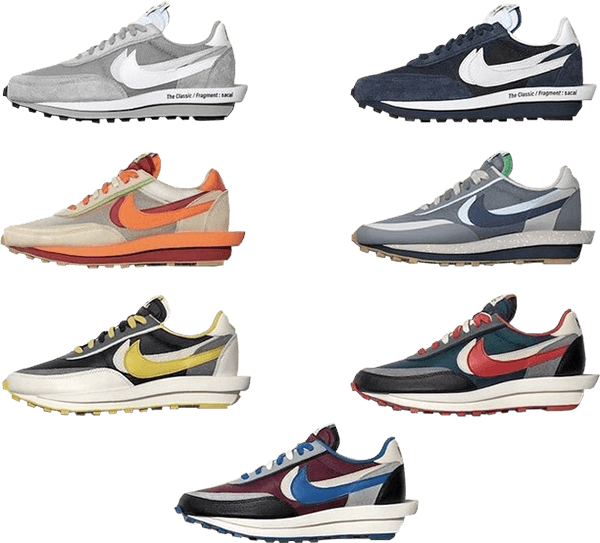 That sounds like a lot of shit to take in, we know homie. But you gotta power through it because some (if not all) of these will flip for some nice cash! Although they'll retail for $170, we believe that the kicks are worth paying a bit more. What we know for sure though is that the Fragment Nike Sacai LDWaffle pairs are dropping on August 27 (blue) and 30 (grey). These babies are worth $526 for the blues and $541 for the greys!
Get 'Em the Right Way
If these kicks are your cuppa, you're gonna need more than luck to reach the "Got 'Em" message. What you'll need is an awesome Nike bot because they'll all be dropping on Nike SNKRS throughout the Fall/Winter season. So here are the best Nike bots, besides TSB of course. Good luck fam!