Jordan 1 Low Voodoo: I Got Voodoo, and I Got Hoodoo!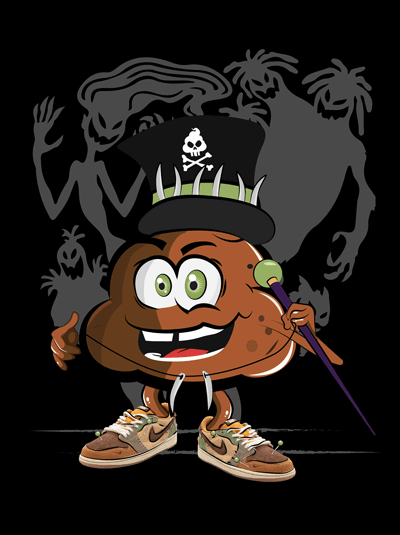 Gentlemen! Enchanté. How y'all doin'? Today's pair is a reminder of Dr. Facilier, and you can't convince us otherwise! If you know your Disney movies, you'll know what we're on about. So let's check out what the new Zion Williamson Jordan 1 Low Voodoo is all about. And since it's the season for spooky shit, you'll wanna check out these Halloween kicks! But back to the kicks on hand, why are these Jordans a must-have? And what's beyond the cool looks? Well, let's find all that out and a bit more right now!
Who Knew Voodoo Dolls Would Become Kicks?
You gotta bear with us today because we been waitin' our whole life to use Dr. Facilier's lines somewhere. You're probably thinking, what does this guy have to do with today's kicks? Aha! Allow us to show you! So, the Princess and the Frog movie fittingly takes place in New Orleans. That's where the evil witch doctor Dr. Facilier is plotting to take over the city and become the richest man in town.
As it happens, Zion Williamson plays for the New Orleans Pelicans! So the city is famous for its Voodoo practices and being the hometown of the Voodoo queen Marie Laveau. And of course, this was Williamson's choice of cultural element to tribute with the new Jordan 1 Low Voodoo. So, what does it look like? And is it worth the money?
Jordan 1 Low Voodoo: Stylishly Magical
I got voodoo, I got hoodoo, I got things I ain't even tried! But we totally wanna try on the upcoming kicks fam. We love to see creative takes on classic kicks we love. And Jordan 1 low is just the perfect pair to get groovy with. The new colorway features a mashup of colors and materials. Just like a voodoo doll, a patchwork-like upper features a mix of materials like canvas, hemp, and more.
Now if you're wondering about the colors, then they will be mostly earthy. From green to beige and brown, it's pretty muted, but it doesn't need to be more than that! The kicks are pretty cool with the lil deets like the voodoo doll head on the heels and visible stitching all over the upper. So all in all, these joints are a must-have if you wanna start an interesting collection!
Release Deets
Although the info is still kinda shady, Jordan 1 Low Voodoo will drop sometime during the 2022 holiday season. It'll retail for $170, which is kinda steep for the usual Jordan prices. But if we're being honest, a pair like that is totally worth all that shit, especially if it's gonna be low stock! If it is, then you in for a treat when you decide to flip these babies. So, gotta keep our fingers crossed, right?
Enchant Your Way to Zion's Jordan 1 Low Voodoo
Okay, we're kidding. There's no need for supernatural forces to cop these kicks. You'll just need a bit of technology and a lil bit of luck! And TSB can provide just that by giving you better odds of successfully copping kicks on Nike SNKRS. Y'all know how it sometimes gets with sneaker apps. But fret no more peeps, because if you got the right Nike bot, proxies, and accounts, you're pretty set! Always remember though, even the best setups can fail, so it's all a matter of trial and error. Good luck!