5 Best White Nike Sneakers: The Serious Do-Everything Designs!
The sneaker culture is all about following the latest trends, collecting timeless kicks, and reselling. However, one sneaker trend that never dies is flexing an all-white pair of sneakers. And in every sneakerhead's collection, there gotta be at least a pair of white sneakers. What about reselling them? Well, white sneakers, especially from a sneaker giant, like Nike, never disappoint with their reselling value. Well, if we're being honest most of Nike's designs are to die for. I mean, have you seen 'em March drops, or the Spring 2023's Jordan lineup? They drip with dopeness. Now, since all-white sneakers are an outfit staple we all need, it's only right we take a look at the best white Nike sneakers. 
Best White Nike Sneakers 
Y'all have to know that the secret behind every white sneaker flex, there's a sneakerhead obsessed with keeping them clean. That's literally the entire secret of a good flex. Well, aside from tying them laces the right way, that is! Now, let's dive into that list together fam!
Air Force 1 '07
Okay, you're not surprised, we know. But it is what it is. Nike's white Air Forces became so popular, some peeps got bored outta seeing them everywhere. It came up to the point where the streets flooded with these classics. Aside from these kicks being the best white Nike sneakers, they got a lightweight Nike Air cushioning sneaker technology that keeps people comfy wherever they go. And whether it's a pair of baggy jeans you're wearing, a dress, or even a formal suit, these are the kicks for ya!
Air Jordan 1 Low
The Triple White Air Jordan 1 Low is another staple featuring a monochromatic colorway that stole the limelight upon its release. Just like the AF1s, these white Nike sneakers got a lightweight cushioning that offers the utmost comfort level, as well. At the end of the day, be it AJ1 Lows, Highs, or Mids, this silhouette will always have a special place in sneakerheads' hearts as Jordan 1s are the kicks that redefined sneaker history. However, make sure you dry these kicks right. We don't want you damaging that fine leather! 
Air Max 90
Another classic white Nike sneaker classic is the Air Max 90. It was designed by Tinker Hatfield and its popularity has only been on an increase since then! This model saw a lot of dope collabs that sent its popularity skyrocketing even more. But its triple white colorway made a name of its own in the industry!
Air Max 97
Nike Air Max 90and 97 got a more sporty look than the Air Jordan 1 Low and Air Force 1. And not only do they look good with some joggers and a hoodie, but you can wear them around the clock and you'd still be as comfortable as ever. However, compared to the AJ1s and AF1s, the Air Max 90 and 97 are lil bit pricier, retailing at $175.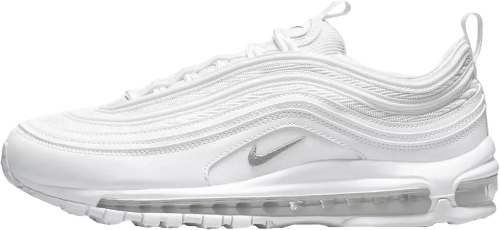 Nike Blazer '77 
Let's end this list on the best of notes as we introduce you to classics from the 70s. You can never go wrong with flexing the Triple White Nike Blazer '77 Vintage. And although Mids ain't the majority's favorite, the Nike Blazer might definitely change your mind in that aspect. It can complete nearly any outfit of yours. 
How To Catch White Nike Sneakers? 
Or any color for that matter!
If you're into catching a pair of the best white Nike sneakers, you have resale websites like StockX and GOAT. But if you're worried about authentication and buying at prices higher than retail, we're here to let you in on the best way to cop for retail on drop day! So whether it's upcoming white Nike sneakers you want or any other new drop, the ultimate way to score exclusive Nike kicks is by having the ultimate Nike bot by your side… as in TSB! 
Supporting 50+ regions worldwide, The Shit Bot helps you cop wherever you were in the world. And trust us when we say, you do need a sneaker bot because copping manually ain't even an option here, especially if you wanna buy in bulk. You must know how crappy SNKRS drops can get. So, to learn more about TSB, click below!