Air Jordan 1 Skyline: The Perfect Pair For Sunset Lovers!
Jordan Brand started this year strong with its Spring collection. And as the season's kinda coming to an end, you'd think creativity would've faded a lil along the way. But is this ever the case with the brand? That'd be a hard no! Now, what better silhouette would the brand flex its creative skills on than an Air Jordan 1? Sneakerheads' all-time favorite will be paying homage to Michael Jordan's Jumpman pose with the Chicago skyline as his background with the new Air Jordan 1 Skyline! Let's check it out together!
But before we do that, you gotta know that this Air Jordan ain't the only hot pair of kicks dropping this month! You have the Air Jordan 3 Lucky Green dropping soon as well! 
Air Jordan 1 Skyline: Sunset-Inspired? 
Inspired by the background of one of the most famous pictures of the greatest NBA basketball player of all time, the new Air Jordan 1 Skyline will feature near-exact colors of that picture's background. Which is an Air Jordan 1 campaign photo, in which Chicago's Skyline was featured behind him MJ himself!
So the kicks will feature a white leather base, overlaid with pink and purple hues. However, the Swooshes, collars, outsoles, and shoelacess will come covered in black. Here comes the crazy part peeps! Each shoe will have a color distribution opposite to the other! 
Release Deets
Besides all the cool shit this pair is serving, you gotta know all of 'em deets regarding this drop. So the Air Jordan 1 Skyline will drop on April 8, 2023 in the US, while the rest of the regions (Europe and Asia) will have to wait till April 18th, 2023 to catch 'em kicks! It'll also cost you $180 since Air Jordan prices been increasing these last several years. However, this increase ain't that significant when you compare it to the Wings collection's or to the profit you can make off reselling these kicks. You see, these joints are reselling for an average of $303 on the aftermarket. So, buy 'em kicks in bulk and you'll be flipping them dollar bills like there's no tomorrow!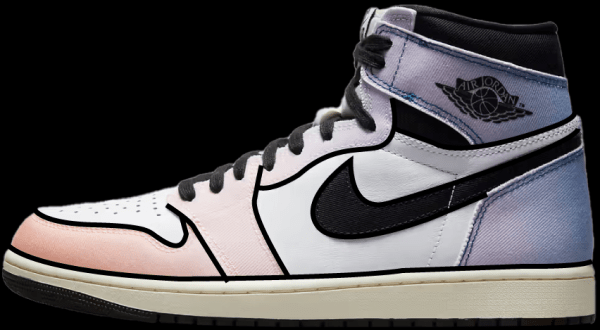 Wanna Score 'Em Air Jordan 1 Skyline Kicks For Retail?
If y'all were here on Tiffany & Co.'s Air Force drop, then you definitely know how hard it is to score a hyped pair with a high resale value. But as long as you got a kick-ass Nike bot, like TSB, with you, "impossible" should no longer be in your dictionary. Or must we say kicktionary? Anyways, y'all gotta know that The Shit Bot not only helps you catch Ws on Nike SNKRS but it also raises them good odds at copping in bulk. 
Supporting 50+ regions, you can try copping sneakers wherever you are in the world. Just get yourself some proxies and Nike accounts, and you'll be good to go. And never forget to learn how jigging addresses work! But remember, a bot can boost your chances at catching Ws, not guarantee that you'll always successfully cook. Good luck shitfam!