Air Jordan Prices Guide(2023) – How Much Do They Really Cost?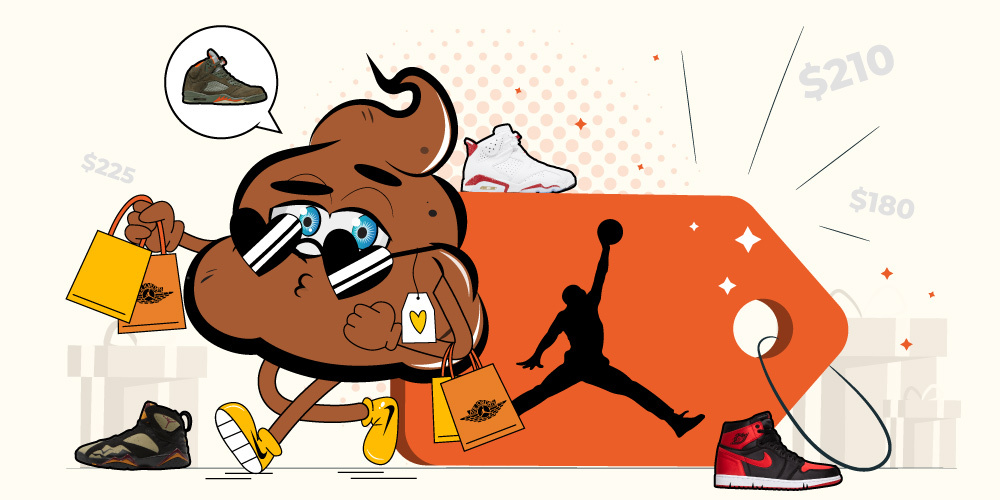 Ever since Michael Jordan flashed the NBA policy board with the Jordan 1 OG in 1985, Air Jordan has been going on and off with different cuts and colorways. They are cultural icons, worn by athletes, musicians, and streetwear enthusiasts alike. No surprise they're a major driving force behind Nike's jaw-dropping $184 billion market value! And, if you wanna go into the sneaker game the right way, you'll need to know how much Jordans are worth. So, we present to you the complete guide to Air Jordan prices, from the OG Jordan 1s to the sleek Jordan 13s! 
Air Jordan Prices
Jordan 1 High, Mid, and Low -"The Trendsetter"
We kick things off with the legend, the one that started it all – the Air Jordan 1. 
The most basic and classic Jordan 1 colorway template includes black or white underlays or overlays. With a central color base. And these classic Jordans are usually fixed at one price. Take for example the Jordan 1 Low, the silhouette's value goes somewhere between $90 and $130. On the other side, the Highs are generally worth between $180 and $200! That all depends on whether the pair is an OG, Retro, or a new colorway, aka depends on hype. The mids sit in between the Highs and Lows, and so does their price. You can get a pair for about $115 to $125, and that's sometimes cheaper than the Lows!
Whether Low, Mid, or High cut, the model that started it all is arguably the most popular. And if you compare the Air Jordan prices above, you'll notice that its overall price range is $90-$200. With the occasional $180 dippers. This means it's the most popular yet cheapest Air Jordan model to cop.
Jordan 2 – The Italian Stallion
Moving on to the Jordan 2s, you're looking at prices ranging from $190 to $220. Designed in Italy, these kicks have a touch of luxury, making them a fashion-forward choice.
Air Jordan 3 -The Elephant Print Marvel
Popular for its elephant print icon and Air cushioning, the Jordan 3 took the spotlight with its UNC PE scandal in 2018. You can still find some of the 250 pairs reselling for over $8,000 on GOAT. The model is popular for its crazy animalistic style that revolves around its cement design. These babies usually sell for about $210.
Air Jordan 4 and 5
The Air Jordan 4 is the perfect example of how a simple silhouette could reach a mega-hype. That shit went through the craziest collabs. From Eminem to Travis Scott, Virgil Abloh, and many more, shit went crazy. But your average pair of AJ4s is worth around $210 with the highest reaching as high as $250! So unless you're stuck with resale values, these joints are worth getting for retail.
When we think 5s, we think "Fire Red" and "Grape". But these kicks are much more than that. From classics like the Red Toros to newbies like the Jordan 5 Lucky Green, we can all agree that they're hot. And still, when you go for retail, you can find the 5s for somewhere between $210 and $225. Y'know, for a silhouette like that, we'd totally pay up! 
Jordan 6 – The Championship Winner
For the Jordan 6s, you're looking at retail prices ranging from $150 to $225. The "Infrared" and "Carmine" colorways are fan favorites.
Jordan 7 – The Dream Teamer
Jordan 7s, inspired by MJ's Olympic journey, will set you back about $200 to $210. These kicks capture the essence of the 1992 Dream Team.
Air Jordan 11 – The Patent Leather Stunner
Enter the Jordan 11s, and the price tag jumps a bit – expect to pay between $200 and $225. 
First known as "Black Stripe," Michael Jordan wore the AJ11 Concord in the NBA game of 95. And a year later, Jordan won his fourth NBA title in 1996 wearing the Jordan 11 Bred. Certain colorways became classics after milestones like these. We mainly remember the Breds, Concords, and the amazing Space Jams! But of course, we still love that shit despite the colorway.
Jordan 12 – The Flu Game Hero
For the Jordan 12s, prices hover around $210-$225. MJ's Flu Game has etched this pair of sneakers into basketball history.
Air Jordan 13 – The Panther Pounce
Who doesn't know and love the "Black Cat"? Even other silhouettes have released tributes to the feline model. Like the Jordan 4 Black Cat line. This model is famous for its cat-like features and green holo eye. Its original price in 1997 was $150, but now it goes for $190-$200 on average. Not much of a crazy gap and we respect that y'all.
What Happened After Air Jordan 23?
What happened to Air Jordan prices after the AJ23? If you check the official Air Jordan page, you'll realize that models 24 through 27 dropped the number label. And instead adopted their year of release as a label maker. Why though? Well, it might give the impression that Jordan didn't want to expand his legacy beyond 23. And so the team took it one new release at a time. But that didn't last for way too long.
Air Jordan 24 went under AJ 2009 to mark a transition in sneaker innovation. The inspiration behind this silhouette was female sprinter April Holmes. She joined the Jordan team and helped introduce Articulate Propulsion Technology to basketball sneakers. The kind of science you learn about if you plan to become an astronaut. And you know, when you're hoopin' in Js, you gotta fly!
The release year label ended with the AJ 2012 (Air Jordan 27). And fun fact, that silhouette supports 3 midsole options! Imagine being able to switch midsole gears to adjust your game power. The next silhouette went back to numerical names for a probably pretty obvious reason. The AJ2012 dropped in 2012, but so did the 28s! Anyway, the AJ28 was another performance breakthrough with incredible lightweight features.
Why the Prices Are Worth It
If you ain't buying Jordans to sell, you're buying Jordans to flex. The Air Jordan legacy is worth decades of basketball success and streetwear hype. They're not just any sneakers; they're some of the industry's hottest commodities, both at retail and in the resale game. But before you embark on your journey of buying and selling Js in the aftermarket, you've gotta know what you're spending.
Well, depending on factors of collaboration, design, and overall quality, you can find  Jordans retailing for below $90. Or above $250. But if you stick around to connect the dots, you'll be able to estimate the value of Jordans dropping. But what you'll definitely need is the right Nike bot, or else it's resale for you!
However, some model prices are more stable than others. But that's just because of the long history they've survived to get here. That's brand experience weighing in. Because looking at the fresher models that dropped within the last 10 years ago, you'll find that the prices are clear as day. So, you really gotta take each Jordan pair at a time and develop the common sense to categorize it.