Air Jordan 5 Fire Red 2020! Flamin' Through AJ5 History!
MJ, do you know what year this is? Because we sure as hell do! That day you scored 69 points against the Cleveland Cavaliers?! In a couple of weeks on March 28, that will have happened 30 years ago! And counting. But back to you now. No, not MJ's "you." You there. It's no shock that the Jordan Brand huddled up to create a 2020-mimic of the 1990 Air Jordan 5 Fire Red. To pay homage and what not. But we know this one's far from being the first in line. Since a handful of AJ5s in Fire Red dropped after the OG 1990 release (we're getting to that). And did you know that the AJ5 was the first shoe to ever have a foam construction in its upper? True story. All that foamy goodness started right at that point in sneaker history. 
Jordan 5 Fire Red: Behind the Teeth!
Now we know it ain't Valentine's no more, but we're on for that fire red action babe. Or should we say bape? We know you got it. And for those of you who didn't, you'll get it in now. Because we know you can't get enough of that shark-inspired midsole. We can't either. That animal instinct shit is bomb! And since we're going back to the good ol 90's, this is how it started. First you need to get into Tinker Hatfield's brain. There you go. So, when Hatfield watched MJ perform back in the day, he saw him as a "fighter plane." He thought, and we quote, that MJ "bit." So we've got war planes and teeth…AND sharks! Makes sense now?
Point is, when looking to cop an AJ5, keep in mind that you're copping Tinker Hatfield's vision of MJ. Or his interpretation of MJ's legendary performance! OR even think of it this way: MJ's muse wrapped into a shoe! All fearless and shit.
And now we're throwing silver tongue! Here's the Air Jordan 5 Retro Fire Red releasing on April 25, 2020 for a retail price of $200! 
[4/24/20 UPDATE]: The Jordan 5 Fire Red is pushed back to May 2 and is dropping in all-family sizes. Big kids sizes will sell at $140, little kids at $80, and toddlers at a retail price of $60.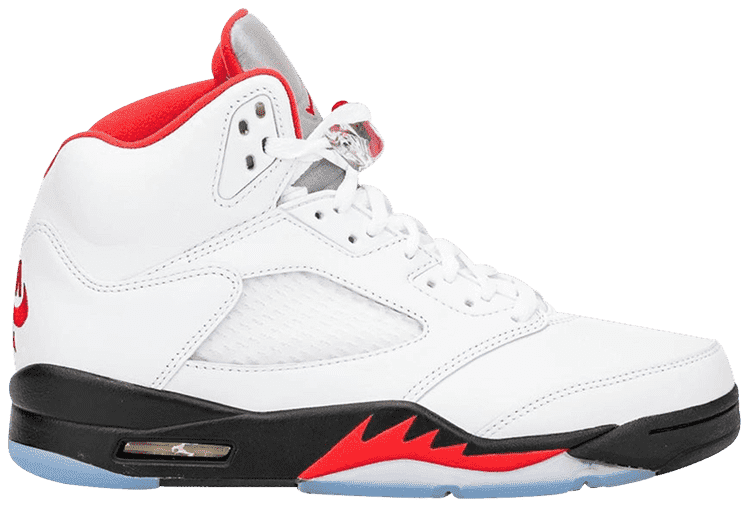 Is this Jordan 5 Hype Worth It?
The thing with Jordan 5 Fire Red editions is that although they're not so fire in the resale game, they hold monumental value to every MJ fan out there! And that's gotta pay out someday, fam. Besides, if we are to look at the Air Jordan 5's without setting ourselves on fire, we gotta admit, they're game. Virgil Abloh's Air Jordan 5 Off-White set the copping game on fire this February! And even if we are to look ONLY at the Jordan 5 Fire Red, didn't you see what we saw back in 2015?! The Jordan 5 Retro Supreme White! Sure, Fire Red isn't in the damn title, but c'mon! The Supreme x Jordan collab scored big time in the resale game. They stole AJ5 Fire Reds' damn thunder by looking almost exactly the same! Sneakerheads, you've got some thinking to do. 
Jordan 5 Fire Red: More Than Just a Game
AJ5 fam, if you weren't lucky enough to cop Abloh's Off-white (which we can't get off our minds or our SUCCESS LIST!) this is your chance. The Jordan 5 Fire Red line is a long one and it's got MJ written on every bit of it. Plus they're about to turn 30 bruh! They deserve some appreciation. Remember the turning-35-breakdown a while ago with the Nike Dunk? Same shit. But since you gotta wait till April, you've got TSB to make sure you don't wait after that. Sometimes, copping is about more than just a game. It's sometimes about the absolute love for its players!
RT = 1 TSB Invite
⚠️NIKE BOT- THE SHIT BOT launching very soon⚠️

4 months dominating Nike releases
Consistently and with limited users!
200k$+ profit by our users today on Jordan 5 OFF WHITE

Product page link:https://t.co/xf40e1Zq22 pic.twitter.com/U0z4hxUuyt

— The Shit Bot (@The_Shit_Bot) February 15, 2020