Run The Jewels SB Dunk: A Collab Worth Literal Gems!
The sneaker industry ain't no stranger to collaborations with athletes. Especially when it comes to basketball. Matter of fact, NBA players' collaborations with sneaker giants and other shoe brands play a main role in the rise of the sneaker culture. However, we should never forget that musicians' sneaker collabs also had a hand in that rise! And let's just say a dope Run The Jewels x Nike collab is coming your way fam. Hip hop, skateboarding, and a sneaker giant does sound like a cool mix if you ask us! With all this said, y'all gotta ready up yourselves because a Run The Jewels SB Dunk will be dropping soon!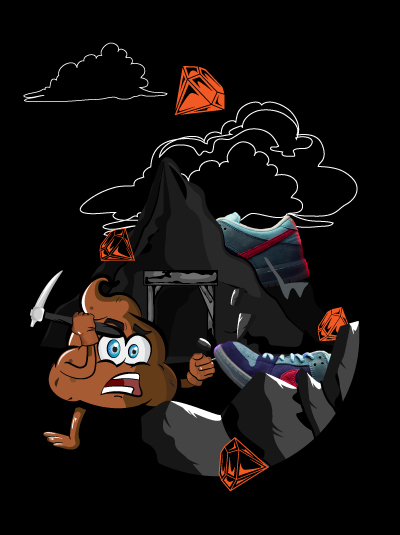 Before we get into all of 'em deets, you gotta know that this ain't the only awesome Nike SB Dunk collab Nike has in store for sneakerheads for the Summer collection. Y'all will also be getting Jarritos x Nike SB Dunk in May 2023! Now if Dunks ain't your jam altogether, the new Air Jordan 3 Wizards will definitely do it for you!
Run The Jewels SB Dunk: Striking Colors That Fit Your Summer Collection Just Perfectly
Run The Jewels- aka RTJ- is an American hip-hop band consisting of two of the coolest duo in the industry. This duo includes the producer and rapper, Jaime "El-P" Meline, and Mike "Killer Mike' Render. They received the NME Award for Best Band in the World in 2016! That's one achievement for the books!
Now, let's have an idea of what to expect from this release, shall we? Okay, so surprise is, y'all won't be getting only 1 pair from this collab! You'll be getting a Run The Jewels SB Dunk High and a Run The Jewels SB Dunk Low! 
So, the Lows feature Deep Royal Blue, Blue Chill, and Active Pink colorways. Different shades of Blue suede cover the uppers. While the Swoosh comes in striking Pink. "JAMILY 2010" appears on one insole referencing El-P's real name (Jamie Meline), his wife's name (Emily Panic), and the year they began dating in. The other insole holds Killer Mike's birth date on it, 4/20/75. Yes fam, wherever you look, there's an RTJ reference. And it's only right ya know, since Nike's collaborating with the duo and all that…
As for the second pair, Run The Jewels SB Dunk High features Active Pink, Metallic Gold, and Black color schemes. These joints will come in a Black leather base, overlaid with Fuchsia pony hair. Looks like Nike took quite the inspiration from Jordan Brand's Twist AJ1s! You can also expect jewel-like Swoosh, Goldish lace locks, along with Pink and Yellow laces. 
Release Deets 
So, both the new Run The Jewels SB Dunk Highs and Lows are expected to hit 'em shelves on April 20, 2023. The Lows will retail for $130, while the Highs will sell for $140. You must be noticing the slight difference in shoe pricings lately. Well, y'all can blame that on inflation. But know that, these kicks will be worth the money spent on them. Because not only are they a cool flex, but you can make great money outta flipping them as well! These babies are reselling for $2k+ on the aftermarket, after all!
Wanna Catch 'Em Run The Jewels SB Dunk?
Do y'all ever wonder who buys such expensive as heck kicks for resale? Now that is a good question. And one logical answer could be that the buyer is some rich sneakerhead whose main goal in life is to collect sneakers. 
However, if you ain't a DJ Khaled kinda rich, who literally rented out his sneaker closet on Airbnb, you can always be on the other side of the transaction! As in, you be the reseller making tons of money outta buying kicks for retail, then reselling them for some hefty prices! But to do that, you gotta learn all the ropes of the sneaker-copping game. Which starts with you knowing the right way to cop for retail. And that peeps happens when you get yourself a great sneaker bot. Because not only does it raise your chances at copping the kicks you want, but it also helps you cop in bulk! 
Yet, in Run The Jewels SB Dunk's case, you gotta get yourself a great Nike bot. Because one thing you should know about Nike SNKRS drops is that they're crappy as shit. And t0 up your game even more, you need to equip yourself with great proxies and Nike accounts! Good luck fam!