Don't Get Duped: Here's A Guide On How To Tell If Dunks Are Fake!
The sneaker culture ain't rising on its own. But fake sneakers have recently been creeping up the ladder and finding their way into the market like never before. And as their popularity increases, some people are becoming professionals at imitating sneaker designs with the highest of precisions. And Nike being the sneaker giant it is today gets copied the most! So, maybe the Swoosh should direct its lawsuit war toward the real counterfeit market! Anyway, since the Nike Dunk is one of the Swoosh's most popular and simple designs, some tend to copy it the most. And that's exactly the reason we're here today, as we'll let you in on how to tell if Dunks are fake! 
Are Counterfeit Products And Counterfeit Sneakers Taking Over? 
Did you know that the fake goods market was worth more than Ireland's economy as a whole, at some point in 2019? Well, yes fam. These are the facts we been hit with today. According to Statista, counterfeit product trading roughly amounted to $449 billion in 2019. And to point out how big the number is, the platform compared it to mid-sized European countries' economies, like Ireland. Whose economy generated around $431 Billion in 2019. And it's worth noting that the footwear industry is the most affected industry by counterfeit products. In 2016, footwear had the highest value, 22%, compared to other seized counterfeit and pirated goods! Now, it's only the norm to feel a lil bit hesitant before buying a pair of sneakers. Especially if these kicks are a pair of highly-coveted Nike Dunks. But, don't worry, we're here to help you through it all!
How To Tell If Dunks Are Fake? 
Okay, so here's the thing. We're gonna compare a fake and a legit Dunk with each feature, so y'all can learn how to tell if Dunks are fake or not. This makes the whole process much easier. And if you're a sneaker collector yourself, you'll very much need this guide. Because what's the point of collecting sneakers if they ain't legit?
1- Check The Price 
 How to tell if Dunks are fake? Well, the easiest way to find out is to check the price tag. If the price seems like a "catch" and right out of a dream, it probably is. Because one thing you should know is that Nike Dunks usually cost between $100 and $150 (depending on sizes and models). You might as well see a $10 or more price increase as inflation is hitting worldwide. So, don't be surprised. But Dunks' prices are kinda stable till now. But if you see a pair of Nike Dunks retailing for a "limited offer" of $45, run the other way fam!
2- Examine Interior Tongue Labels
Examining the inside of the tongue is another way to spot fake Dunks. Here you gotta inspect both the SWOOSH and the QUALITY texts. If you find the writing or the font too thick and "unclean," then the shoes are fake. If you're a sneakerhead, you'd already be familiar with this one. There's a certain font and spacing consistent with each model that you learn the more you dive into the shoe business! 
3- Inspect Size Tags 
Much like the tongue tags, you can tell the difference between real vs fake Nike Dunk kicks through them. So, the size tags must not have a too-thick size for the shoe to be authentic. That's why if you find a bold-like CU1726-100 and MADE IN VIETNAM texts on your size tag that require you to squint your eyes a lil to focus, put 'em Dunks down and run out of that door. Because authentic sneakers got much thinner texts on these tags. And in case you received them from an online website, make sure you cancel you contact them to cancel your order, and ask for a refund. 
4- Check Swooshes
Okay, this one's easy. Just needs a little bit of focus. The Swoosh, being the most important part of your Nike Dunk, gets noticed the most. So the Swoosh on the real pair and its stitches should be as clean as shit could get. And that stitching gotta match the colorway of the shoe. So, if you find loose threads or uneven stitching, know that what you're looking at are counterfeit sneakers. Another thing you might find on a pair of knockoffs is a too-big and sharp-looking Swoosh, that just looks so wrong that it doesn't blend in with the style. Also, a fake pair might have Swooshes that are too close to the midsoles.  An authentic pair got a clean curvy Swoosh that doesn't sit too close to the midsole.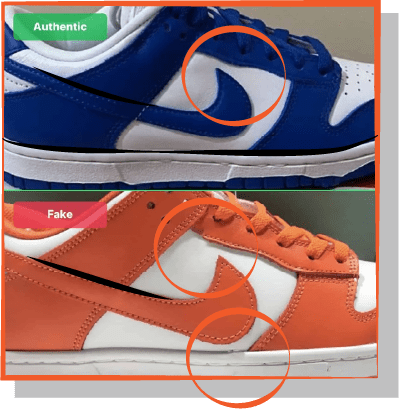 5- Inspect Toe Boxes
The shape and design of the toe can be a great indicator to tell if Dunks are fake or not. Some knock-offs usually have less deep and smaller punctures than authentic ones. You might also find misaligned punctures on the toe box of a fake shoe. Or sometimes, the kicks are so fake that the shape of the toe boxes looks so alien, a 7-year-old can tell they're replicas and not authentic pairs. One more thing you might notice about a fake pair of Dunks is that it might come with thinner mudguards than authentic ones. 
6- Examine Box Labels
Before you look into all the deets of the shoes themselves, knowing how to spot fake Dunks starts by checking the shoe box itself. You can look up the bar code on Google, and if your Dunks came up, then you did a great purchase and your Nike Dunks are legit. However, if no results came up, then your kicks might be knockoffs. One more thing you might notice when you compare an authentic and a fake Nike shoe box is that the fake ones can come with washed-out colors and an aging look, unlike an authentic pair.
How To Avoid Buying Fake Dunks?
Guides on how to tell if Dunks are fake can help, but them designers are getting really creative with counterfeit products these days. This way, we can safely say that the only 100% guaranteed way to get 'em legit Dunks is directly from the source. The source, as in Nike SNKRS and their retailers. Not only can you get legit kicks for retail these ways, but you can make money outta reselling them.
And let's be honest, after Nike hinted at the probability of fakes making their way into StockX's stock, sneakerheads now think twice before buying off the resale platform. So, it's better to be the seller on reselling platforms, than the buyer! If you know nothing about how the reselling hustle goes on StoxkX, here's your guide! 
Moving on, to make sneaker copping worthwhile, you gotta cop in bulk so you double them dollar bills. But you need to know that while you have a chance at copping more general drops manually from SNKRS app, your odds at catching exclusive kicks are very slim. That's why you'll need a powerful Nike bot, like TSB, by your side. Supporting 50+ regions, you can buy Dunks or any Nike sneaker, wherever you were in the world! And that peeps will only cost you $300/YEAR! Click below to find out more about the shittiest bot in town!