Instant Regret Kicked In? Here's How To Cancel StockX Order!
To err is human. To be able to cancel StockX order is divine. Now that StockX has removed authentication tags, and Nike's accusing them of selling fakes, you might get cold feet when you order. Or you might want the shoes you ordered but you clicked on the wrong size by accident. It could also be that you did an emotional purchase, and now you're waiting on an order you can't afford. We ain't judging one bit as we totally get it and understand your concerns. The anxiety such things bring is outta this world. But don't worry 'cause we're here to help you! So here's how to cancel StockX order whenever you're feeling fishy!
How To Cancel StockX Order: A Step-By-Step Guide 
Before we dive more deeply into this, know that shit ain't as easy as locating the "cancel order" button. Then going on with living your life. StockX doesn't give you that cancelling option. The platform wouldn't be such a reliable middleman between the seller and the buyer if it offered the cancelling order option that easily. You must also know that the whole process, from placing orders till they're delivered, is automated. So, regular order cancellations would mess up the whole process. However, most of the rules have got loopholes that allow you to bypass them one way or another. And your cancelling StockX orders is no different! 
We ain't gonna drag this topic more. You're here to know how to cancel StockX order, and that's exactly what we're gonna give you. But you must know that shit depends on whether the bid got accepted or not. Note that our reference to these steps is wikiHow. 
Cancel Purchase Before Bid Is Accepted 
Step 1:  Go To StockX's Official Website 
There's no specific browser to use. You can use any web browser on a PC or Mac to log into https://stockx.com/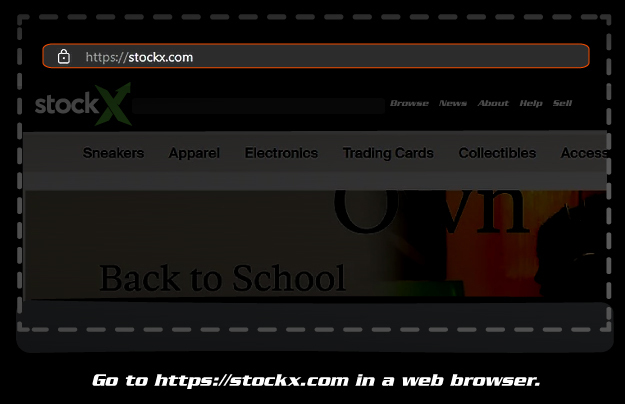 Step 2: Log In To Your Account 
On the upper-right corner of your browser, you can find the Login icon. Click on it, and fill in your account info (email address and password). You also have the option of using your Google, Facebook, Apple, or Twitter accounts to sign in. 
Step 3: Click On My Account 
It ain't easy to miss, as you can find your account's profile in the upper-right corner of the website page. Right beside the Notification icon and Sell button. 
Step 4: Click On Buying Tab 
After you've clicked on "My Account," Buying is the first button that displays on your screen among others. Click on it and you'll display all of your purchses. 
Step 5: Click On Current Tab
When you click on "Buying," three tabs will appear on the top of your page. You gotta click on one that says "Current" at the top of the page. What's listed under this tab are all bids that haven't been accepted yet. 
Step 6: Find The Bid You Wanna Cancel 
Search for the order you wanna cancel in the list under "Current." If you can't find your order there, go to "Pending." If your order is in the pending section, you'll wish for a "Shit!" button. Because that's exactly the way to describe your situation then. But don't sweat it. We still got a solution for that as well!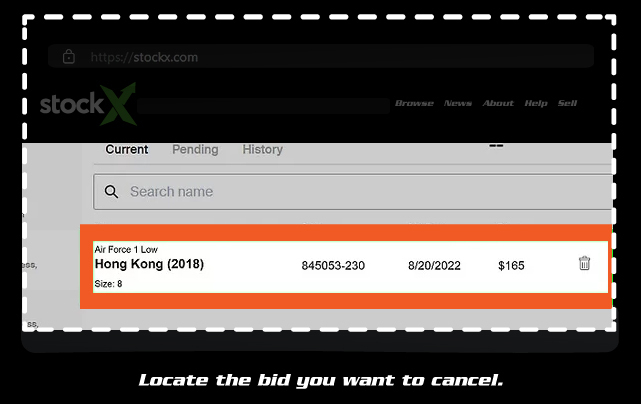 Step 7: Click The Trashcan Icon Next To Your Bid
Before we give you that solution, let's suppose you found your bid under the "Current" tab. On the far right where your order sits, beside the price, there's a trashcan icon. Click the heck outta that thing, and you'll be good to go!
Cancel Purchase After Bid Is Accepted 
Sometimes luck won't be at your side as you won't find your order under the "Current" tab. This could mean one thing: your bid has been accepted and is now pending. So you getting cold feet after that… well, let's just say that things get a lil complicated. So, here are three things you could do in that case! 
Method 1: Contact StockX
The first thing you could try to do after your bid gets accepted is to contact StockX's support team. You can contact them using one of the following options: 
Email: support@stockx.com

Phone: (313) 343-1228
But make sure to do that before your order ships. Explain your situation to them and provide proof. For example, if you ordered the wrong size, you could show them the size of previous purchases and the pending order. It's worth noting that they're not obligated to cancel that order, so don't take it personally if they don't. And IF they accepted and cancelled your order, they might charge you cancellation fees. OR, best case scenario, they issue a refund. However, make sure you don't put in too many cancellation or refund requests. Because it can backfire and your accounts might get suspended or even banned! 
Method 2: Contact Your Bank 
If the first method doesn't work with you, you can contact your bank and request a stop-payment. This can stop the whole transaction process on the platform. You could also request a charge-back request if you paid using your credit card. However, there's a drawback here. StockX could either ban or suspend you for doing that.
Method 3: Resell The Product
Now to dodge getting suspended or banned, reselling your product is the safest method to go with in case your bid got accepted and the item shipped. Just make sure you keep your sneakers or whatever product you bought in the cleanest condition. Or more like keep it exactly the way you received it. This way you can offer it up on StockX for the same price you paid for it. Or nearly the same price. And that's how you'll get your money back doing a 360%. 
All in all, you can work around this whole situation by copping sneakers at retail, on release time. And while this might be possible for more general drops, you'll probably need a sneaker bot to get to more exclusive sneakers. We know this might sound like a complicated thing to do, but sneaker bots are easy to use. And once you get the hang of them, the best ones can guarantee you get the legit sneakers in your shoe size, without paying an extra dime!