Great Indoors Air Max 1 Is All About Tigers, Cows, & Random Shit!
Lawsuits, NFTs, Movies, and hot drops. Nike got 'em all! Okay, so the former might be a bummer, but that's Nike for ya. Making a living outta lawsuit filings is its flex. Anyway, what's even better than them cool drops, is the money they're making sneaker resellers on the aftermarket. And that's shitloads of cash fam! Tifanny's AF1s should tell you enough. However, today it ain't an AF1 stealing the limelight. It's the Great Indoors Air Max 1! So, let's find out together what this drop is all about! 
But before we do that, if Air Max 1s ain't your flex, make sure to check the upcoming FaZe Clan kicks, or the Jarritos Nike SB Dunks. And if you wanna stay up-to-date with sneaker news and more sneaker releases, make sure you push in that notification on our blog!
Great Indoors Air Max 1: Inspired By… Everything
Alright, fam! So, the new Great Indoors Air Max 1 will come in the boldest prints and different materials. Nike is taking its dedication to keep up with the latest sneaker trends to a whole new level with this drop! According to the Swoosh, these kicks are inspired by "what the hottest sneaker boutique would look like." Well, it's more like these joints are inspired by anything and everything you'd see in a boutique… and a forest! From tiger stripes and cow prints to tumbled leather to paisley-like patterns, shit's all there, designed on the same pair of shoes! So if you're into colorful kicks, these are the best pick for ya! 
Release Deets
The new Great Indoors Air Max 1s will hit 'em shelves on March 15, 2023. They'll also retail for $150. And whether you choose to flex or flip 'em, you'd be on the winning side either way! These joints are reselling for an average of $235 on the aftermarket. So if you wanna make some cash, you can cop 'em in bulk! If you don't know how to do that, here's a guide! A lil hint: You gotta learn how jigging addresses work!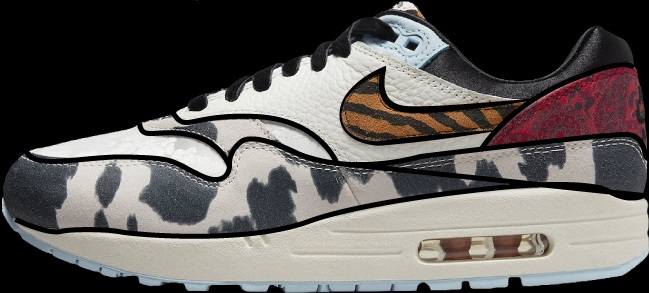 How To Snatch The Great Indoors Air Max 1 When It Drops 
Soo, as you all may know, Nike drops equal SNKRS drops. Meaning that, you have to know the types of Nike drops to get your copping experience going! And only after you learn how shitty those things could get that you start knowing how much you need a great Nike bot that helps increase your chances at catching Ws!
However, you also gotta know that a bot can't do much by itself. So if you're dead serious about your botting game, make sure you get the best proxies and Nike accounts. And never forget the power a powerful server got on sneaker copping! Also, if you're looking to develop some connections in the sneaker culture, you can always join a good cook group! Good luck shitfam!