Fiesta Alert: Nike SNKRS Day 2023 Hits the Globe this Time!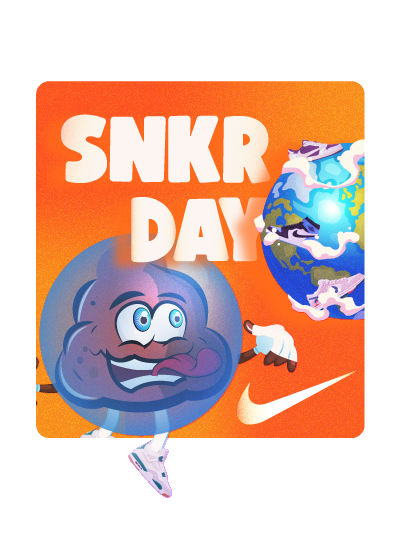 September's kicking off with a bang, shit fam! Get ready for a whole bunch of awesomeness dropping your way. And guess what? The NIKE SNKRS app is throwing in some serious heat too, just to spice things up. Nike SNKRS Day 2023 is about to blow your minds! Mark our words, right at the start of the month, it's gonna be an absolute madhouse of excitement!
Despite all the Yeezy's August chaos going on let's zoom in on what truly counts, the Nike game! Well, it's crystal clear that our beloved Swoosh is absolutely owning the scene right now. Picture this: epic collabs that are hotter than a jalapeño, iconic kicks making a comeback, and Jordan releases that make your jaw drop. Just keepin' it real, fam!
This time, the party's not exclusive to EU peeps only. But, for the first time ever, this event is going global! That's right, everyone from LA to Tokyo can now join the party! However, I know you're buzzin' with questions like "What's the scoop?", and "What's droppin'?" Well, we're here to tell you all about it. It's like Christmas for sneakerheads, ya know? So, let's check out all the shit Nike has in store for us!
P.S. Speaking of days worth celebrating, make sure to check out the Kobe 8 Triple White tribute set to grace Mamba Day!
Defining the Dope Day
In case you're living under a rock, let's break it down for you. Nike SNKRS is Nike's very own app where all the hot stuff drops. Think Travis Scotts, Unions, and all the golden pairs. That's where Nike releases them. Now Nike SNKRS Day is a yearly celebration of Nike's app. This day is all about exclusive releases, iconic collaborations, and hot restocks! It's definitely a chance to cop the kicks you've been dreaming about but you missed the chance to have!
However, the app literally tortures you until you get a pair of hyped Nike sneakers. But according to Nike and all other sneaker retailers, that's how they keep things fair. Over the last 6 years, we've seen the SNKRS app change a lot, along with its rules… 
How can you participate in Nike SNKRS Day 2023?
To participate in Nike SNKRS Day 2023, all you need to do is open up the SNKRS app on your smart device. Then keep an eye out for sneaker drops, scavenger hunt clues, live transmissions, etc. Not only on the main feed but on all of the tabs across the app.
Flashback to Sneaker Madness: 2022 and 2021
Remember last year when the SNKRS Day 2022 dropped those Off-White x Air Jordan collabs? Yeah, that had us all feeling like we won the sneaker lottery. And in 2021, the Travis Scott x Jordan 6 had sneakerheads doing the moonwalk out of pure joy. These previous editions were epic, but hold onto your laces because this year is about to take it up a notch.
All That Sh!t Going Down on SNKRS Day  2023
The biggest question on everyone's mind: What will we cop on Nike SNKRS day 2023? Well, Nike might hit us with a surprise comeback of some mysterious model or they might drop a whole new design bomb. Seriously, it's like they're planning a sneaker revolution and we're all invited to the party. On SNKRS Day we always get the best restocks ever!
So Nike is keepin' it all hush-hush, but leaks are the fuel of hype, aren't they? Now if half of the rumors are true, it's gonna be a killer day. First off, rumor has it that the legendary Chicago 1s might just be making a comeback! Alongside the dope Nike SB Jordan 4 "Pine Green", the iconic Tiffany AF1s, or even the flavor-packed Jarritos Dunks.
However, we have received official confirmation about some of the sneakers that will make their debut on Snkrs Day 2023. Among these, you'll find a mix of restocked classics and fresh takes on previous models, showcasing vibrant new color options:
Air Force 1 x Terror Squad
Women's Air Foodscape Natural and Brown
Air Max Plus Pure Platinum
Women's Dunk Low Midnight Navy and White
Air Max 1 '86 World Make Korea
Jordan 1 World Make Japan
Jordan 4 red cement
Jordan 2 Soft Pink
No matter what they drop, you best believe SNKRS Day 2023 is gonna be legendary. It's not just a day; it's a moment that's gonna echo through sneaker history. Also, It's like a glimmer of hope for those who've been straight-up drowning in a sea of SNKRS Ls.
How to Score Ws on SNKRS Day?
Nike SNKRS Day 2023 is your golden ticket to sneaker glory. The releases are limited as heck and the demand is sky-high. So, get ready to conquer the virtual queues like the sneaker warrior you were born to be. But here's the secret sauce, you need the right tools for the job. And in the sneaker world, that's a killer Nike bot.
Being one of the best Nike bots on the market, TSB is your ticket to boosting your chances at Ws on SNKRS Day 2023, and every other day, that is!  Retailing for  $300 only, TSB can help you cop wherever you were in the world as it supports more than 50 regions globally!
And hey, if you're thinking about the resale game, landing just one of these coveted drops could have you making shitloads of money! Let's get festive, fam!