Travis Scott Jordan 6 British Khaki: Have a Biscuit Fam!
From the United States to the United Kingdom, we all share the love of kicks. Especially pretty lit kicks like the Travis Scott collabs. Shit goes down every damn time we get a release! From the frustration of crappy websites to the Ls we don't deserve, release days got us in the feels. But if you missed previous collabs, took an L, or are simply new to the game, this is for you. The new Travis Scott Jordan 6 British Khaki is a sure way to make the year a bomb! It will be a bigger bomb than USPS's lawsuit against Nike's Air Force 1 Experimental man.
Travis Scott Jordan 6: Just the Tea We Were Waiting For!
It's all in the colors baby, and Cactus Jack's color palette is totally military. With the first Jordan 6 collab, we got an olive colorway, and the industry went batshit crazy over it! Today, that pair is worth up to $1,500 on the aftermarket. The lucky peeps who got to cop the pair kinda made a tiny fortune, especially if they flipped multiple pairs!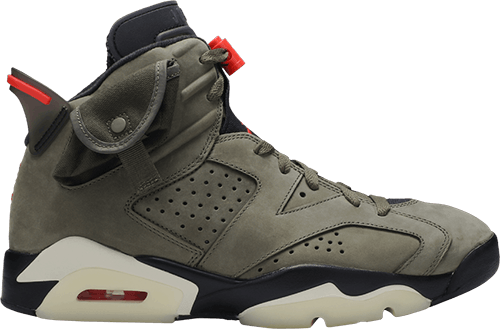 We also remember all the rumors about the pretty interesting yellow Travis Scott Jordan 6. Anyway, that turned out to be a nope from Nike and La Flame. So all we had to do was wait for another collab to drop. And finally, the time is here for a new pair of Jordan 6s!
How Does the New Travis Scott Jordan 6 Look?
The upcoming pair features the pretty standard Air Jordan 6 silhouette. But, we all know by now that Cactus Jack's Jordan 6 has its custom deets! That's the pretty cool side pocket and the glow-in-the-dark parts. The upper comes in a pretty nice British khaki suede, obviously, with hints of infrared. And let's not forget all the Travis Scott and Nike branding, we buyin' the kicks for that shit!
Release Deets
The new Travis Scott Jordan 6 will drop on April 30, 2021, for $250! That's Travis's gift for all the fans on his birthday. The real gift though is the fortune you'll make when you flip'em kicks! They're worth an average of $1,200, are you gonna miss that?
Cop Travis Scott Jordan 6 With TSB!
Okay, so you probably know that Travis Scott AJ6 will be very hard to cop. But you also know that TSB is the shittiest bot in the game. So if you want a fair chance at copping this pair, and any pair, you need TSB! Sounds tempting huh? You can buy a copy right here. But if you can't spare the cash just yet, you're in luck! TSB is celebrating its 70K crappy followers with a huge giveaway to show some love. Don't miss out on it!
📢70K FOLLOWERS CELEBRATION!🛹

🔄EVERY 2K RTs – 1 WINNER PICKED🎁

🔑KEYS🔑
💸CASH PRIZES💸

THANKS TO EVERYONE WHO MADE THIS SHIT POSSIBLE!💩🚀 pic.twitter.com/bXVlx2ZxCh

— The Shit Bot (@The_Shit_Bot) April 24, 2021