November Jordan Releases: 5 Out of Which Can Make You $5,000 [2020]
Freaky Halloween to all our readers! Although November Jordan releases can totally wait, we're all about preparing you for what's next to come. So, before or after you get all freaky today and mask it up, here is the list of November Jordan releases set to drop before the Holidays! Although we tend to focus on hyped pairs and resale trophies, you'll find the release dates and prices of the Highs, Mids, and Lows scheduled for this month.

Halloween Do Anything For Ya?
But before we call it a day and move on with our lives, we are DEAD EXCITED to cop the Jordan 1 Mocha today! So, if you're a TSB copper, you better set up those proxies and reserve the time for it. We just copped the crap out of Halloween Nikes and the Off White Jordan 5. So, no Travis Scott look alike can get away from The Shit that easily. Especially not on Halloween, which reminds us: did you see what we're coming as? Check us out @The_Shit_Bot for a closer look.

🔂RT – 1xTSB

💰1000+ JORDAN 5 x OFF-WHITE – $450K+ USER RESALE PROFIT💰

Ending this October on a MEGA HIGH with 1000+ Jordan Off-White 'Sail' Checkouts

🇯🇵 🇺🇸🇪🇺🇦🇺🇷🇺🇨🇦 POOPED!💩

🏆NEW RECORD! 350K ENTRIES & A MASSIVE 96% ENTRY SUCCESS RATE🏆 pic.twitter.com/gguRUcgGVZ

— The Shit Bot (@The_Shit_Bot) October 29, 2020
Trophy Room Air Jordan 1 "Chicago"
Inspired by the trophy room in the Jordan residence, Marcus Jordan founded the Trophy Room brand in 2016. It sells apparel and footwear with an elevated fashion sense as "trophies" for those who buy them. The Trophy Room Air Jordan 1 "Chicago" might be the elite of November Jordan releases. Since it's the son of the NBA legend collaborating with the all-time NBA legend himself. Plus, the Jordan 1 Chicago, one of the best Jordan 1 colorways in history, is on the collaborative pedestal. 
So you've got two Jordan minds in on a silhouette that was auctioned off only recently for $615,000! The hype is still fresh around Chicago, which explains why this sneaker is valued at $2,000. And to add to the authentic Jordan gene, the sneaker will retail for only $170. Which is the standard pricing for Jordan 1s.
[11/17/20 UPDATED]: The Trophy Room Air Jordan 1 "Chicago" will not release this year and is pushed back to 2021 instead.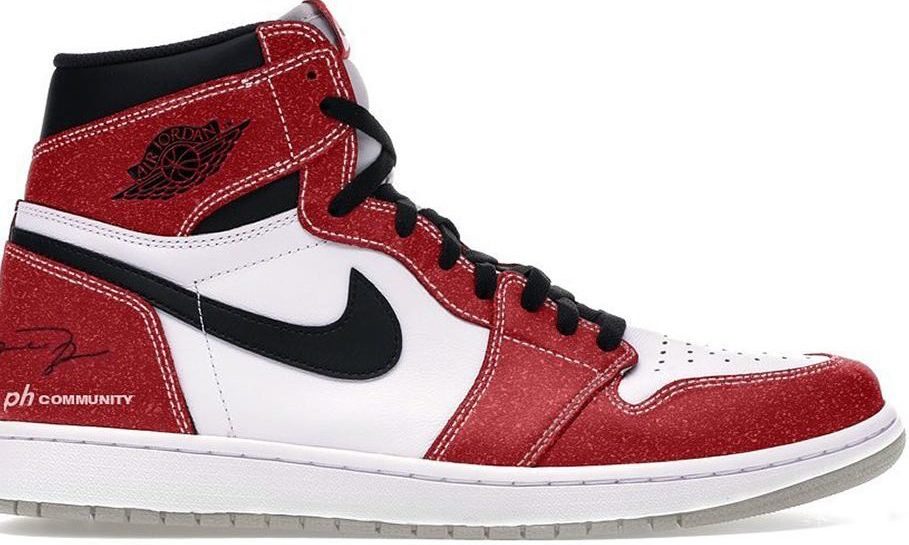 Air Jordan 1 High "Midnight Navy"
Among the list of Nikes and Jordans that released exclusively in Japan in 2001, the Jordan 1 High "Midnight Navy" is set to drop 19 years after its JP OG. Much like the Nike Dunk Veneer dropping on November 11. In addition to the Jordan 1 Biohack and Jordan 1 Silver that were released this year. Resembling the Atlas x Nike Dunk High that dropped earlier this September, the Jordan 1 Midnight Navy drops with and without a special suitcase. The solo pair is reselling for up to $1K, whereas the suitcase pair is valued for an extra thousand dollars at $2K.

Air Jordan 3 "Court Purple"
The most hyped Jordan 3 silhouettes that dropped this year are the Jordan 3 Blue Cement, Fire Red Denim, and the fragment collaboration. However, with the popular Court Purple colorway making its way to the third model, there ought to be some changes! The Jordan 1 Court Purple crushed it this year. And with this shady Jordan 3 accenting purple like it's Halloween, a resale value up to $1,400 seems reasonable.

Air Jordan 4 Fire Red
Dropping one day after Black Friday in the US is the Air Jordan 4 Fire Red. As the fourth Jordan 4 Fire Red silhouette to drop since 1989, it's valued at a regular flip value of $300. But it being a rare sight as it is makes it worth the cop.

Air Jordan 1 High "Black Metallic Gold"
Did you know that patent leather was introduced to Jordans with the Air Jordan 1 Black Gold of 2003? Which explains why this 2020 version is valued at up to $1,300 on GOAT. Especially since black patent leather covers up its full exterior, reserving Metallic Gold for the branding and Swoosh.
The last months of the year are always the craziest. Especially around the Holidays with the explosive urge to spend money and glam yourself and fam up! So, if you're going to be copping Nikes and Jordans with TSB, good for you. And if you're waiting for the opportunity to become a shithead, keep it locked on Twitter for surprise restocks and giveaways. We are now the only working Nike bot with a success rate that proves we ain't here to shit your Swoosh hopes and dreams. If you're in it with TSB, you're in it for the big bucks.