Jordan 1 Mocha: Did Travis Scott Just Spit in Your Coffee?
Before we sip slip on the Jordan 1 Mocha, how about a small recap to figure out where we're headed? Well, first we're proud to confirm that TSB blew past September releases like magic beans and started the month of Halloween with half a million dollars in our users' pockets. No BS, just sneakers shitting gold all over the place! 
That's what you get for copping with The Shit Bot. You're hooked up with hyped Nike news, regular bot updates, and prize/bot giveaways. As the best Nike bot on the market, we back our fam up with support and an unmatched success rate on all Nike regions. And no irony intended, but we get how frustrating it is to want to cop with an OOS bot. So perhaps if you stick around Twitter long enough, you'll catch one of our very rare restocks! They sure ain't a myth.

TSB Will Have You Stuffed Before December
This month is a massive spreadsheet for Nike fans and here are three reasons why. First, we'll be calling ghost control for the Halloween Nikes dropping the upcoming week. Second, we cannot wait to score the new Air Jordans dropping before the big day. And third, we are out-of-our-holes excited about Black Friday next month! So far, the Jordan 4 Fire Red will be dropping on the no-budget day and we're waiting for the rest to unravel. You'll want to wait with us to prep for the juicy occasion.

Giveaway time 💩 💵 https://t.co/GdJCNZnEkO

— The Shit Bot (@The_Shit_Bot) October 21, 2020
Looks Like Cactus Jack Minus the Cactus
If you're still thinking about the title, it's hard to decide if that would really be a bad thing. So, how about we talk about the Jordan 1 Mocha and Travis Scott's spit? Considering this Jordan  Retro is a spitting image of Travis Scott's Jordan 1 Mocha collab of May 2019. Except it switches the Swoosh back to normalcy and changes the colorway a tad. Its frontal overlays take on black leather instead of Jack boy's all-brown suede. You know, for the classic Jordan cut. But its backside takes a full shot at Travis with Mocha Brown overlays. Keep it simple sweet, right? On GOAT, you'll find the collaborative pair reselling for an easy $2K. With its upcoming clone valued at $500 on average. So, compared to that 2 GRAND, $170 at retail looks as cheap as a Happy Meal!

Travis Scott x Air Jordan
Do you see what adding Kylie Jenner's boo's name to a pair of Jordans does to its value? It's hyped before it drops, the second it drops, and long after it drops. If you're looking for one of Air Jordan's timeless collaborators, it's Travis Scott. So, here are all the Travis Scott Jordans that exist so far! You'll walk away with the full picture after this. 
Travis Scott Jordan 4 "Cactus Jack"
In 2018, Air Jordan collaborated with Travis Scott for the Jordan 4 Cactus Jack pair. You can tell that legendary rappers think alike. With Travis's rather "bright" silhouette mimicking the style of the Eminem Jordan 4 pair. Almost makes you wonder, is that what drove Cactus Jack to a Jordan collaboration? You'll find it selling for at least $1,000 on GOAT.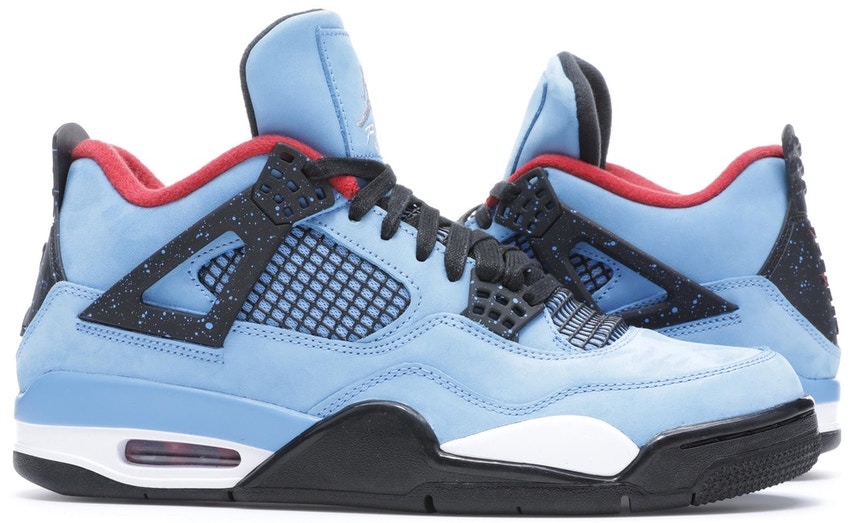 Travis Scott Jordan 33
This might be the only Travis Scott Jordan collab to fail so miserably. Although the fresh Jordan model adopted Jack's army olive colorway and edge, it was not meant to fly. Better stick to popular Jordan models under fourteen. The fact that this collaboration is valued at $300 on average rests our case.

Travis Scott Jordan 6
This and the following Jordan 1 Mocha are arguably the best products of the Travis Jordan partnership. This 2019 Jordan 6 also takes on the popular army olive colorway with orange accents. Plus a mini cargo-themed pocket to make sure you don't lose those keys. You'll find this pair undefeated on resale at $750 on average.

Travis Scott Jordan 4 Purple F&F
Another purple-handed pair! Except this Jordan 4 collaboration was limited to 1,000 pairs ONLY. Made exclusively for Cactus Jack's friends & family. We're guessing the P in purple stands for pathetic. Because this pair is reselling for $20K on average. So that only some Bel Air prince would be able to snatch it off the aftermarket.

Travis Scott Jordan 1 High/Low Mocha
Here's the lucky release we're here for! We didn't mention the Jordan 1 Low Mocha pair yet so there you go. It's not as good-looking as its High cut alternative. But it's reselling for $1K on average so it can't be that bad to air out your ankles.

So, you've got the Travis Scott Jordan legacy in your hands. So, you must now really know the pressure all that history's putting on the Jordan 1 Mocha. Which is dropping on Halloween Day, you heard that right. Plus it'll cost you the average Jordan 1 price of $170 only. With TSB, you'll be able to chug that coffee shake before you go on any serious dates!