TSB: The Only Nike Bot Worth Your Time & Money [+First Restock Ever!]
A Big Bang exploded the sneaker industry in 2015 under Adidas Yeezy. That's when sneaker bots shifted their copping drive toward Footsites and Shopify, as well as YS and Adidas. Because when Nike Air Yeezy expired, bots iconized Kanye West as hype creator and followed his Yeezy footsteps. To actually cop them and boom with glory. But that's where TSB took the dump in February 2020. Right at the center of the Nike mothership. Which, FYI, brings home three times what Adidas fishes out annually on the billion scale. But we're here to talk about why TSB will get you a chunk of the GOAT brand, Nike, instead of any other Nike Bot in the market.

🔄RT – 1xTSB Key💩

⚠ RESTOCK COMING SOON ⚠

Proven Nike Success with 6,800+ Checkouts Worldwide in less than 3 months 📈

🔸First to find the hidden Code in the video wins a TSB copy
🔸Comment with the code to get an EXTRA ENTRY pic.twitter.com/QRhOmypqJG

— The Shit Bot (@The_Shit_Bot) July 21, 2020
Why Is TSB a Nike Bot?

Buyers care about quantity and resellers care about quality. Keep that in mind. Nike's brand image and awareness have made it what it is today. From hardcore collaborations to blood and sweat put into brand loyalty, Nike is the industry's market leader. It endorses the Jordan brand for crying out loud. So, by quality we don't literally mean the smart materials put into sneakers. Because frankly, top brands like Adidas, Puma, and New Balance share fair game in that respect.
By quality we're talking about the backstories, the emotion, the must-have designs, and the timeless collabs. The music to your feet! Which Nike composes best. So, you think we're gonna ditch the sun and move West? Yeezys are dope, we ain't bashing the brand. But it's one thing to take it Yeezy and another to Just Do It. Don't be surprised if you find that on a TSB OG bumper sticker.
Stick around for 4 more minutes to know why TSB will just do it for you.

The Nike Bot That Gets Shit Done
If you're still here, it means you're a die-hard Nike fan. Because although TSB supports over 40 Nike regions worldwide, it's only one brand umbrella at the end of the day. But that's where the Jordans, Dunks, Maxes, and Forces come raining at you. So, don't let that "Nike bot" cover fool you into forgetting what it can actually offer. 
TSB supports a shitload of Nike regions worldwide:
United States
United Kingdom
Canada
Australia
Hong Kong
Singapore
Japan
China
Russia
France
Malaysia
Singapore
Philippines
Germany
And many more…
What Does Success Mean in the Bot World?
How do you measure a bot's success? You track its checkout rate. And since Nike botting is shaky business (anti-botting systems, we hear you), it only makes sense that a successful Nike bot is in constant update mode. At least, that is, before major Nike drops that HAVE to run smoothly for the sake of bot survival. Check out
TSB updates
that were out and active by March 2020. That's roughly one month after launching for the first time. We like to think of our UI/UX as the best in the game. One that'll turn a nightmare into a smooth poo. Brand image has boosted Nike to the top, so why should it be any different for the
best Nike bot
in the market? 
2 Reasons That Make Us the Best Nike Bot
One, our user support is lightning fast and we are generous with frequent giveaways and cash prizes. Trust issues kicking at you? Follow us
@The_Shit_Bot
to front kick them back. Two, TSB is outshining its oldest competitors such as
BNB
. Support, regular updates, and checkout rates are the three main factors that determine a bot's success rate. Makes sense, doesn't it? The infographics below from
bots that work
will help explain.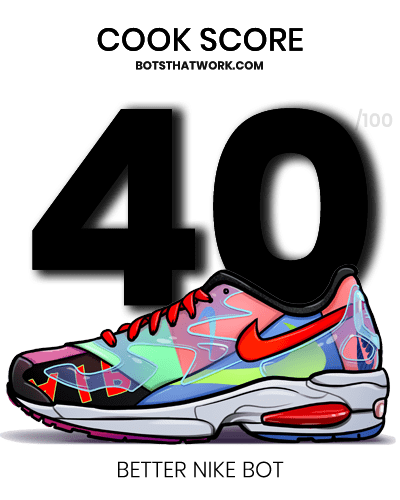 Cheaper Doesn't Always Mean "Go for It"
It's a common misconception that users are after what's cheap. Price is a big factor in choosing which sneaker bot to invest in. But success rates and hearty shoutouts are b
igger. Because why pay cheaper for a bot that isn't as supportive and updated when you can pay the difference and spare yourself the agony? It's 
called an investment, not a tasting menu with a bill.

So, if you're a sneakerhead or someone who is simply interested in making a decent buck out of Nike sneakers, TSB will back you up with consistent updates and 24/7 support. Not to mention pretty dope features that match the hype of the sneakers you're copping. We're here to cop Nikes and Jordans, people. Let's make it more interesting than Microsoft Word 2000, shall we?
Visit our Twitter for legit user success and check this quick post to learn the smart way around Nike sneaker proxies.

Features That Make Us the Best
TSB-exclusive Modes
We'd hate to keep you waiting for the first and best TSB feature. NSWBA & NSA are checkout methods exclusive to TSB. They're the highly-advanced secret weapons that help our fam cop the highest numbers on the biggest Nike drops. That's multi-threaded technology put into action!
Nike Account Checker
What's the crappiest thing that could happen on release day? Your Nike accounts bail on you. And that doesn't come cheap. Since Nike accounts require SMS verification and cost $2 on average for US/EU accounts. Multiply that by the tens (or hundreds) of Nike accounts you have running and you'll get the point. TSB's account checker, although common in most Nike bots, offers a highly-efficient method of checking the username, password, and mobile verification of your Nike accounts. No account gets through unless it's a reliable one and our checker makes sure it gets there fast.
Address Jig
1 Nike pair per address is not really the shit you're looking for when copping with TSB. Unless you're loaded and own a penthouse on every city street, our smart Address Jig can edit your shipping address to help you cop without the stress of faking/renting reliable addresses. How else will you have that Jordan pile delivered to your doorstep instead of your neighbor's.
Mass Create & Edit Tasks
Overwhelmed with over a hundred Nike accounts and countless edited shipping addresses? We're here to swallow up that chaos for you. No need to drown in a list of passwords because TSB allows you to mass create and EDIT as many tasks you need for successful copping. All at once! That's right. All our copping methods and supported sites are to the advantage of all your profiles. So that you don't miss your shot, whoever you are.

Our Latest Updates
The latest efforts put into TSB resulted in big enhancements in entry submission. In addition to an increase in login rate. Not to mention the new anti-crack system and security bypasses getting you through cops safe and sound. And if you somehow stutter while running TSB, you can take matters into your own hands and checkout manually.
Check this
comprehensive list
of major TSB updates that help you score!
Where's the Poop?
TSB officially launched as a Nike bot in February 2020. And has so far nailed over 12,000 checkouts on all Nike regions. The week before June was grizzly for our users with
$130K in profit
. And even if Nike and Adidas are on and off playing cat and dog, if it's Nike and it's hype, we're the bot to cop. Check out below the most hype Nikes copped by TSB in 2020!
(Click on the names to know more about the sneakers!)
🔄Random RT – 1xTSB

Pooped HUNDREDS of Space Hippie 'Volt' on All Regions including Nike Ca 🇨🇦

4X MORE CHECKOUTS than we've had on the first drop📈

Shit is IMPROVING with every release thanks to our CONSISTENT UPDATES 💩 pic.twitter.com/3uO7wEAtXG

— The Shit Bot (@The_Shit_Bot) July 16, 2020
🔁RT-1 Random TSB Winner

Dominating Nike Releases WORLDWIDE!

440+ AJ1 "Smoke Grey" Checkouts from:
🇺🇸 🇨🇦 🇬🇧 🇳🇱 🇪🇸 🇳🇴 🇩🇪 🇨🇿 🇫🇷 🇵🇱 🇸🇬 🇹🇭🇲🇾🇹🇼🇻🇳 🇦🇺 pic.twitter.com/rOaeVYY7y8

— The Shit Bot (@The_Shit_Bot) July 11, 2020
🔄Random RT – 1xShit Bot Copy

MASSIVE Success Rates on today's AJ5 "Purple Grape" 📈📈

450+ Checkouts on Nike US 🇺🇸 With users scoring multiple pairs! pic.twitter.com/d0SHKUGA40

— The Shit Bot (@The_Shit_Bot) July 8, 2020
ONLY Nike Bot TO HIT CACTUS TRAILS! 💩

Ultra Limited STOCK! – Shit load of PROFIT!

🔁RT – 1 TSB COPY Winner pic.twitter.com/K4mt8bsW3I

— The Shit Bot (@The_Shit_Bot) May 29, 2020
🔄Random RT – 1 TSB Copy

Nike Air Max "Orange Camo" SUCCESS!
🔶100+ EU Checkouts (<100 Running users)
🔶36+ AU & NZ Checkouts WITH <20 Running Users!

#1 CONSISTENT Nike Bot 📈

Don't forget to flush after Retweeting 💩 pic.twitter.com/QeWBS3fQvK

— The Shit Bot (@The_Shit_Bot) June 16, 2020
Sell Your Sole to Nike With TSB
Nike botting is a slippery slope because the rules of the game are always changing. Nike security is final battle material and a constant challenge as is the competition in the industry. But if you have your willpower set on copping Nikes and Jordans, the right setup of Nike accounts, proxies, and servers is likely to score you big Ws with TSB. As with any GOOD Nike bot, really. You gotta pay and provide the basics. The only difference with TSB is that we make damn good use of your input. We fight the inconsistency of Nike botting with "consistent" copping success. Damn right we chose that word for a reason!
! ! ! First Ever Restock Today ! ! !
You're too late. We'd like to take a minute to congratulate the shittiest fam in the sneaker game. And for those who missed their chance at a TSB copy, keep locked @The_Shit_Bot for giveaways and prize announcements. Go Nike, or go home? More like take Nike home with the best Nike bot.
Since copping the
Off White Air Jordan 5
is among our wildest success stories at $200K user profit, we have a plan. The
Off White Air Jordan 4
is dropping on July 25 for a retail price of $200. And we plan to recreate history and turn that $200 into at least $200K like we did the first time! The
Grateful Dead Dunks
are dropping even sooner tomorrow and are worth a bear shit load of hype. 
🔁RT To Win🥇1xTSB🥈$500 Cash

🚨FIRST EVER TSB RESTOCK🚨

📅Tomorrow July 23rd
🕒3PM EST
⚡️FCFS-Limited Number Of Copies

12,000+ Checkouts On ALL NIKE REGIONS in the past few months ALONE! pic.twitter.com/pHhbUKRyJo

— The Shit Bot (@The_Shit_Bot) July 22, 2020