Nike Space Hippie Volt Pack Is Trash Worth Thousands of Dollars!
The Nike Space Hippie pack is back! And it's packing moon rocks and hippie hair. For real this time. If that's how your imagination rolls. The first pack dropped 4 eco-friendly sneakers on July 3. In a combination of grey, sky, and pink colorways. Looks like recycled junk piles up to these tones. Because here's where you'll find that surplus of yarn and unwanted plastics that's poking the ozone. All packed in this Nike pack! The fourth model gave us a glimpse into the future. Without us knowing it back then. There was the regular faded grey colorway with the pink Swoosh. And an alternate ego joined the game in volty green. Recall that? Little did we know that an alien invasion would occur to each of the four models in a strike. So, here goes the Nike Space Hippie Volt pack!
To make sense of this blog post, we urge you to check out the Nike Space Hippie pack here. It's got an astronaut story and some astro-cious metaphors…
Nike Space Hippie Volt Pack: Sprechen Sie Englisch?
Volt 01
Same form and design scheme as the Space Hippie 01. With the colorways adjusted to alien life. Lighter grey base, volt green Swoosh, and sky blue laces. So that's where the sky blue outsole went! It transformed into the laces. Cool transition. Fresher look than yarn-dipped laces, we'll give the Nike Hippies that. Expect it to drop on July 16 for $130. With asks currently exceeding $3,000 on StockX.

Volt 02
Secure ankle protection is what the second model is mostly known for. Lace free and responsibility free. This sneaker has got the pros of a slip-on. The net pattern sowed on the side of the Space Hippie 02 is barely noticeable. But the net on this Volt colorway is bold in black. Contrasting the volt green Swoosh that appears to get caught up in it. Expect it to drop on July 16 for $150. With asks currently exceeding $4,000 on StockX.

Volt 03
The amount of detail on the third model was mind-blowing then and is mind-blowing still. The rest of the models depend on your taste of what looks better. But the Volt version of this model is undeniably hotter! From beige side patches to galactic yellow, the overall colorway is more vibrant. The grey base has yellow and green specks interfering. Got the Nike Tom Sachs space camp vibe to it. Although Nike Sachs took a Martian approach with the colorway, the space scavenging spirit relates to this. Did we mention that the collaboration is reselling for $4,000 on average? Expect it to drop on July 16 for $180. With asks currently exceeding $2,000 on StockX.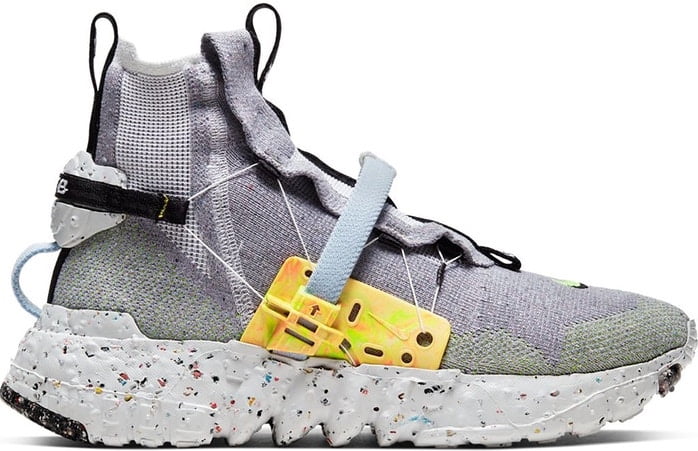 Volt 04
This one is no surprise! The Nike Space Hippie pack announced the first UFO sign along with the initial pack. For women only! Looks like the ladies are from Venus after all. You can even tell this dropped with the first collection because of its sky blue outsole. This pair already dropped in Europe on June 11 and on Nike SNKRS on July 3. It retailed for $130 and is reselling for a shocking $161 on average. Is it because it's in female sizes? Or does that give us a future perspective on how the rest will sell after they drop?

Cop Some Trash With The Shit!
We copped the first Nike Space Hippie pack and are waiting to flush out some Volts! With resale prices worth thousands of dollars, you're going to want to cop and flip this pack before the hype gets recycled! Follow us on Twitter to make sure you don't miss any giveaways. An official TSB copy can mean the difference between copping victory or defeat. So think like Nike and #JustDoIt.