Air Max Camo Orange in Zesty Colorway [Is the Camo Hype Dead?]
The Nike Air Max Camo line just keeps rolling! Camo Duck wowed Nike coppers and is currently reselling in the $1,000 range on GOAT. Following in the 90 Model's swampy footsteps was the Green Camo in a volty Green Ghost colorway. Considering that it sold at a retail price of $140, it's not reselling for much above retail on GOAT. So if you want to flip it for any easy $50 in profit, it's reselling for an average $213 on StockX. Lost hype cause for post-Duck Camo releases? The Air Max team mixed it up with the Air Max 95 Safari while staying in the nature design loop. Before it dropped, value was high at an average $350 on StockX. Which almost immediately dropped to the $200 range after its release. Same fate on GOAT except that some sizes cost more, same as with any sneaker. Bottom line is, the Air Max Camo can fire up on resale in its zesty colorway or be just another ordinary flip.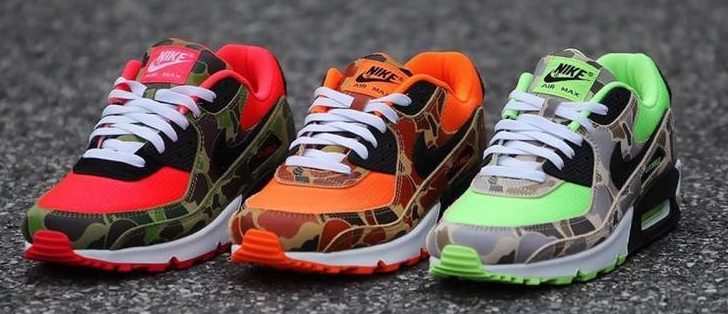 Cop What's Worth Your Shot With TSB
We can help you measure out the outcome of sneaker releases we think are worth your time and money. But you gotta wait for official releases to know what's for real. That's also what The Shit Bot is for! Giving you a shot at copping sneakers worth your shot. Our copping consistency of all-region Nike releases has so far been flawless. We grabbed the Jordan 6 Hare from 3 Nike regions. And were the only Nike bot to achieve 85+ checkouts for 3 hype Nikes! So keep locked to our Twitter page for restocks and giveaway updates!
Air Max 90 Camo Orange 
From strolling right into the plains with Duck Camo and going electric with Ghost Green, where does Orange Camo stand? Its Martian vibe can't be unseen. So we're gonna go ahead and describe it as "hiding from aliens". Since Nike is clearly experiencing an outer space phase with the Nike Space Hippie and Women's P(HER)SPECTIVE packs. The Air Max Camo Orange features a vibrant, seen-from-outer-space orange base. Accompanied by the camouflaging powers of Duck Camo overlays. Covering the red end of the spectrum. And white and black bring in some classic balance to the midsole and lacing system. It is set to release at Nike.com on June 16 for a retail price of $140. Fingers crossed the aliens won't find us next to resale!