Nike Air Max 90 Camo Appears in a Ghost Green Colorway This Week!
Nike Air Max 90, a Tinker Hatfield creation, is a Nike model famous for its quickness. And it's been dropping Camo ammo on us to prove its got game. With its speedy, lightweight Air units, it is mostly nature-inspired. Always wild on daring colorways. And now celebrating its big 30 with a fresh Nike Air Max 90 Camo in Volt or Ghost Green. Doesn't time just fly?! Just like Air Jordan 5 got the AJ5 Top 3 celebrating its 3-0! The Air Max 90 Camo line has been scoring some hype. With its dope colorways and decent resale prices. The Shit bot only recently pooped all over the Duck Camo with 617 checkouts! It ain't called the best Nike bot for nothing. And Ghost Green is just another Camo on the copping list!
Random RT = 1 Official TSB Copy
POOPED DUCK CAMO💩

617 checkouts ON ALL REGIONS!

STAY HOME AND COP WITH TSB💩#CONSISTENCY#COVID19 pic.twitter.com/6iRRUgC96V

— The Shit Bot (@The_Shit_Bot) March 26, 2020
Nike Air Max 90 Camo Green Is Duck's Replica!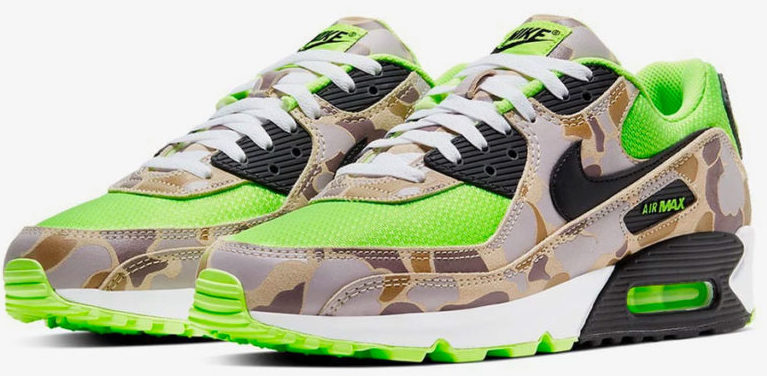 The most hyped Air Max 90 Camo colorway is the previously mentioned Duck Camo. With its snakeskin Swoosh. It's currently reselling in the $1,000-2,000 range on GOAT. And an average $800 on StockX. So it's good news that Ghost Green is a volty replica of Duck Camo. Apart from the snakeskin detail. Since other variations of the model are only worth flipping for about a half extra than their retail price. The Digi Camo in Fox Blue and Golden Beige are top examples. Reselling for $200 on average on StockX. But if you're looking to go full-on creep mode with high numbers, focus on that duck print. Green Ghost is already up in the $300-400 range on GOAT and was sold up to $280 today on StockX. Give the ghost some time to impress. But first, cop it on retail for $140 on May 15 before it disappears!

Even Better News?! TSB's Exclusive Restock!
Consistency is key and our success stories only prove that copping Nikes and Jordans has never been easier. Even unannounced restocks don't go by uncopped with TSB.

Rt = 1 TSB COPY
🔸TSB was the ONLY Nike bot to catch Asia RESTOCK & POOPED 100+ pairs:
Air force 1 Clots, Nike Fog 1s, Off-white Waffle Racers and Sacai Blazers

🔸POOPED more than 100 pairs of the AJ5 Fire Red today on all regions! pic.twitter.com/DkoulIYGzB

— The Shit Bot (@The_Shit_Bot) May 2, 2020
We still haven't picked out the lucky cookgroup to win our restock. Which means you still have a chance for smooth sailing on all-region Nikes! Keep locked to our Twitter page for giveaway updates. Because this summer's Jordans will burn right through your credit card on resale!

RT +Mention Cookgroup = 1 TSB Official Copy
6 months of consistent success and major COOK on AJ Royal toes TODAY
🚨Opening up for Exclusive RESTOCK🚨
🔶Cookgroup with most TAGS WINS the RESTOCK pic.twitter.com/OtJxKkb59S

— The Shit Bot (@The_Shit_Bot) May 9, 2020