Air Jordan 5 Top 3 Brings OG Back to Celebrate Turning 30!
The Jordan brand is celebrating the 30th anniversary of silhouette number 5. With Fire Red dropping tomorrow! And with the mashup of its "Top 3" Jordan 5 OGs: Metallic Silver, Fire Red, and Grape. It was back in 1989-1990 when Tinker Hatfield got concept chills watching MJ drain 69 points against Cleveland. And that's how AJ5 drew up its own remake of Jaws on feet! With the iconic shark tooth design popping out on the midsole area. And Air Jordan Top 3 is here to prove that sharks rules!
Air Jordan 5 is Slam Dunking 2020!
The Air Jordan Top 3 combines the stand-out factors of the three OGs. Which not only makes it indispensable to your Jordan collection. But also represents the origin story of model 5! The Black Grape Retro came real close in 2013 minus the red flame. And with the OFF WHITE AJ5 dropping it like it's fire back in February and reselling in the $550-800 range, all that's left to do is wait to cop Fire Red and Top 3. And dibs on the Alternate Grape Retro expected to drop this summer!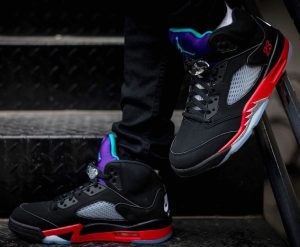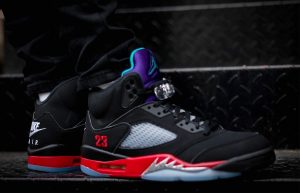 Air Jordan 5 Top 3: Surprise Combo of 3!
The Air Jordan 5 Top 3 combines the iconic hype factors of the three AJ5 OGs. Metallic Silver takes over as the base colorway. Then Fire Red stretches across the midsole, symbolic of MJ's relentless boost as Court King! Lucky number 23 is also printed on the side heel in red. And the tongue is inked in the Grape colorway. Deep purple on the outside and new emerald shining through the Jumpman logo and inner tongue. Also, if you turn your outsoles to the world, the story doesn't change. The three colorways share scene through a translucent outsole! The Air Jordan 5 Top 3 will release on June 13 on Nike.com for a retail price of $200.

Tell the Jordan 5 Origin Story Your Way!
Copping the Air Jordan 5 Top 3 is about more than just adding a fierce Jordan colorway to your list. It's about being able to put a price on a thirty-year adaptation of 3 iconic OGs. We're talking about a 3-in-1 combo for the price of 1! Only a week ago it sold for $500 on StockX when Fire Red alone is struggling to exceed the $200 range. With the best Nike bot, you better save a shelf spot for this Jordan. Or open up your deadstock collection!