Women Air Jordan 1 PHERSPECTIVE Drops for Her [+ Air Force 1 Info]
Nike's developed a space-themed foot fetish and we ain't complaining. Ladies, you got the final rocket model and a dash of alien dedicated to you in the Nike Space Hippie pack. And the Jordan brand took you to the depths of the ocean with Tie Dye. Now all that's left for you to add is a little PHERSPECTIVE! More like a combo of these. Or a duo, if you will. You got two eyes right? And you damn right got two feet!
Nike PHERSPECTIVE Pack!

Which is why Nike is dropping a Women Air Jordan 1 PHERSPECTIVE as well as an Air Force 1 Low. To mix up your standpoints this summer, girls. Ain't cool being narrow-minded. So, if you're shit serious about opening up to Nike summer releases, The Shit bot can offer you full-cop-mode all-region Nike consistency! It's the only Nike bot in the market with that kind of quality. So, RT for a lifetime TSB copy! 

Women Air Jordan 1 PHERSPECTIVE 
The Women Air Jordan 1 PHERSPECTIVE is a female work of art. Suede underlays cover the base in faded pastel pink. And subtle space-themed overlays feature cloud illustrations in pastel shades. Of blue, green, and nude. A Nike Air logo is printed on a tinted glossy tongue patch in volt green. And the cherry on top would have to be the silver Nike Swoosh sweeping this Jordan into girl space! We're expecting this Jordan to drop in the $125 range. Although that dazzling Swoosh may just cost you extra! It will drop as part of the Nike PHERSPECTIVE Pack on Nike.com on June 20.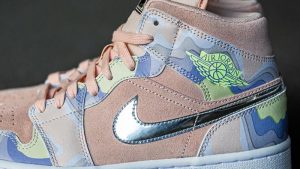 Nike Air Force 1 PHERSPECTIVE
Taking that there's less space on an Air Force 1 for a girl space adventure, this Women Air Force 1 settles for a full-on dreamy violet suede exterior. The branded heel wrap applies mirror features. And the once-again notable Swoosh emphasizes the pastel palette of the AJ1. This AF1 will drop alongside the Women Air Jordan 1 PHERSPECTIVE. On June 20. Do we have another Nike CLOT Rose Gold in the near horizons?!

One of the countless reasons we love Nike and Jordan is their generous application of whatever design or inspiration phase they're experiencing to women's feet. They understand that the sports and sneakers culture is not a sex battle. But one where both sexes can have equal shares. And above all, learn to share!