Grateful Dead Dunk Lows Got Them Gummy Bear Munchies!
You ungrateful little #%@! But then again, one must not speak ill of the dead. Nike SB Dunk has us sticking to the end of a rollercoaster this year! The Travis Scott collaboration and pink-alicious StrangeLove release are still buzzing till this day. Cactus Jack in a Special Box is reselling in the $2K range on average. And StrangeLove ain't too far behind in the $1.5K range. And after the Nike SB Dunk Reverse Skunk took us on a legit Willy Wonka ride, we got a taste of Chunky Dunky. With the Nike SB Dunk x Ben & Jerry's collaboration inspired by the Chunky Monkey ice cream flavor. 
Brace yourselves because the dead are about to rise. Nike is dropping three Grateful Dead Dunk Lows in tribute to the sixties rock band, Grateful Dead. Why rainbow-dyed bears to represent the face of a rock band? Something besides a chameleon's gotta prance around psychedelics and take us on a trip. And what better than a band of dancing bears!

Dead-head Bill Walton Is Over the Rainbow!
American basketball player Bill Walton has been a Dead-head since he was 15 years old. To the point where he actually carries around his Grateful Dead lucky coin wherever he goes. Unlike most Baby Boomers who think that old is better than new, Walton believes that the band's performance and management today is better than it was when he was a kid. It also makes perfect sense to Walton that Nike SB and the nostalgic band are collaborating. Since skateboarding was born in California and the Grateful Dead in Palo Alto, CA, the West Coast lifestyle is rooted in both. And so shaking on a spit seems like the next thing to legendary.
"This is the next evolutionary step on the way to perfection and on the way to the outer edges of the universe, which is still being created, still being explored."

Grateful Dead Dancing Bears
The dancing bears commercialized the Grateful Dead band. Fans wore their Tees and lived by their bumper stickers. The band's culture cycled around peace, love, and rock 'n' roll. And a little bit or a lot of the other stuff. Explaining the rocky bluesy, jazzy genre of their music. A craftsmanship of classic alternative. It's literally mind-boggling what the lack of fresh air can do!

Nike SB Dunk Bear History Revealed
The Grateful Dead Dunk Lows will drop in 3 colorways after 3 of the 5 bears. In yellow, orange, and green. What about the pink and blue bears? We might be tripping over them in another Nike release or collaboration soon. Can you imagine those colorways on a Nike SB Dunk High? Fingers crossed some wish fairy is floating nearby.

Because we got our Goldilocks wish fulfillment in 2006 with the Three Bears Nike pack. Or sloth, since that is what a group of bears is called. Papa Bear is at $1,235. Mama Bear is at $814. And Baby Bear is $1,247. Nike released both High and Lows in 2006, which is why we're waiting to play dead in 2020. 
Grateful Dead Dunk Lows Release Info
Each of the Dunks yet to release features a faux fur upper, suede overlays, and a jagged side Swoosh. A stash packet behind the tongue is designed to store belongings. Like a key you lose every day or even a special coin. The Orange Bear will drop on July 18th exclusively at FTC Skateboarding in San Francisco. With a resale value of $3,550 and asks reaching $45K. So good luck Charlie, if you've got your copping hands set on this one.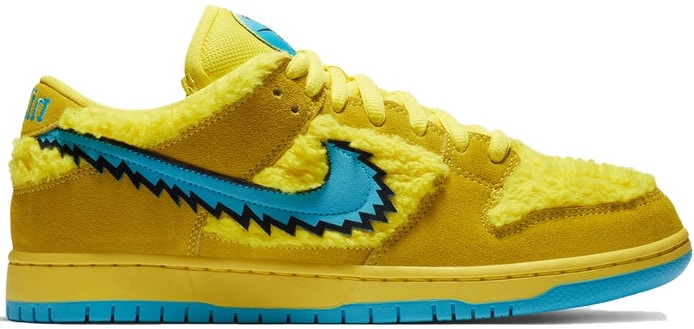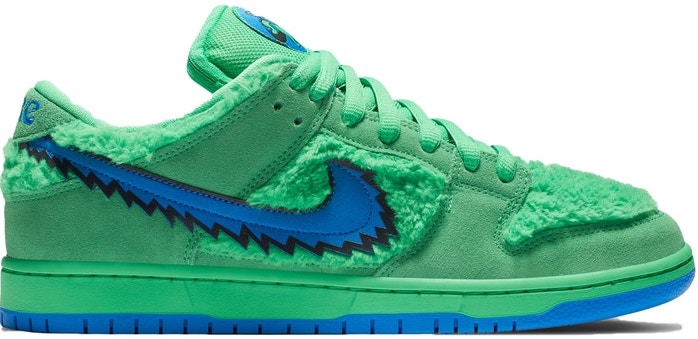 The Yellow and Green Bears, on the other hand, will release on July 24th like regular munchkins on Nike.com. Yellow is currently at $1,751 and Green at $1,349. Believe it or chuck it, asks have reached $1,000,000 on these pairs. So let's hope the hype stays high and alive after they drop. Oh, and did we mention they retail at $110 a pair? Anytime, fam. TSB will have them bear traps set on the 24th like it's hunting season!