10 Years Post Skunk, The Nike SB Dunk High Pro is Back!
4/20 arrives soon! And Nike SB is firing shit up every which way. Because this year it's 4/20/20. Which means double high power. And Nike proved us right. In case you aren't high on the deal, 4:20 is the time of day when California smokers smoke it up. AJ4 Rasta is releasing and vibing over this today! And Nike SB is religious about it. So much that we thought Strawberry Cough was the 4/20 icon this year. But looks like Nike SB will also be releasing another 420 tribute: Nike SB Dunk High Pro! Rumored to be limited to 420 pairs only! Preferring the high of Purple Haze. And dressed to impress in the purple version of its bad-ass 2010 twin, Nike SB Dunk Skunk. Reselling for $2,000 precisely ten years later! Might be why SB chose to announce this shoe days before Skunk turns 10. Ain't no smoke without fire, fam. 
Nike SB Dunk Pro 420: Flipping Skunk Over!

This Pro got the same Skunk-inspired suede coat. But in 2020, it's inspired by Purple Haze cannabis. Or the Jimi Hendrix classic. Same shit, different way, really. Because weed aside, a Nike SB Dunk inspired by an American rock legend? Bound to rock your resale world. To add to that, this Dunk High features two shades of purple on a hairy suede upper. The Swoosh and marking tools feature cannabis-green. It's like turning Skunk Dunk inside out. And the outsoles portray a more vibrant, green-apple color. Purple matching laces and inners, pretty much expected. And the "1/420" lateral heel stamp be winking at you.
What's up With These Graphic Insoles?!
Take a close look at the insole graphics fam. Skunk Dunk features a skunk and Strawberry Cough features a coughing strawberry. But this Dunk features the infamous Skunk. Or as Jimi puts it, The Creeper. Only now, it's ten years older with a grey beard. And it's purple in color on a green backdrop. Once again, flipping the Skunk Dunk colorway concept. Talk about the street version of the wolf on basketball street! Expect Nike SB Dunk High to release on Nike.com on April 20, 2020. Keep posted for cost updates!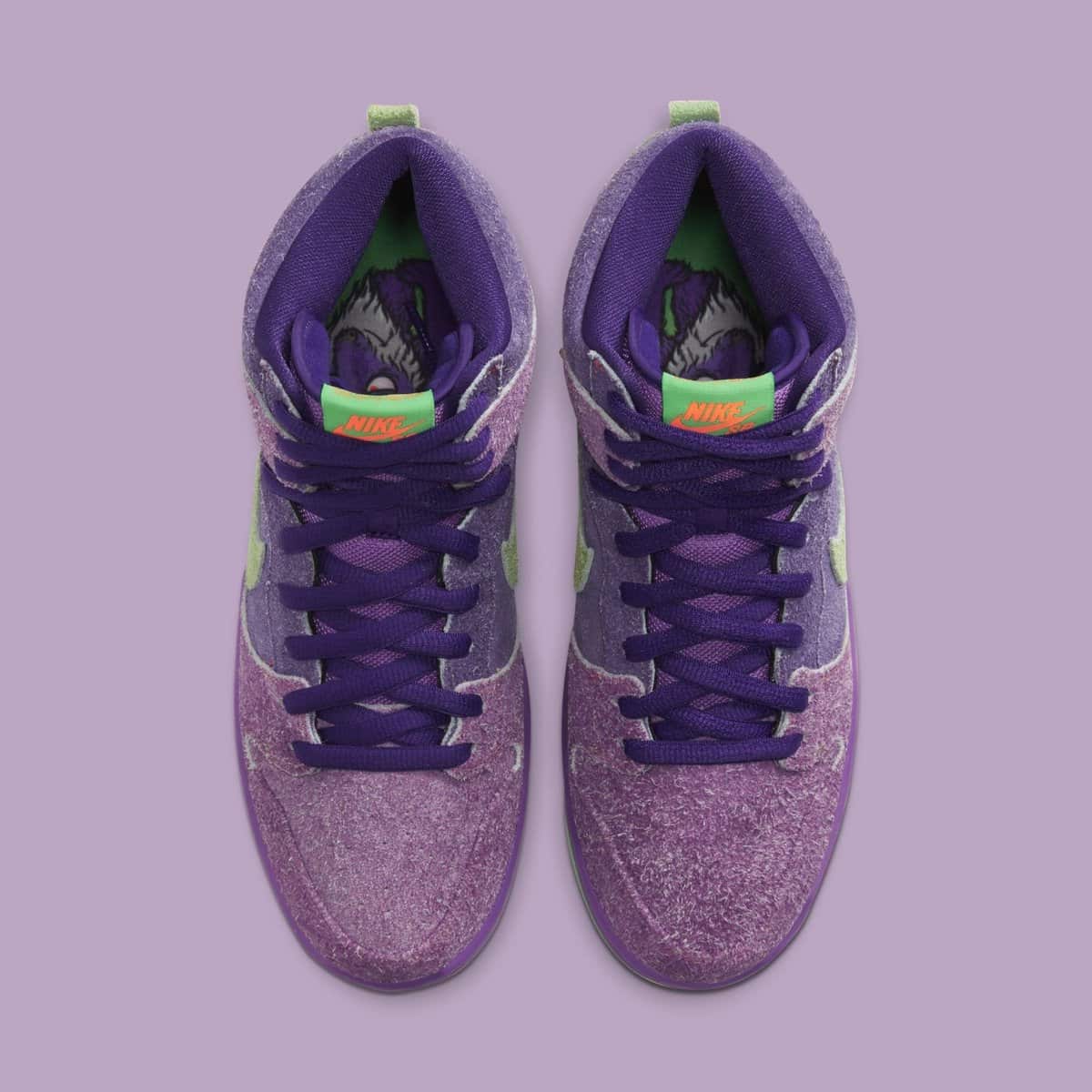 Will The Dunk 420 Beat Strawberry Cough?!
Purple got hype in the Nike Jordan game this year. So far we got Sheila Rashid's AJ1 Mid, the classic AJ1 Court Purple, the AJ4 Metallic. And it looks like this Nike SB got on that purple hype train! With a high chance of overruling them Jordans at their own game.
Skunk Dunk is reselling for $2,000 and Strawberry Cough is already stepping over $1,000 on StockX. Not to forget 2011's Dunk High Pro SB Cheech & Chong. Which is hitting the $2,500 resale mark! So Nike SB Dunk High Pro is a top 420 legend worth the cop. Will it be releasing on the same day as Strawberry Cough? Cloud 9 is where you'll be if you cop both these giants. But if you do, you gotta give these sneaks some time. So if you're not looking to make a quick $500-700, wait a while and it'll turn into an easy $1,000 and more! TSB, the best Nike bot, will cop this deal for your Dunk collection in no time. Also check out Ben & Jerry's Nike SB Dunk Chunky Dunky while you're at it!