Nike Dunk High Strawberry Cough: Straw-very Worth the Cop!
Nike Dunk High Strawberry Cough has got that V-day strange love mixed up with some good old weed! If 4/20 doesn't ring a bell, here's what you need to know about the 4/20 sneaker collection. They're weed-inspired sneakers dedicated to 4:20 PM. Which is the time originated by California smokers to "blaze one". Artist Todd Bratrud designed a strawberry cough to top our cherry pop this 2020. But it ain't as innocent as it sounds. Since strawberry cough is actually a marijuana strain. And it takes after the colorway of Bratrud's Nike SB Dunk White Widow. But looks like it's got what it takes to top Bratrud's infamous Nike SB Dunk Skunk! Which has a lowest resale bid at $1,650 on GOAT. Strawberry might even beat the Nike SB Dunk Strangelove. Which was a TSB hit along with other Nike releases. Such as the AJ1 High Retro 85!
Why Cop the Strawberry Cough?
If this drop is also paying tribute to a Ben & Jerry's collab, we're in this strawberry mash ankle deep! 
This dunk features a strawberry-textured leather upper with hairy green suede growing across the heel area. The side heel has printed a coughing strawberry motif. And the insoles, an enlarged version of the motif. Nike Dunk High Strawberry Cough is rumored to release in April 2020 on Nike.com. Stay straw-very posted for the latest price and date updates! 
You're gonna want this one. Its Skunk-inspired hairy cannabis-green suede brings back the Skunk Dunk. With an average resale value of $2,000 on GOAT and a highest bid hitting almost $3,000 on StockX. Keep in mind the added value of the strawberry cough motif in this one will not go unrewarded!
[7/9/20 UPDATED]: The Nike SB Dunk Strawberry Cough is expected to release some time this summer.
[4/14/20 UPDATED]: Nike SB Dunk Strawberry Cough will release on April 20, 2020.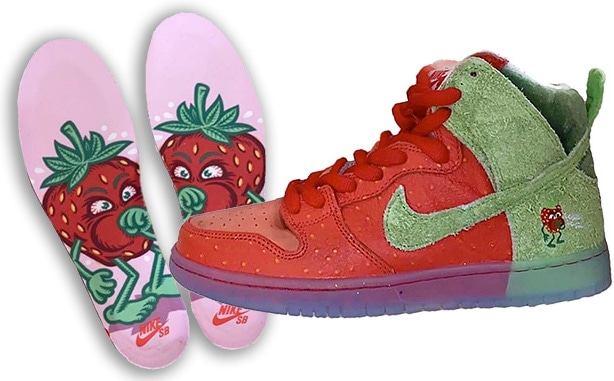 Make Room for Nike Dunk High Strawberry Cough!
In celebration of Nike Dunk's 35th, Dunk released a bunch of must-haves in 2020. Talk about wild child Nike SB Dunk Safari which released on March 14. And the Nike Dunk Syracuse and Kentucky couple which knocked up major copping points through The Shit bot! It's only the best Nike bot to cop another hyped Nike Dunk for you! Better be Strawberry Cough!