Speak Your Truth With Nike's Uninterrupted LeBron 20!
If y'all haven't been following up with the sneaker culture, you must know that you been missing out on helluva lot! 2023 is really giving us mixed feelings. We got good news and cool drops from one side, while we're being hit with the shittiest of news from the other. If you got no idea what we're talking about here, you can check this year's recap up to this point here! And if you're struggling with keeping up with all that's happening in the industry, make sure you hit that notification button on your way outta our blog! Anyway, this ain't exactly what today is about. UNINTERRUPTED teaming up with Nike for a new drop is what today is about! So, let's see what's the new Nike UNINTERRUPTED LeBron 20 is all about! 
Nike UNINTERRUPTED LeBron 20: Only Truth Allowed
You think UNINTERRUPTED is some uprising sneaker brand or something? That means you still ain't used to Nike's weird, creative mindset. The Swoosh sure knows how to collaborate as much as it knows how to sue! Anyway, UNINTERRUPTED is a media company LeBron co-founded with his friend Maverick Carter. Athlete empowerment is the main objective behind this brand. So, let's see what to expect from this drop. 
You must know that LeBron and Nike started this year strong with their Lebron 20 All-Star drop. But if you thought that's where its creativity would stop, then you couldn't have been more wrong! So Uninterrupted LeBron 20 Speak Your Truth will feature Black, Topaz Gold, Hyper Royal, and Coconut Milk colorways- UNINTERRUPTED's official color scheme.
These kicks will feature a Black base. You'll also find Royal Blue-covered insoles and upper parts of the tongues. Coconut-colored tongues and laces contrast against them vibrant and dark hues. And peep, you won't be getting your usual single Swooshes on the sides. You'll get double-stacked Swooshes instead. The background one will come covered in Blue while a translucent check sits atop it with exposed "XX" stitches on it. On second thought, this kinda Swoosh design does remind us of the upcoming AMBUSH AF1s! Interesting..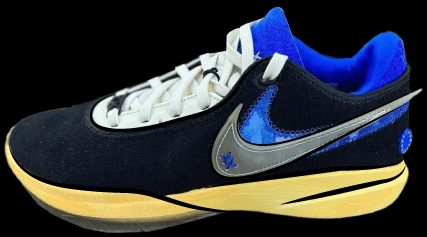 Moving on, you can find "Speak Your Truth" on the heels, as well as the outsoles. And to be precise, you'll find "SPEAK" in a text-like design on the right shoe's outsole and "TRUTH" on the left! 
All We Know About The New Kicks
These joints will drop later this year for a retail of $200. But if you're ready to start copping sneakers like a pro, we gotcha. You can start with releases that promise great resale values like the new Travis Scott x Air Jordan 1. If you got a lil more cash, you can go for the Tiffany & Co. AF1.
So, what you basically need is a powerful Nike bot. Next, you need to start looking for great proxies and Nike accounts to go with your bot. Most importantly, never ever underestimate the power a good server has on your whole setup. So make sure you choose that wisely and don't just depend on you minute-on, minute-off internet server you got at home. This way, you'll be all ready to start a sneaker reselling business like the pro you are! Good luck shit fam!