[15% OFF TSB ]How to Cop The Travis Scott Olive Jordan 1
It's finally here. Or almost! What we can all agree to at this point is that the Travis Scott Olive Jordan 1 is the year's hottest release. And even if you disagree with this statement, you'll agree that it's been the best we've had in long weeks. And after all the brutal bans Nike coppers have suffered, we all deserve to enjoy a W or 2!
Travis Scott Olive Jordan 1: Worth Every Penny! 
You're here 'cause you're a Travis Scott sneakers collector? Or maybe, you're in it to win some extra cash. Well, a lot of extra cash in the case of these Jordans!
But well know how shitty Nike SNKRS drops can get. But being the hottest sneaker of 2023, Travis Scott Olive Jordan 1 sure deserves all the hassle. With $1000+ in profit, you gotta do all it takes to snatch a pair or 2. And TSB is here to help you cop, in bulk if you need to even!
That being said, we got you an exclusive 15% OFF The Shit Bot, the industry's craziest SNKRS bot, to help you cop limitlessly!
So use the code: Travis15 to buy your TSB copy and get all set up early to COP THEM CACTUS JACKS!
How Travis' New & Last Jordan 1s Look Like?
So the new women's exclusive Travis  Scott Jordan 1 will feature a black suede upper base with off-white leather overlays. Quite the contrast, but color-blocking just hits different y'know. But this ain't all. We still got the color the name of the kicks holds after all. Medium Olive covers the oversized reversed Swooshes, outsoles, and laces. Midsoles will come covered in sail, aged-like midsoles.  And finally, a hit of red on the tongue labels and Travis Scott logos on the heels make the kicks pop out even more. A perfect fit for Spring 2023!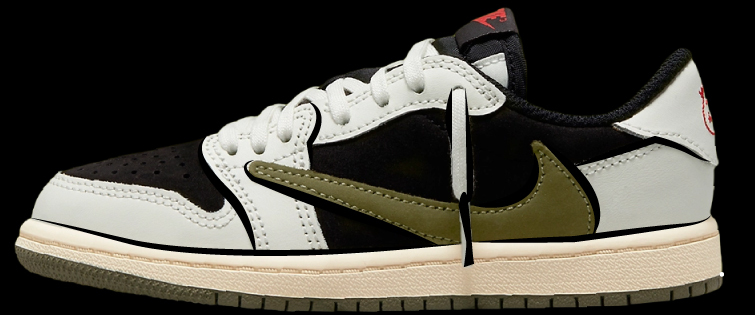 Release Details 
The new Travis Scott Olive Jordan 1 was previously set to drop on March 25, 2023. But now it got pushed back to April 26, 2023. Supply chain issues be hitting the industry hard! Anyway, these kicks will retail for $150. Y'all must note that copping for retail is always the way to go. Especially with Travis Scott's collabs. Unless you're down to pay a couple of grand for a pair of sneakers that is! Although we still got no resale value for these babies, we can expect that thing to go sky-high. Since the Reverse Mochas are now reselling for $1,195 on average! While the Black Phantoms now resell for an average of $732. And let's not forget about Jordan 1 Mocha which overshadows both of the above-mentioned kicks with its $1,779 resale value. 
How To Catch the Travis Scott Olive Jordan 1?
If you've been checking out our blog more often, y'all must know the drill by now. All in all, you definitely need a powerful sneaker bot for Cactus Jack's collabs. But if they're dropping on Nike SNKRS, like the upcoming Travis Scott Jordan 1 Olive, then you'll need one heck of a Nike bot! And you're one lucky soul to find a powerful, yet affordable, Nike bot like TSB in stock. Jordan 1 Reverse Mocha's success just proves that you scoring them kicks ain't a dream. All you gotta pay is $300/ year and you'll be able to cop from 50+ regions worldwide! However, you gotta make sure you hook your bot with the right proxies and Nike accounts, all while connected to a blazing server! Good luck fam!