Travis Scott Jordan 1 Black Phantom Hits Hard By 2022's End!
The Travis Scott AJ1 Reverse Mocha release came and went. Our users cooked and are definitely waiting for the next big thing! But guess what? We ain't gonna wait for too long because Cactus Jack already has something cooking! If you're hoping for some colorful shit, we recommend you go check out the upcoming J Balvin Jordan 2. But today's joints are all about them dark vibes. So let's take a look at the new Travis Scott Jordan 1 Black Phantoms!
What Went Down with the Reverse Mochas?
Just a fast recap before we dive into the new kicks. So after many months of teasers, Travis' new collab with Jordan Brand came in a "reverse mocha" colorway. Which is actually a reversed take on the original Travis Scott x Jordan 1! The kicks dropped in July 2022, and nobody could get enough of them. Anyway, they retailed for $150, but they're worth $1,226 on the aftermarket! So if you took the L on these babies, we're sorry fam. But fret no more! Y'all will get the chance to go for a new Cactus Jack drop soon (well, kinda).
Travis Scott Jordan 1 Black Phantom
A name that can give us the heebie-jeebies if we didn't like kicks just enough to risk it all. All jokes aside though, the kicks don't look much like the previous Jordan 1 lows by La Flame. This time, according to leaks, the kicks will come in an all-black colorway. And honestly? That shit slaps! It's a pretty cool pair that you can rock whenever and for whatever occasion. And to break all the darkness, the Wings logo and all-over stitching in a lighter Phantom shade.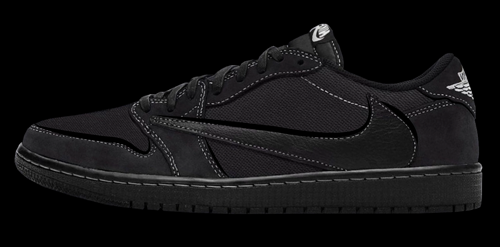 Release Deets
If you're considering these kicks, they'll be dropping on December 15, 2022, for $150. You know, that would be an epic way to end the year! So make sure you put it on your list of must-haves before 2023. Now with all that's happened with Yeezys, you got your hands a little more free. So what's better to get yourself busy with than a drop this hot and this valuable? Not to mention the profit you can make off these kicks, which is outta this world. They're currently reselling for $2825 on average on the aftermarket! And with such a resale value, brace yourselves y'all, 'cause the copping war is gonna be brutal!
How to Catch the Travis Scott Jordan 1 Black Release?
Now we askin' the hot questions. If the kicks will drop on Nike SNKRS as usual, make sure you have a good Nike bot like TSB. Our users have been killing it on different releases around the world after the latest updates! So make sure you join in for $300 per year and make sure you get good Nike accounts with it. That way, you'll make sure you have the best chance at copping one pair… or more. And if you do, you can kickstart your sneaker resale business and make some good profit!