The J Balvin Jordan 2 Collection Is This September's Star!
Latin music fans generally, and J Balvin fans specifically will get some cool shit this September! If you happen to be a sneakerhead too, well fam, the J Balvin Jordan 2 is right up your alley. You might have seen the previous collab, and maybe you missed it, which would be a bummer. But now you'll have a chance at owning the new kicks, in addition to the dope collection coming with them! Let's check out the new collection together so you could dress and flex like a star. But if you wanna see more upcoming kicks, rumor has it that new Travis Scott Jordans are on the way!
A Colorful Recap of the Collab!
Let's start by making some shitty statements (just kidding, we're spitting facts here). Y'all, 2020 was an epic year for sneaker releases, despite all the Covid shit and people's lives turning upside down. The sneaker industry was just thriving with everyone wanting in on it for the extra cash and drip. It was a chain of hot collab after another, and we couldn't get enough of it all. And one of the coolest and most eye-catching drops was the sick J Balvin Jordan 1!
The pair was… colorful to say the least! And J Balvin kickstarted it during the 54th Super Bowl Halftime Show during his surprise appearance. He performed Mi Gente and Que Calor alongside J Lo while flexing the Js! It was hands down J supremacy on the Super Bowl stage during this couple of minutes.
Anyway, these Jordans came in a trippy colorful upper with a jagged swoosh. And, of course, J Balvin's signature smiley face and some other velcro widgets gave the kicks that customizable feel! Of course, fans, sneakerheads, and resellers were all interested in these joints. And if you go to the resale market to cop a pair, you'll be coughing a good $460 on average!
J Balvin Jordan 2: The Shit We Need Before 2022 Ends!
The new pair looks pretty simple at first. But if you get closer, you'll find the deets that make the kicks dope as heck! The upper features a mix of blue mesh and nubuck. Meanwhile, the heel will feature a blue sky with white clouds with J Balvin's signature smiley! The best part though? It's the LED-infused Wings logo on the tongue and the glow-in-the-dark outsoles. So all in all, the kicks look sick as heck! But that leaves us with the question: will we get more dope takes on more Js? J Balvin certainly wants to!
Release Deets
The new J Balvin Jordan 2 is officially dropping on September 15, 2022. If you wanna get them for retail, these joints will retail for $300! However, it's gonna be worth it because you can flip them for almost $500. So you could call that an investment when you want to make some good cash on the resale market!
Get the Kicks, Get the Clothes!
So copping the new J Balvin Jordan 2 is a feat on its own, but did you see the flippin' collection? We don't wanna go overboard with it, but fam, that collection is one of our 2022 favorites! Let's check it all out right now because you'll totally wanna buy a thing or two… or three… or everything!
Jordan J Balvin Varsity Jacket
Colorway: Blue
Retail Price: $500
Jordan J Balvin Hoodie
Colorway: Black – Blue
Retail Price: $150
Jordan J Balvin Fleece Pants
Colorway: Black – Blue
Retail Price: $120
Jordan J Balvin Crew & Shorts
Colorway: Green
Retail Price: $120 (Crew) – $100 (Shorts)
Jordan J Balvin Tees
Colorway: Black – White – Pale Green
Retail Price: $50
J Balvin Jordan Super Play
Colorway: Blue & Green
Retail Price: $70
Jordan J Balvin Basketball & Adjustable Hat
Colorway: Blue & Green
Retail Price: $60 (basketball) – $40 (hat)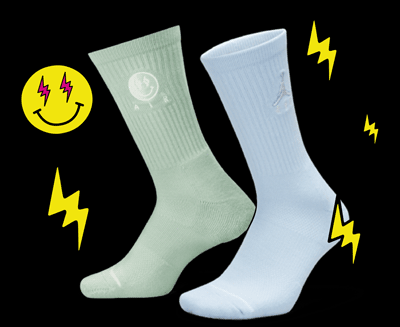 Jordan J Balvin Socks
Colorway: Blue – Green
Retail Price: $14
Wanna Cop the J Balvin Jordan 2 Collection? Read on Then!
The J Balvin Jordan 2 and the full collection will globally release on Nike SNKRS. And we all know the bitter taste of taking Ls on a hot drop like this peeps. So if you really wanna get 'em, you'll need a Nike bot! You see, a Nike bot like TSB will help you kick a$$ on release day because why not?
Now, why do you need TSB? Well, if you want an up-to-date bot that doesn't miss a drop, then you're at the right place. Our users have been doing well on every drop in different regions of the world! You can always get your own copy for only $300 per year and get cookin'! So go on and get your botting stuff ready to start a botting career. After all, who doesn't wanna be part of a successful cookout? If you wanna know more, check out how to cop sneakers here!
But just like a good cake, you need ingredients to cook with a Nike bot! First off, you'll need to get good proxies. Without proxies, it's like trying to catch air… so that's a no-go. Next up, Nike accounts are must-haves because you wanna get as many tries as you can! So make sure you get your shit together before release day (literally). Good luck!