New Travis Scott Jordans: The Leaks We All Love to See!
We love us some saucy sneaker leaks and rumors! And the topic of today's tea is Cactus Jack because it's always hot when he's concerned. We all know how Travis Scott Jordans are hype, stylish, and profitable, so who wouldn't want in on new drops? Before we hop into release news, make sure you're ready to crack into the industry with the right lingo. And always remember, knowing how to cop sneakers is key. Now, pleasantries aside, let's jump right into the latest hot tea!
Black and White Look Appealing for the Ladies!
Let's count together previous Travis Scott Jordan 1 Lows. We've got the original olive pair, the collaborative Fragment lows, and Reverse Mochas. There are also the latest Phantom Lows that drop in December 2022. So this new colorway we got rumors of would be the fifth signature Jordan 1 Low by La Flame! And as far as leaks go, the kicks feature a black base with white leather overlays. The highlight though is the signature sail reverse swoosh and midsole.
According to rumors, the new Travis Scott Jordans will drop in women's sizes and probably a full-size run. And they'll probably drop sometime in Spring 2023. Don't expect it to drop in 2022 because the Phantoms are coming at the end of the year! And if previous values of the kicks point to anything, it's that the kicks will be worth copping.
New Travis Scott Jordans… With Cool Colorways Too?!
Now that we got the lows out of the way, we have some interesting news! So Travis Scott collabs aren't famous for having bold colorways. But we're gonna get a fresh take on the high tops and the signature reverse swoosh this time! The latest leaks show two new colorways that will totally be a hit if they end up actually dropping.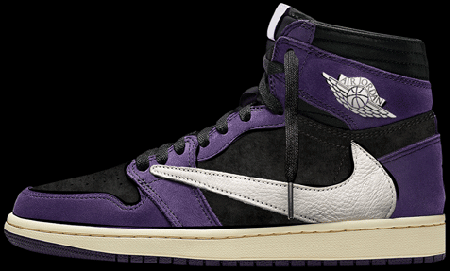 So, the first pair features a red, white, and black colorway that matches the Fragment color-blocking! The second pair is even bolder, with a black base and purple overlays. Talk about popping colors; go big or go home fam! The swoosh will come in white, while the midsole is in the signature sail color. You see, all in all, both kicks look epic! Now we don't know when (or if) these kicks will officially release, but we high-key hope they do.
Wanna Snatch the New Travis Scott Jordans?
Well, you know the drill fam! If you want hype kicks, especially Cactus Jack's collabs, you'll need a sneaker bot. And if these babies are dropping on Nike SNKRS, then you sure as heck need a Nike bot! And you're just in luck because TSB is the best Nike bot around, and it's in stock too. For only $300 per year, you can easily boost your success chances. But make sure you hook it up with the right proxies, and Nike accounts for the best setup and shit. That way you'll kick ass on drop day just like our users did when the Reverse Mochas dropped! Good luck!