Lebron 20 All Star Is Giving Blue Blood Vibes!
Two days ago, LeBron James broke the record to become the NBA's top scorer, surpassing Kareem Abdul-Jabbar! So, what better way to celebrate such an event than with a LeBron drop? Okay, so this ain't exactly what today's drop is about, although it does include Lebron and the NBA. That doesn't mean we ain't hanging on for the hope of getting top-scorer celebratory kicks still! Anyway, we got one dope Nike x Lebron James drop for ya peeps: Lebron 20 All Star! And it's part of the All-Star editions that Nike been blessing us with in celebration of the 2023 NBA All-Star Weekend. Now as LeBron is our main topic today, y'all should check the upcoming Nike FaZe Clan. And if you still haven't checked Nike Valentine's lineup, know that clock's ticking fam! 
Now, there's a high chance you're here 'cause you're a sneakerhead or got enough interest in kicks to look them hyped ones up. So, we gotta tell you that part of being a sneakerhead is all about looking it. And to do that you gotta learn your kicktionary well. Know the right way(s) to lace sneakers and the way to keep them as clean as possible. Last but not least, you gotta learn the right way to dry them kicks up 'cause messing that up might have you kissing your several-100-bucks shoes goodbye!
Lebron 20 All Star: Lightning, Coconut, And Some Iron
Lebron 20 All Star features Blue Lightning, Coconut Milk, and Iron Grey colorways. These joints will definitely catch them eyes with their vibrant as heck blues. So, sky-blue and cream cover the knitted uppers. Covering the sides are doubled, overlapping grey and white Swooshes. A faded pinkish color covers the outsoles, while vibrant blue engulfs the rest of the kicks, from the laces to the tongues and shoe linings. This pair will also hold "Legacy Preserved" branding on the tongues as well as the "The Records of King James" on the heels. Completing the look are "XX" dubraes.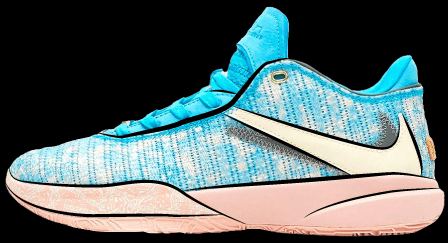 Release Deets 
These babies will hit 'em shelves on February 17, 2023. They'll also retail for $200. A lil too much for a pair of shoes? Well, they're worth every penny. Aside from them being a dope flex, Lebron 20 All Star kicks got a great resale value. A pair is currently selling for an average of $322 on the aftermarket! 
Wanna Catch The New Lebron 20 All Star?
Step one: Forget the delusion of manual sneaker copping. Step two: get yourself a great Nike bot. Trying your luck manually will have you catching Ls like there's no tomorrow. And although buying kicks off SNKRS using a klick-ass Nike bot doesn't guarantee to catch Ws, it does raise them odds and give you an advantage botless users don't have. But always remember that a sneaker bot alone can't do much. So you'll need to get yourself great proxies and Nike accounts to go with it. And y'all must know that the sneaker culture is all about connections. So, in order to make yourself some connections that help you through your copping journey, cook groups are your best option. For more news and sneaker release info, check out our blog! Good luck Shit Fam!