Here's a List of the Best Nike Dunks in 2021, So Far!
Just when we thought 2020 was the year of the Dunk, 2021 comes in and proves us wrong. Half-way through the year and we've already witnessed over 50 drops from this awesome silhouette. From collaborations with the dopest artists, to colorful pairs, and to more subtle ones, 2021 Dunks are gonna leave us broke as shit, ya'll! And even though all Dunk drops seem like a good place to start, but we gotta admit it, some were definitely worth running TSB more than others. But right now, we wanna look back onto the past few months and reminisce the Best Nike Dunks that this year has witnessed, so far.
Best Nike Dunks in 2021:
As we'd all expect, first up is definitely a collab, and no ordinary one. Supreme kicks are the shit. Always have been, always will be. And this year, Supreme and Nike SB added a new SB Dunk Low to their catalog with the Nike SB Dunk Low Supreme Mean Green that's inspired by one of the best SB Dunk Highs of all time, the 2003 Nike SB Dunk High Supreme.

Retail Price: $110
Resale Price: $1,452
A UNC. You saw that one coming! The love for the "University Blue" is everlasting. They're inspired by the University of North Carolina, which is the college that MJ attended during his NCAA career. A UNC colorway is always a good idea, especially when it's a Dunk.
Retail Price: $100
Resale Price: $285
If you know your sneaker history, you'll know that 2007's Nike What the SB Dunks were the shit! And 2021, 14 years later, we were blessed enough to get another one of this kick-ass pair. But this time around, in the signature of the one and only Paul Rodriguez aka P-Rod.

Retail Price: $150
Resale Price: $827
This is no classic Dunk, ya'll. If we got any safari lover x sneakerheads out there, this one is for you. The pair came dressed in a mix of leathers and suedes, with an animal print all over. These Dunks are a Retro and are part of the PRM Animal Pack. Ain't no Dunk wilder than this one, fam.
Retail Price: $110
Resale Price: $253
Another university shoe made it to our Best Nike Dunks list: The Michigan Dunk Low. This is the third consecutive year that we see this colorway drop, and the third time's always a charm. This pair featured the same old university gold and midnight navy colors on the leather uppers. We sure enjoyed this Déjà vu drop just like every other time.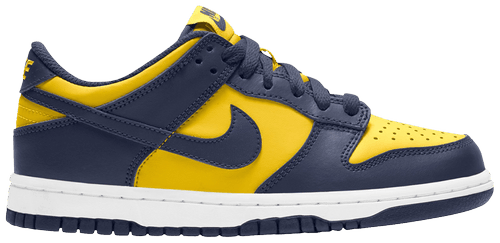 Retail Price: $100
Resale Price: $205
Other than being on the list of the Best Nike Dunks in 2021, this pair is probably the weirdest, too. The shoe is inspired by one of Stingwater's motifs which is psilocybin mushrooms. Huh? We told you, weird AF. But who cares? As long as these Red Dunks are hot and worth the flex and can make you some good cash, what the hell? Why not?
Retail Price: $125
Resale Price: $315
This is one of the colorful pairs that were just too good, this year. We loved the other Dark Chocolate Free 99 Dunks. But we chose this one because we are all for a fresh, Summer-ish shoe, tbh. What's special about these Dunks, other than being so flamboyant, is that they're mismatched. Starting off with a clean white base, each pair of these shoes has a different combination of exciting colors.
Retail Price: $125
Resale Price: $315
Yup: A Virgil Abloh Dunk. You can dump this list in shit if it's not gonna give you ATLEAST one pair of an Off-White collab. But this year, Virgil Abloh might've lost his mind and decided to drop not one, nor two, but 50 Dunks in collaboration with the Swoosh. The 50 pairs aren't even that different from one another. The "50 collection" had 49 white/grey-based pairs, and a 50/50 final pair that came in black. The only way you can tell between those 49 white pairs is through the cool secondary lace that has a different color on each pair. And that's probably the coolest details about these Off-White Dunks. The 50 collection is releasing along with the new Exclusive Access system that the Nike SNKRS App is blessing us with.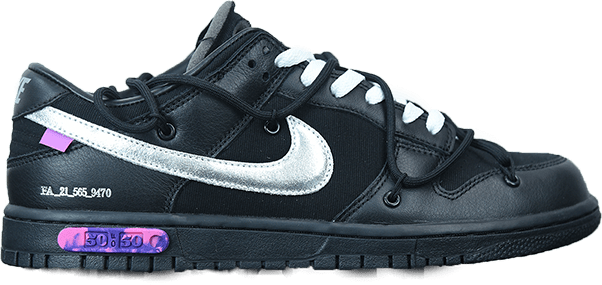 Retail Price: $180
Resale Price: NA
Last but not least, we'll end this list with another Dunk that'll shine upon your days. The "Laser Orange Dunk" dropped in June and is a Women's exclusive. With the usual two-tone color-blocking, other than the white, this pair's second color is a flashy orange that's as bright as your sneakerhead's future… We hope. This full-on leather pair is perfect for everyone, not just the ladies, and is definitely the right Dunk to flex in this hot Summer weather.
Retail Price: $100
Resale Price: $232
More New Dunks On the Way? We Betcha!
Dunk colorways are not slowing down, at least not anytime soon. And as much as Nike has flooded us with Dunks the first half of the year, they have left us thirsting for more, fam. Next up is a cool colorful duo of Purple and Yellow Dunks that are dropping by the end of the month. So, if you missed out on the Best Nike Dunks that we mentioned, don't worry ya'll, there's so much more to come. And if you've prepared well for a release, you won't miss your desired drop. But of course, we ain't talking about no retail copping. That'll result in a fail, almost always.
To grab your next Dunks, what you need is one of the best sneaker bots in the sneaker game: The Shit Bot. Ain't no bot shittier than this one, fam. But it won't really do on its own. Well, maybe for a pair or two. But to cop multiple pairs you're gonna need to secure yourself with some accounts from the best Nike account providers. You can't just trust anyone, fam. A few accounts and some good proxies, and you're ready to work that Nike SNKRS bot.