Nike's Born x Raised Dunks "One Block at a Time" Drops This Fall!
The Born x Raised Dunks proves that the hype surrounding skateboarding is still very much kicking. Nike has blessed us with so many highly anticipated Dunks releases and collabs to come (or already out) only halfway through the year. We're talking sizeable SB drops like Jarritos, Run the Jewels, Decons, and Clot x Fragment with 6 months left of 2023. And while images of this collab leaked all the way back in December, these official shots have us drooling.
There's more to the Born x Raised Dunks than meets the eye
One of the first things you'll notice is the unique cross-like perforations on the white leather toe box. Apparently, ancient Japanese Sashiko inspired this design that extends towards the top lacing, too. The Nike Swooshes across the sides rock a holographic blue-pink. Royal Blue suede overlays wrap around the entire upper. And the LA streetwear brand's slogan "One Block at a Time" appears on the tongue and front. Their logo is also stitched across the lateral heel in pink.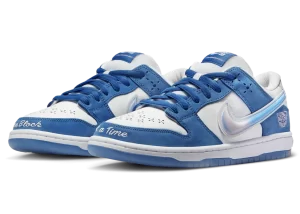 While we'd still have a perfect sneaker if BxR left it there, they took it one step further. They've topped it off with an extra block on the heel of the Zoom Air midsole, complete with the phrase "on the turf." All of this, plus 3 sets of shoelaces (blue, pink, and white) comes in a special-edition shoe box with extra accessories.
After a long wait, we finally have an official release date. The Born x Raised Dunk is coming our way on September 28th via the Snkrs app, and select retailers worldwide. Priced at $130  each, these are gonna sell out. Fast.
Do Not Miss This Drop
Although it's never a bad idea to catch a Dunk, these babies are worth your money. Currently, they're reselling for an average of $621 on the aftermarket! So cop 'em in bulk and pocket that good money! Who knows, maybe these are the kicks that will finally get you into the sneaker reselling business!
Now that we have you sold, you'll definitely need a strong Nike bot for this. It's not an easy thing to score a W on hot releases, but when you have the right proxies and accounts, you can do it! You gotta stay connected too because the botting industry is also about the community. So, find the best cook group out there and you'll be fine. Good luck fam!