Nike Gains From Adidas Yeezy Split: A Market Share Takeover!
2022 hasn't been Adidas' best year. And the main reason for that is its breakup with Yeezy. And let's just say, such a hasty decision left behind quite the consequences that followed the Three Stripes through 2023! Take a look at 2023's recap and you'll get where we're coming from. So, as a result, Yeezy's absence from the market left them retailers' shelves empty. And y'all must know what happened next. Being the opportunist it is, Nike took the initiative to fill 'em shelves with Nike kicks! And now we got some hefty Nike gains from Adidas Yeezy split! You know what they say? One man's loss is another man's gain! C'est la vie peeps!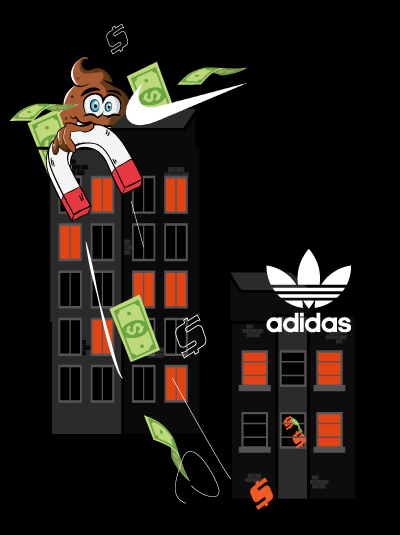 Nike Gains From Adidas Yeezy Split: Adidas' Sorrow Is Nike's Joy 
Okay, so now Adidas is walking the edge with millions of dollars worth of Yeezy stock sitting in its warehouses. So, why not sell them and bring the company outta the shithole it dug itself? Well, you see, Adidas can't exactly do that or it would break the rules. And heaven knows, we don't want a redo of that lawsuit ritual Nike been obsessed with lately! This brings us to rumors circulating the industry concerning the possibility of the Three Stripes taking Ye back for the sake of selling its Yeezy stock. Or the company would face the literal worst. Which is burning all remaining Yeezys! No in-between fam. Business is brutal, especially when it comes to the sneaker giants!
But how exactly is all this any of Nike's concerns? Well, as we mentioned above, Adidas been struggling with its plummeting sales, mainly due to its leftover Yeezy stock. So, the brand couldn't exactly focus on competing with Nike by launching new products. Which left the field empty for the Swoosh to conquer. And conquering that field is exactly what Nike's doing as it's seizing market shares, while Adidas is busy keeping itself afloat! 
So, as Adidas reported a potential €1.2 billion drop in revenue due to its breakup with Ye, experts predict a rise in Nike's third-quarter revenue, as well as, growth in its market share, throughout 2023. In fact, a senior analyst at Jane Hali and Associates, Jessica Ramirez, commented on this matter saying, "There is an opportunity for Nike to pick more market from Adidas." 
In addition, forecasts show that this rise in revenue will be mainly driven by higher sales of Nike's Jordan Retros and more recent launches, according to Reuters. 
Nike Gains From Adidas Yeezy Split: Nike Fiscal 2023 Q3 RESULTS
Nike gains from Adidas Yeezy split don't stop here! Now, let's talk some numbers, shall we? Okay, several days ago, Nike published its Q3 report for fiscal 2023, and let's just say such numbers can make competitors go green with envy. They literally exceeded Wall Street's expectations y'all!
So, Nike's Q3 revenues amounted to $12.4 Billion (14% more than the previous year's revenues), beating estimates by $910 Million! The Swoosh also showed pride in its DTC strategy in this report as it reports $5.3 Billion worth of direct sales (a 17% rise compared to the prior year). Matter of fact, John Donahoe, President and CEO of Nike, expressed that pride by saying, "NIKE's strong results in the third quarter offer continued proof of the success of our Consumer Direct Acceleration strategy." 
However, life ain't all rainbows and butterflies, you know. Nike's gross margin declined by 330 basis points to reach 43.3 percent. And this is mainly due to "higher markdowns to liquidate inventory; continued unfavorable changes in net foreign currency exchange rates; higher product input costs and elevated freight and logistics costs; partially offset by strategic pricing actions." Nike's net income also decreased by 11% to reach $1.2 billion (amounting to $0.79 per share). 
But if Adidas doesn't act on finding a solution soon, Nike benefits from Adidas Yeezy split might just hit a record high very soon. And that net income might stabilize in no time. And an even greater market takeover might occur at any given moment! 
What Happens Now?  
Here's the thing. Nike gains from Adidas Yeezy split shooting up day after day could mean we'll be getting not only extra stock but also more dope drops. Nike's creative bone has been blessing sneakerheads with the coolest designs this year. And this creativity shows no signs of diminishing anytime soon. Take a look at the upcoming AJ3 Lucky Green and AJ13 Black Flint and you'll get what we mean!
However, with some Yeezy fans turning into Nike fans, the competition's tougher on drop days! As if Nike SNKRS drops ain't already as crappy as it gets, now you got the extra competition to add to the recipe. But you know what? You don't have to worry about all that as long as you got a great Nike bot, like TSB, by your side. So, if you're serious about the copping game and you wanna join the shoe reselling business, The Shit Bot can help you cop wherever you are in the world and as many pairs as you want. As it supports over 40 regions worldwide and can help you cop sneakers in bulk! Click below to learn more about the shittiest bot in town!