Jordan Sneakers That Outlived Their 15 Minutes of Fame [Jan-Sept 2020]
September is nearly over and we've got three loaded months left till New Year's. In the past nine months, we've witnessed the release of Jordan sneakers that outgrew their retail prices by a steady mile. As well as Jordans that hyped up in value prior to their release. Then crash landed on the aftermarket. With little to no hope of ever rising again. There are also Jordans that, let's face it, aren't worth more than a regular flip. Like $190 Jordans that sell for $230. And $225 Jordan that don't exceed the $350 limit. We know your prices well J, can't fool us! So this time we're not here for the regular flips. Or crash landers. 

End the Year With TSB
The following list includes 2020 Air Jordan releases that are steadily exceeding their retail values by hundreds of dollars. AKA sneaker legends with a fire trail that goes on for years! TSB just crapped over 1,400 pairs of Nike and Jordan sneakers on 3 hyped releases only. With 3 months left till the year's over, your money calculator better keep up with you if you're copping with the best Nike bot. So RT for the opportunity fam! Nike only gets wilder around the Holidays, you know it. And hang out @The_Shit_Bot because there ain't nothing like a smooth giveaway after a full-blown poop!

Jordan 34 Paris
January 24, 2020 [$200] We rarely ever see a newbie Jordan sneaker model on a list of legends. The Jordan 34 Paris dressed up in multi-toned pink pastels and dropped it like it's hot in January. This Milan-themed Jordan was limited to 500 pairs only and launched ahead of the NBA Paris Game tip-off. 
How much does it sell on average? $800

Jordan 1 Retro High 85
February 8, 2020 [$200] The OG, the banned, the birth giver of the legendary bred. 1985 is a breakthrough year in sneaker history. With the boldest GOAT making a scene on NBA grounds. And pushing through the years with countless Retros and wannabes. Don't go as far as to call yourself a sneakerhead if you don't own a 1985 Retro!
How much does it sell on average? $850

Jordan 1 Retro High New Beginnings
February 12, 2020 [$175] It's evident that February was a super busy month for the Jordan team. Nostalgia was hitting the MJ squad pretty hard after 2020 took off. But hey, we got a huge chunk of this list's legends out of it! The New Beginnings Pack teamed up a Nike Air Ship with a Jordan 1 High Retro in the famous Chicagoan colorway. 
How much does it sell on average? $1,800

Jordan 5 Retro Off White Metallic 
February 15, 2020 [$225] Another classic silhouette that beat the competition on the Fresh Prince of Bel Air in 1990. Out of respect and appreciation for the Jordan Chicago Collaborators' Collection, Virgil Abloh recreated the AJ5 Metallic Black. By adding tweaks of his own creation to the finishing bits. Hence, the dead-on labeling system. 
How much does it sell on average? $800

Jordan 1 Retro High Dior
July 1, 2020 [$2,000] Limited to 8,500 pairs with a drop-dead-gorgeous Christian Grey appeal, Air Dior was a sick clash between streetwear and luxury. Everybody with $2K to spare raffled for this shit. It's a grey, slick, and a brand-loaded Swoosh of a Jordan 1. Not that the low cut edition isn't worth-mentioning at a whopping $10K resale value. But ain't nothing compares to a hot Jordan 1 High collab.
How much does it sell on average? $15,000

Jordan 1 Retro High Neutral Grey
July 25, 2020 [$170] A Japanese-exclusive take on a 2001 Japanese-exclusive classic! Only 2,001 pairs were released of this metallic grey silhouette. With an OG silver suitcase packaging that sparked its value right over $1K. It's tricks like this that turn a regular release into a must-have one. 
How much does it sell on average? $1,250
Jordan 4 Retro Off White Sail
July 25, 2020 [$200] The Jordan 4 Off White is the second sneaker creation on this list by the one and only, Virgil Abloh. Two hyped Jordan collaborations and the year's not over yet! Unlike the UNION Jordan 4 releases listed below, Abloh opts for a classic sail colorway. With "AIR" labelled on the midsole. The man can't help his organization skills. 
How much does it sell on average? $1,500

Jordan 4 Retro UNION
August 29, 2020 [$250] UNION, the NY-based brand that "hunts for cool shit," teamed up with Air Jordan 4 for two polar opposite drops. The Guava Ice and Off Noir colorways share an equal success rate on the aftermarket. With their minimalist tri-color upper and sail midsoles, these UNION Jordans are top game. Plus with UNIONs releasing globally on Nike on October 16th, it's not too late to catch a pair. 
How much does each sell on average? $900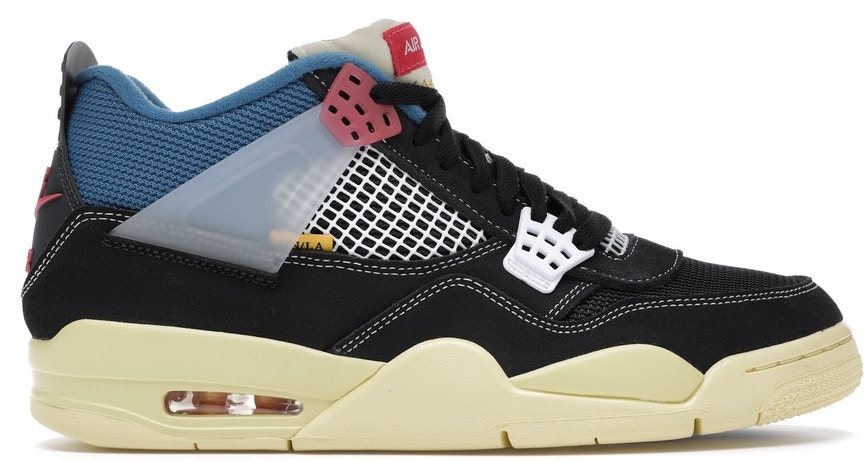 Like we said, there are 3 more months left of happy copping. Before we kick off 2020 and welcome the new year. Hell knows we could all use a fresh start. But before we get to it, keep posted for hyped Nike and Jordan releases to own this year's best drops! Nothing says "moved on" like a fierce collection of Swoosh angels.