Jordan 3 Orange Laser Drops Electric Vibes This August
The Air Jordan 3 silhouette been goin' through a moody phase lately but we diggin' the shit out of that moody elephant. We've been tracking the jungle animal and it's been looking up to the brand's OG model more than usual. The Jordan 3 Retro Blue dropped with a wink to the Jordan 1 Royal Toe. And soon this year, the Jordan 3 Court Purple will nod back to the Jordan 1 Court Purple. We cool on the pattern? If you ain't that cool with TSB being the best Nike bot in the market, this 5 minute post will blow you a fan. 
Down the Jordan 3 Mood Train
We've also caught traces of the Jordan 5 Fire Red lineage on the Jordan 3 Fire Red Denim. That dropped one hell of a Japanese edge with that raw denim coat. But all that moodiness aside, nothing dropped like the Jordan 3 Animal Instinct 2.0. That's snake drop Mic drop material. To keep the tribute to the 1.0 edition alive, the elephant print was substituted for wet reptile skins. And now, the mood train got them UFO vibes with the Jordan 3 Orange Laser! How many laser colorways will drop by 2020? Stick around here to find out. 
Air Jordan 3 Orange Laser
First thing's first, this is a Women's Jordan. So, if you a dude and ain't here buying for your sweetheart, you've got your foot size set on a pair. And we ain't judgin'. Laser Orange be screaming electric summer vibes. Looks like the Orange Camo hype ain't only among the undead, it's also contagious. Nothing compares to that white tumbled leather base. With latches of a vibrant shade here and there. Ain't no vanilla ice cream without some syrup YO! And that syrup be drizzling down this sneaker's eyelets, inner sockliner, and side heel. Right beneath the elephant buried under dry cement.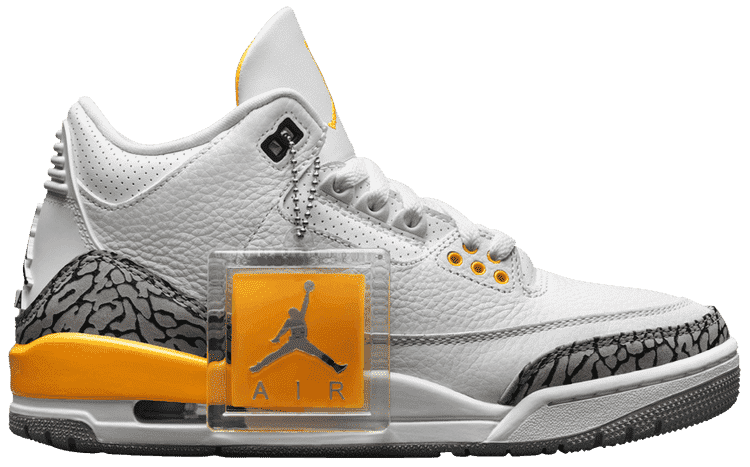 Expect it to drop on August 21 for a retail price of $190. Its price value on GOAT is currently at $600 and we're not expecting it to shy down. You're a lucky copper if you made some wins on TSB's first ever restock. Because that also means you had a go at the Off White Jordan 4!