Jordan 3 Fear Returns After a Decade- Scared of What's Brewing?
Holiday 2023 is a gift that keeps on giving! Especially with the epic comebacks of classic '90s and 2000s Jordans! From the Jordan 1 Satin Bred to the Jordan 11 DMP, everyone, whether old-school sneakerheads or newcomers, is eagerly waiting. And among these iconic releases, the Jordan 3 Fear stands out as the real deal. After a 10-year break, it's finally back on the scene. So, let's delve into what makes this Jordan drop an absolute must-have.
Jumpin' Back in Time: The Popular "Fear Pack"
So for those who weren't part of the sneaker scene a decade ago, let's break it down. The Air Jordan 3 "Fear" drew inspiration from Jordan Brand's unforgettable "Become Legendary" marketing campaign in 2008. This campaign was a celebration of 23 years of the most iconic basketball shoe worldwide – the AIR JORDAN.
Notably, the Jordan 3 wasn't alone in this celebration; it was joined by the Air Jordan 4 and Air Jordan 5! That's why we can't wait for news of their comebacks as well. What's even more intriguing is that all three sneakers took a page out of MJ's book, featuring his iconic quote – "I'm scared of what I won't become" – prominently appearing on their insoles. Now, that's some deep storytelling right there!
Unpacking the Bold Jordan 3 Fear
Now the Jordan 3 Fear features a stylish Night Stadium, Total Orange, and Black color mix that looks pretty much the same as the OG. Also, it combines these dark suede elements with attention-grabbing elephant print overlays on both the toes and heels. Moreover, the insoles serve as a tribute to the iconic "Look Me In My Eyes" commercial.
And here's the exciting part: the Air Jordan 3 "Fear" will be available in a variety of sizes, so the whole crew can rock a pair.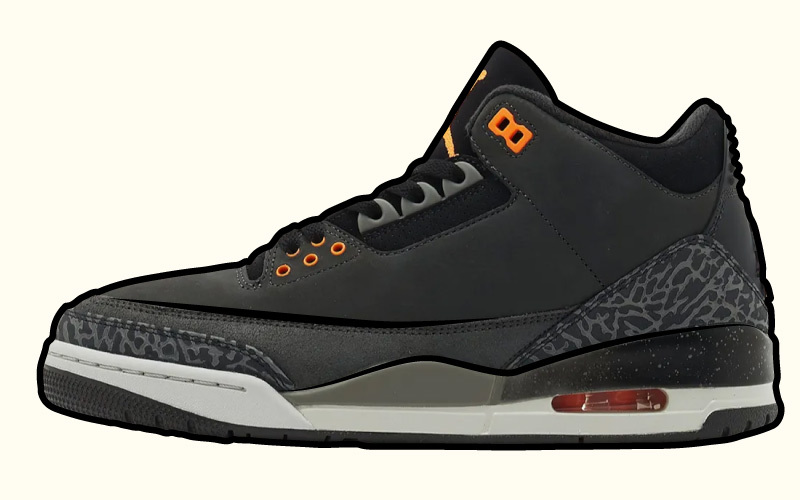 Release Details-Reseller's Pleasure
Mark your calendars, as the Jordan 3 Fear will drop on November 25th via SNKRS, for $200.
Now, why snag the Jordan 3 Fear, you ask? Well, aside from its great significance, it's a solid flip too. Indeed, this Jordan 3 is already reselling for a cool $468 on GOAT. So, just imagine stacking up that cash if you cop multiple pairs. It would be the perfect starting point for your sneaker reselling journey.
But here's the catch, to increase your chances of getting your hands on a pair, you'll need a powerful yet budget-friendly Nike bot, just like TSB.
P.S. On a different note from the Jordan 3 hype. Check out the big success of TSB in securing the Jordan 3 J Balvins!